With Capture™ 3.1, our M2M Gekko® and Mantis™ portable flaw detectors are getting a software update to keep them ahead of the curve and provide added value to our consumers. From a new TFM method to advanced analysis features, Capture 3.1 brings new tools to help inspectors improve productivity and sensitivity.
Designed for all levels of technicians, Capture has earned its reputation as the user-friendly complete software platform designed for all Ultrasonic Testing (UT), Phased Array UT (PAUT), Time-of-Flight Diffraction (TOFD), Total Focusing Method (TFM) and Adaptive TFM procedures. With intuitive calibration wizards that require a mere three clicks to complete, Capture software enables phased array inspectors to improve their knowledge without extensive training.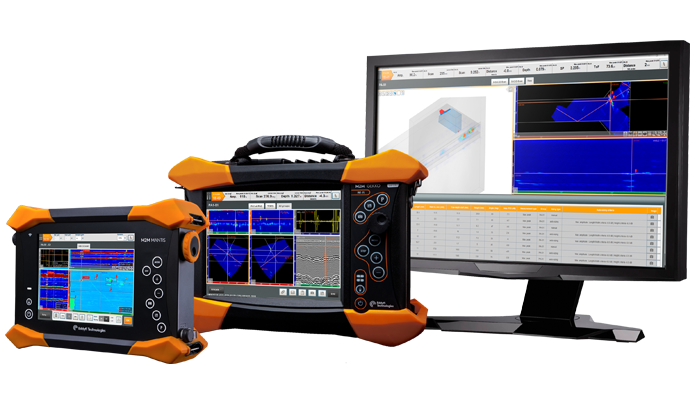 With the release of its 3.1 version, Capture brings a lot of new features to improve productivity both for inspection and analysis. We were the first ones to provide TFM on a portable PAUT unit, adding another arrow to the inspector quiver to tackle difficult inspections such as High Temperature Hydrogen Attack (HTHA). We have now added a new TFM method called Plane Wave Imaging (PWI) to improve scanning speed and sensitivity. But we made sure that this new method has all the necessary tools to be code compliant right away. Amplitude Fidelity and Time Corrected Gain (TCG) are directly compatible with PWI allowing inspectors to define new inspection procedures compliant with international standards.
We also understand that analysis can be a bottleneck for making a decision about the integrity of an asset. That's why we have added advanced analysis tools to the new version of Capture such as:
An Auto-sizing feature that automatically gives the dimensions of defects so operators can quickly decide if the indications are critical
3D data exporting to visualize the ultrasonic data in the 3D view of the component
C-scan stitching for corrosion mapping, composite, Hydrogen Induced Cracking (HIC) and other inspections that sometimes require more than one file to cover the entire asset
Improved indicators to have all information quickly accessible and visible
We offer two major software updates a year – an industry differentiator. With these updates, we provide innovative features like PWI to keep our products ahead of the competition but also deliver more traditional tools requested by our customers. We understand that people have their way of working and that we need to match those ways. The Capture roadmap includes more features for TFM, new analysis tools but also improved ergonomics to make sure that people can transition easily from any PAUT system to our M2M Gekko® and Mantis™. We are committed to delivering the most advanced solutions for today but more importantly, tomorrow.
When it's your job to make the call on the structural integrity of capital assets and critical components, trust Capture software to provide the precise, repeatable and actionable data to help offer the answer. Contact our friendly and knowledgeable experts to learn more today.