By 2025, it's estimated that 3/4 of all NDT will be performed remotely. When you're considering a robotic crawler for your inspection job, there are a number of factors that come into play including deployment. The decision to go from a manned inspection to a remotely operated one comes with inherent benefits. It keeps workers from confined space entry (CSE), working at heights and great depths, or being subjected to volatile environments where people really shouldn't be.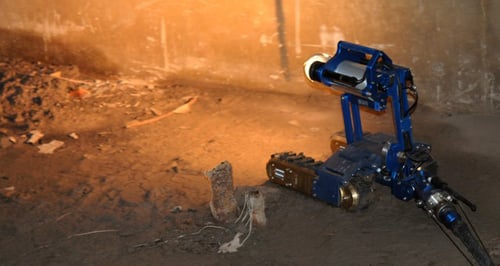 Eddyfi Technologies' core offering of powerful, remote robotic inspection technologies include OnSite Standard Products, OnDemand Specialty Systems, and OnSpec Custom Robotics. Every Eddyfi Technologies robotic vehicle and component carries the promise of our multi-mission modular design and has been built to withstand the rapidly evolving demands of the industry. Where our equipment can go is truly a differentiator. Our robotic crawlers have earned a reputation for traveling further, entering smaller spaces, and being robust enough to operate efficiently regardless of harsh conditions encountered.
Take the VersaTrax P-Series (formerly known as the Versatrax™ 150, or VT150), for example. This pipe inspection vehicle can inspect long distances up to 1,000 meters (3,300 feet) in a single run. Featuring the Spectrum™ pan-tilt-zoom (PTZ) inspection camera, the VersaTrax P has a proven history of collecting high definition video footage inside municipal pipes, penstocks, and pipework found in oil, gas, petrochemical facilities, and power plants. This robotic crawler is waterproof up to 60 m (200 ft) for in-service inspections with access points as small as 150 mm (6 in). When additional data is required, a fiber optic cable enables high bandwidth payloads.
The VersaTrax M-Series (formerly known as the MaggHD™) is a compact magnetic crawler that eliminates the need for CSE for tank and vessel inspections or rope access operations; this inspection robot can access spaces as small as 300 mm (12 in) to collect real-time video footage of an asset's current condition. Traveling distances as far as 100 meters (330 feet) and waterproof up to 60 meters (200 feet), the VersaTrax M promotes worker safety, increased productivity, and lowered costs. Check out how this crawler delivers Repeatable, Actionable, Meaningful, and Preventative data results with a digital twin.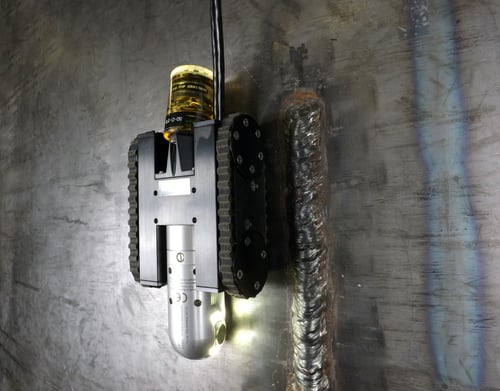 The NanoMag™ is another example of a miniature, robust crawler that can access extremely tiny spaces. See the role it played in the Fukushima nuclear remediation here.
Our standard pipe and magnetic crawlers are available on short notice for emergency or ad-hoc inspections, and one of the greatest deployment benefits is that all Inuktun inspection technology runs on the same control software, ICON™. With a user-friendly interface and familiar control operations, our technology really is plug-and-play — you can use an Xbox controller to drive your 'bot! ICON ensures optimal user experience and RAMP data results. Best of all, it's provided on a software subscription model that ensures you're leveraging the value-added features with its ever-evolving platform rather than archaic purchasing options that muzzle your investment with old software.
When you have a particular application that requires a tailored solution, we can work phase-by-phase with your team to develop an OnSpec Custom Robot that will reach and exceed your safety and efficiency goals while ensuring a stress free inspection of your critical assets. Built on the same principles, seamless deployment is also a benefit here... even when the job calls for a marsupial crawler!
Deployment is just one component of the Datalliance lifecycle and optimizations are important at every stage. Stay Beyond Current by subscribing to our blog to receive the next articles highlighting the difference that Eddyfi Technologies inspection robotics make when it comes to support, analysis, and reporting. Don't want to wait? Contact our NDT experts to discuss how Eddyfi Technologies' robotic solutions can RAMP up your inspection operations now!