Datalliance
Of course, the title of this Blog post is "Datalliance" and I assume that an explanation of this Neologism would be a good place to start!
Eddyfi Technologies Datalliance is a grassroots initiative that involves a top-level exchange with industry stakeholders (a fancy word for users and customers) to enable us as a company to really understand what is happening in the industry, how equipment is used, and how we can help keep it working.
The simple reason being that if we can see how things are being done, we can think of ways to do it better.
By understanding some of the challenges and risks faced by our stakeholders we can mitigate; prevent and/or prepare for the unexpected.
The Customer Journey
Datalliance can be considered an integral part in the customer journey, with elements repeating themselves across every stage.
There are obvious applications pre-sales of course, and this act of truly understanding the voice of the customer and the associated requirements for market are covered really well by my colleague Christophe Bordeleau in his blog, Deployment: An Inspection Crawler Differentiator.
Today, I will focus on the support function.
Support & The Datalliance Lifecycle
The main goal of this blog is to highlight the synergies throughout the customer journey, in relation to the RAMP Index and the integral role of Support as part of the Datalliance cycle. Within Eddyfi Technologies, Datalliance links directly to our RAMP Index, something introduced by General Manager - Craig Senych (download a copy of the RAMP Index manifesto here). Simply put, the RAMP Index is a methodology to facilitate maximization of asset quality and longevity that allows users to progress from confidence to certainty under the following premise:
"To be REPEATABLE and therefore ACTIONABLE, inspections (and associated measurements) must be MEANINGFUL in order to be PREVENTATIVE".
Considering this article, and its relationship with the RAMP Index, the Datalliance lifecycle follows a corresponding path, sustaining this relationship, with Support in the center.
Our simplified customer journey breakdown identifies the appearance of the support function at five clear junctures.
Developing an understanding of a customer's application to provide the best solution
Working with the customer for any integration requirements
Delivering the project in line with any scheduling requirements from the user or asset owner
Training and commissioning
Continued after sales support (traditional support)
This 5-step process –which of course does occasionally change depending on customer, market, and sometimes regionality– ensures a working customer relationship. It enables Eddyfi Technologies to be present throughout the entire cycle from inception to delivery and beyond, while at the same time, allowing our customer's direct access to the support that they need throughout the whole process.
Ultimately fulfilling the Datalliance lifecycle and delivering on Eddyfi Technologies' core promise, to develop technology for the customer, based on the needs of the customer and the market in which they operate. It moves us away from this engineering driven approach where time and effort are expended creating products and technology simply because we can and allows us to focus more of our engineering resource on making things that people need.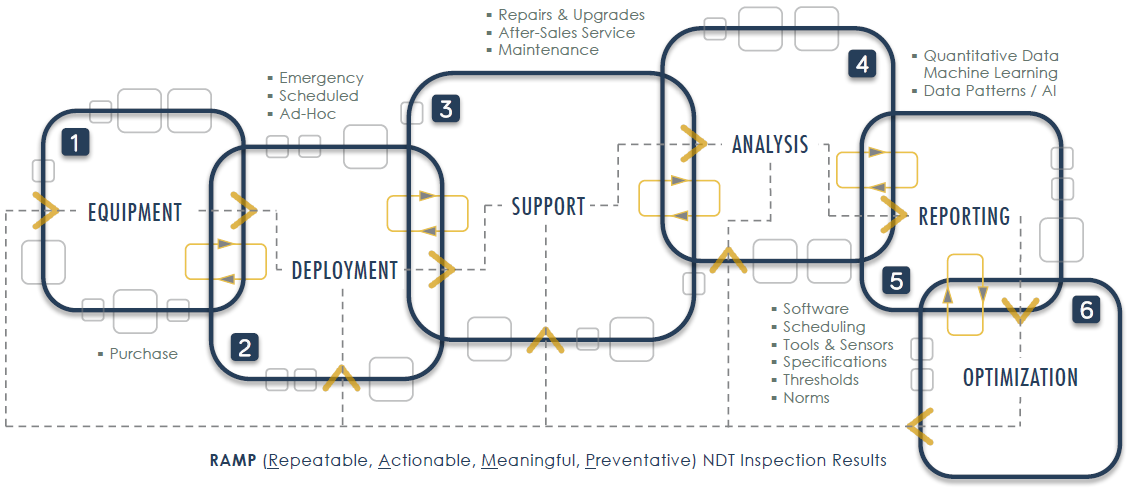 Looking at the above diagram, it's clear that Support is mistakenly considered as the final step in a customer journey; however, in reality, support branches spread throughout the entire Datalliance lifecycle as the glue that binds everything together.
Making Support Accessible, Efficient, and Effective
Now we have highlighted our support offerings and addressed key support stages in a customer's journey, I want to take some time to repeat what I mentioned earlier, "…it is incredibly important that our support structure surrounding this mission critical environment is not only accessible but efficient and effective."
So how do we make support accessible, efficient, and effective?
While most Eddyfi Technologies robotic solutions are plug-and-play, we offer additional operational training depending on our client's requirements. Traditionally, this has included our staff providing hands-on training at a client's location so that operators can get a feel for how to operate equipment in their own surroundings. In a day and age where more interactions are becoming virtual, Eddyfi Technologies has been quick to adapt to online training for not only our crawler systems but a range of NDT topics as can be found on the Eddyfi Academy. We are here to flatten the learning curve and help you get the job done efficiently.
Our multi-mission modular technology has been designed to address a wide range of inspection challenges. When you come across a new application, you can rest assured knowing you have access to Eddyfi Technologies' global team of application engineers who are on standby to ensure you experience a stress-free deployment and inspection job with real RAMP results.
With Eddyfi Technologies, a sale doesn't end with the purchase of equipment. Our inspection solutions are built to withstand the test of time, and we're here to support your equipment with preventative maintenance packages to help ensure your ROI. With service centers in North America and the United Kingdom, clients have access to service technicians who can offer advice on maintenance, repair, and upgrade options to keep your inspection camera and crawler systems in optimal condition. And of course, your software remains futureproof thanks to a software subscription that makes sure you always have the most up-to-date platform and features to separate you from the competition.
At the end of the day it's all about bringing robots to life and keeping them alive. Eddyfi Technologies keeps you Beyond Current. Sign up for our blog to stay Beyond Current, and contact our team to discuss your inspection requirements.