Why VersaTrax for Pipeline Remote Visual Inspection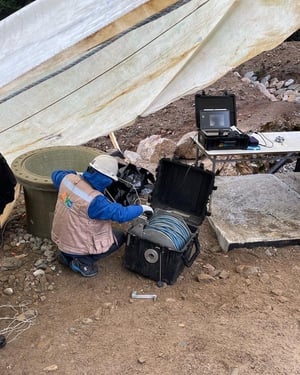 Okatecnologia has operated VersaTrax equipment since 2011 and before the acquisition of Inuktun by Eddyfi Technologies. Therefore, we know the versatility of the inspection equipment well and have confidence in the teams behind the technology. After 10 years in the Chilean market, we have become experts in visual inspections with robotic and push equipment.
The VersaTrax pipe crawler system is a robust workhorse designed for the inspection of long pipelines, tunnels, culverts, and other confined areas with a limited number of access points. Eddyfi Technologies can readily adaptable it for different inspection cameras, sensors, and tooling to perform comprehensive inspections across a wide range of industries. Ease of use and access, operational power, and unmatched reliability make the VersaTrax the ideal NDT tool for our unique inspection requirements.
Typical defects we may spot include pitting, dents, microbial induced corrosion (MIC), stress-corrosion cracking (SCC), weld defects, and fatigue. Early detection of these defects allow operators to prioritize repairs and maintenance and extend the onshore or offshore pipeline's fitness for purpose. While remote visual inspection (RVI) is one of the most common ways to detect pipeline defects and evaluate pipeline integrity, we recognize that Eddyfi Technologies is well known for integrating other technologies to its crawler robots to take NDT further. The advanced non-destructive testing inspection possibilities ensure we can deliver repeatable, actionable, meaningful and preventative data results that operators trust.
In-Service Pipeline Inspection
One of the questions we get asked is whether pipelines need to be inactive in order to perform RVI. Eddyfi Technologies inspection robots perform in-service pipe inspections for a multitude of pipelines transporting various commodities with unique operating characteristics and a wide range of environmental settings. Our VersaTrax is ready to perform long-range CCTV inspection of transmission and distribution lines; boiler, furnace tubes and HVAC ducting; high energy pipes; trenchless construction and civil engineering operations; process pipes; sewer and storm drains; difficult to inspect and unpiggable pipes – and so much more. Let's take a closer look.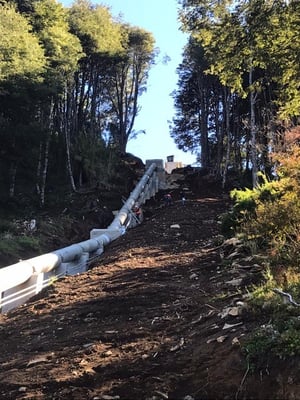 Hydroelectric Power Plant Inspection
While we have a range of clients in all areas, the solution presented here was for hydroelectric power plant clients. Okatecnologia was approached by a hydroelectric power plant for a general visual inspection of the confined spaces found inside the machinery room and other areas of the facilities. No stranger to these industrial environments, we deployed the VersaTrax pipe inspection vehicle to perform a routine structural integrity assessment.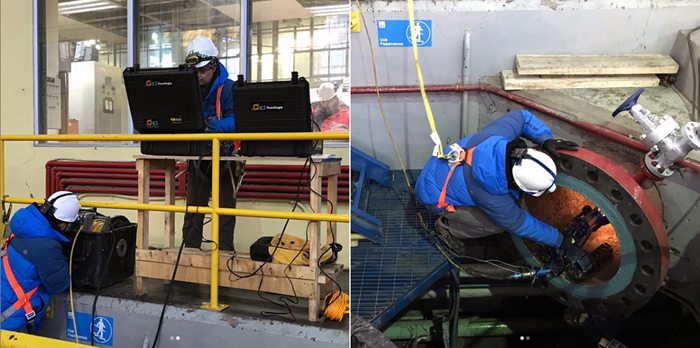 In another instance, we were asked to verify the structural condition of hydroelectric power plant pipelines since they needed to see the state of the joints and the overall state of the pipeline. For this work, we have the strength of the VersaTrax team to cover more than 300 continuous meters downhill. This inspection robot for pipeline leak detection is easy to use and because it is a tethered vehicle, we are always able to retrieve it in the unlikely event of a problem. Thanks to the VersaTrax equipment, we managed to complete a journey of more than one kilometer which was achieved in two days of work!
Penstock Inspection
When it comes to performing structural integrity assessments in penstocks, our inspectors face a host of complications – pipes are typically very large and may include a lot of potential hazards that are difficult to detect. Plus, with usual time and budget constraints in play, reporting on the real-time condition of these aging assets can be a monumental challenge. Fortunately, Eddyfi Technologies' lineup of Inuktun Versatrax robotic crawlers are up to the task! The pipe inspection vehicle recently performed a remote visual inspection of a long penstock to verify a repair. With an onboard Spectrum™ pan, tilt, zoom inspection camera, the VersaTrax robotic crawler provides a close look at the condition of the asset including evaluation of weld seams and rivet heads noting corrosion, pitting, buckling or any observable changes in status. Given that this work was performed post-repair, the VersaTrax was a key tool in providing evidence of the structural integrity of the penstock. We employ a robotic solution for RVI so operators can establish baseline conditions, implement a documented monitoring plan, and create a maintenance and repair program for the increased efficiency of their business operations. Okatecnologia trusts the VersaTrax for reviewing condition, safety, and risks of existing penstocks and noting deficiencies for repair, rehabilitation, or replacement.
Getting Into a Slippery Situation
The modular robotic inspection crawler often performs structural integrity assessments of dirty pipelines featuring wet sections – no problem for the waterproof vehicle.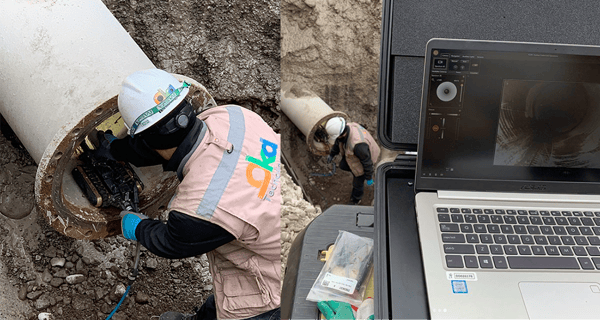 When every minute counts, the portability of the control setup and rapidly deployable VersaTrax are the time-saving solution for us. We can collect data results you can trust to help ensure structural integrity and regulation compliance as well as verification of remaining useful life of infrastructure. Eddyfi Technologies' remotely operated pipe robots assist with improving practical planning, reducing operating and safety risks, and increasing profitability for pipeline owners around the world.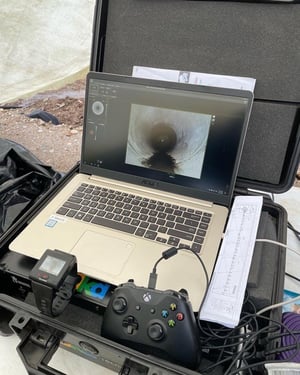 In Summary
Okatecnologia regularly deploys Eddyfi Technologies' robotic inspection crawler and remotely operated camera systems as they are the trusted high technology solution for helping pipeline owners assess the condition of their lines as part of their risk and integrity management operations. To learn more about us, check out our website, and if you're interested in adding a robotic solution to your inspection operations, get in touch with the experts at Eddyfi Technologies.