Let's start from the beginning. What was the motivation that drove you to your current role at Voyis today?
When I was in school for electrical engineering which involved robotics and mechatronics, I knew that I wanted to get into the field of robotics in some sense but how was up in the air. In 2018, I came across 2G Robotics, originally applying for a technician role and ending up in a technical sales position. The company had its cutting-edge appeal and the industry around subsea robotics is not exactly commonplace. It's an intriguing world; the closest feeling of space exploration you can get is exploring the ocean. Over the course of my career, I've become the authority or resident expert on civil based inspection and have worked on a lot of projects with various companies to truly understand the needs around capturing incredibly detailed 3D data in remote locations.
What made Voyis choose Eddyfi Technologies' robotic solutions to integrate with its underwater laser scanners?
Voyis' powerful underwater laser scanners and Eddyfi Technologies' robust robotic solutions have the perfect synergy. Back in the day, we actually worked with Inuktun and GAME Trenchless Consultants who had a requirement for remote deployment. While our underwater laser scanners are great at providing data, they needed a way to get to the area under test. Eddyfi Technologies' robotic platforms offered the ideal deployment mechanism for our sensors. In fact, they have become Voyis' go-to solution given their ease of use, versatility, and painless integration. We have dealt with a lot of other bespoke crawlers and Eddyfi Technologies' are the best that we know. They can access all the different terrains they need to.

So then, what industry or applications are robotically deployed scanners best suited for?
There are a wide variety of applications across the civil infrastructure industry, but our systems are largely used for internal pipes, tubes, and tunnels, which is where the Eddyfi crawler comes in handy. The offshore energy sector, including renewables and oil and gas, also has similar applications with inspections required for internal pipes, jackets, monopiles, I-tubes, or J-tubes in order to detect corrosion, dents, defects, and anomalies. Continuing in the civil instruction sector, hydroelectric dams and penstocks are a huge market for the technology, where we can use our Insight Nano laser scanner mounted to the crawler for inspections in challenging environments. Additionally, we have started to deploy our laser and camera systems from ROVs and AUVs to perform dynamic modeling of larger areas underwater. The possibility of performing dynamic laser scanning has allowed us to support the defence sector with maritime mine countermeasures, by performing remote identification of mine-like objects on the seabed from a safe robotic platform without the need to deploy divers. Our Insight laser scanners and Observer still cameras provide the greatest resolution subsea to enable users, like the Navy, to perform autonomous missions with confidence.
What are the biggest trends you are witnessing in asset integrity management?
I would say there is a huge trend towards developing technology that can provide data with a greater level of resolution and detail in order to have confidence in the inspection results, when a human is not directly putting their eyes on the issue, and to enable autonomy through machine learning with better data, ultimately improving the efficiency of the end user's inspection. With pipes and tunnels, shutdowns cost a lot of money so to have a quick solution that still provides certainty is huge. It all comes down to making confident decisions about an asset and its integrity. Robotics equipped with multiple sensors increases the probability of detection by using multiple perspectives and techniques. This forms the true sense of digital twinning which is not just a 3D model but all the data from different sources coming together in a permanent record of inspection. Having a baseline digital twin with higher quality datasets will allow the end user to effectively compare subsequent inspections on the same asset to determine changes over time, and to support predictive maintenance of the asset.

What do you see as the biggest challenge faced by the industry today?
It's not unique to this industry but the willingness to adapt to new technology is a big challenge here. Inherently people do not like change because it is uncomfortable and trust in a higher complexity solution isn't there. The industry may also be slow to take on robotics and sensors because workers worry about their own job security. An important note to reiterate is that we are not in the business of replacing inspectors. It is our mission to keep them safe, putting them somewhere more comfortable to perform their work, and offer better data results. Eliminating manned entry, known to be dangerous, is important, and objective data acquisition is imperative in visual inspection. Our approach is to enable inspectors to collect a recordable dataset with continuous monitoring capabilities while staying safe. Improving both safety and productivity is a key benefit of our solutions.
What is the expectation from your clients with regards to the data obtained from a pipeline inspection?
Laser scanning falls under visual inspection for obvious reasons; you can see more with lasers than the human eye. In a carbon steel pipe for example, clients are always looking for ovality changes as this can create flow accelerated corrosion and erosion. You're inspecting the welds and looking for corrosion pits that you can't pick up with ultrasonic testing (UT) or commercial NDT methods. From a UT point of view, there is no difference between hitting a small stone or missing material, but a laser scanner will give perfect dimensional data that clarifies this which is backed up by visual inspection. When it comes to telling whether something is a scratch or a crack, a dent or a pit, laser scanning is a volumetric tool that offers higher certainty and clarity. Voyis' Insight underwater laser scanners produce high resolution 3D spatial measurements for different analytical purposes; clients can determine the integrity of their assets with certainty and make the decision-making process easier. The same laser can operate at different resolutions to detect more, identify location and material changes with a pre-defined color palette threshold for corrosion pitting, ovality of the pipe, or step changes in municipal pipe and gasket installations, for example. The expectation from our clients is that they'll have all the information required to determine what needs to be done and ultimately reduce downtime while increasing safety. We understand the importance of reliable, accurate data whether obtained manually or through automation for extending the useful life of assets.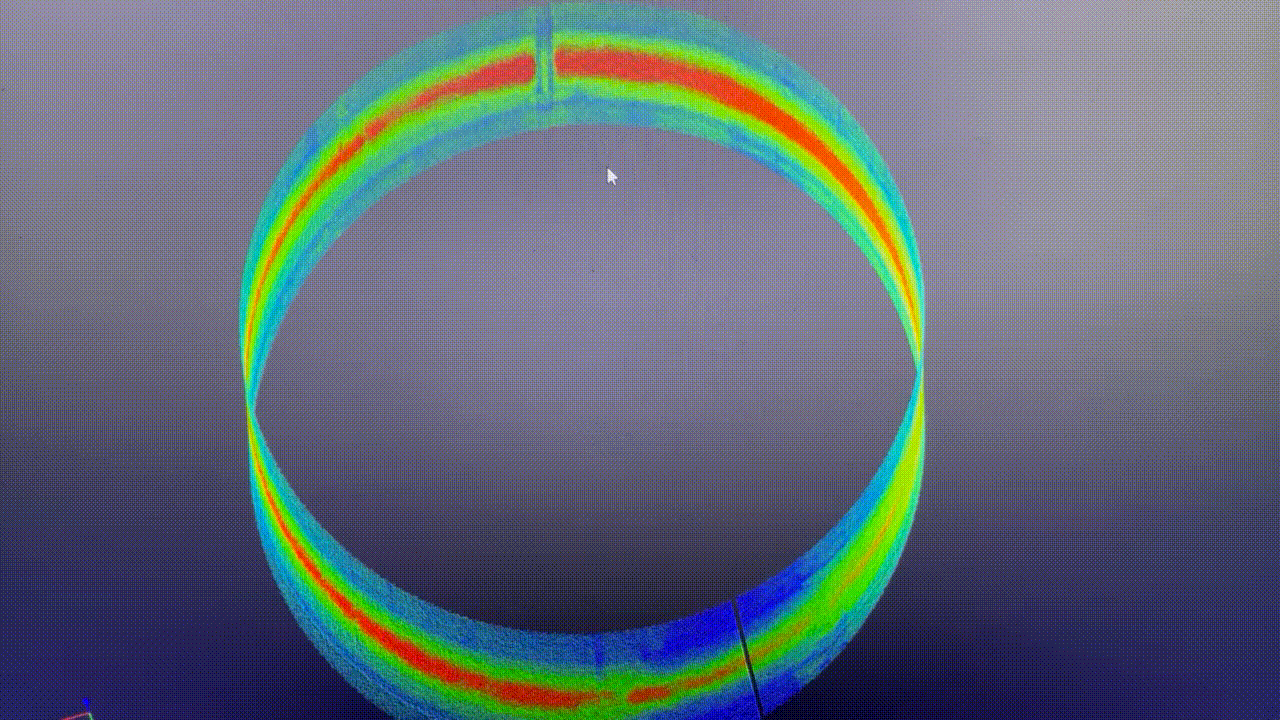 What do you envision for the future of inspection?
I hinted at it earlier but looking forward it involves equipping robotics with a variety of sensors that can provide data to give an overall depiction and enable automation from there. We're seeing AI being used in offshore oil and gas and the Navy through deep learning to provide alerts, or events, of anomalies. Performing general inspections not at high resolution with the option to change your settings and do another high-resolution scan with multiple sensors when something is found is huge – providing that data in real time to allow for AI automation processes is undoubtedly the future. Every industry is going that route and the real question is just how fast we will see that change and how to best utilize that AI. Collecting data is one thing but how it is used afterwards will develop out of necessity.
Laser scanning automatically develops full scale models and given that stitching scans together in post-processing is another pain point, automating this function is a gamechanger. We're enabling the amalgamation of data for a digital twin without the backend legwork and collating it to be more useful. Basically, we are leveraging applicative software as technology can only go so far to get what we want and taking all the information available from different sources and combining it in a way that makes more sense. In not only a cost-conscious economy but also a political environment promoting going carbon neutral, enabled robotics are facilitating worldwide goals for a greener future.

What advice would you offer readers considering an integrated solution?
We all know how expensive digging up a pipeline is and that the longer a shutdown, the more money you're losing. That's where Eddyfi Technologies pipe inspection crawlers create value by offering in-service inspections. And if you're already deploying a crawler to perform remote visual inspection, Voyis' Insight laser scanners literally bolt right onto the robot. The cost of adding a laser scanner to your investment in an inspection robot is not a big addition but provides insurmountable benefit to the quality of your inspection. When you see something during an assessment, you need better context and in-depth analysis to make the inspection actionable. You can avoid costs by finding a problem and measuring it in real time to determine whether it's an actual problem and prevent digging up a whole pipeline. A laser scanner offers the simplest form of validating a visual inspection. Enabled robotics are a key driver for improving safety, increasing operational efficiency, avoiding or reducing costs, and improving environmental performance.
On behalf of our readers, thanks for sharing your insights here, Brenden!
For those interested in learning more about Voyis, visit their website here, and if you're interested in leveraging Eddyfi Technologies robotic solutions to stay Beyond Current, get in touch with our experts today.