Cranes can regularly be seen loading and unloading freight, transporting construction materials, and assembling heavy equipment across a range of industrial sites. This includes overhead or bridge cranes, fixed or tower cranes, and mobile cranes all comprised of steel framework, welded together and then painted or galvanized to prevent corrosion. Besides atmospheric conditions, cranes are susceptible to fatigue stress due to their cyclic loading function and therefore require routine inspections to ensure safe operation and structural integrity, especially of the lifting mechanism or hoist. So, what's the best solution for inspecting cranes?
In the absence of a suitable inspection technique, some cranes are removed from service based on their age rather than their actual condition. Welds make it difficult for conventional eddy current inspection while the presence of a coating prevents assessment by magnetic particle (MPI) or dye penetrant (DP) methods. Because cranes have typically been assessed using the MPI technique, this means that the paint or coating was removed prior to inspection and reapplied afterwards. The additional associated costs are obvious, and despite these efforts, MPI is unable to provide depth or severity of any defects found. You can imagine the time wasted investigating indications that turned out to be no more than scratches.
Given their mechanical makeup, inspecting cranes is further complicated with their staggering height and difficult-to-access areas. Many inspection techniques require the local operator to interpret the results which either means scaffolding or alternative access to the inspection sites, or it puts great demand on the operator for rope access. We present the Beyond Current solution that won't leave you hanging.

The Alternating Current Field Measurement or ACFM® technique is designed to detect and measure surface-breaking defects —works through coatings— and is well suited for assessing fatigue cracking at welds. The use of ACFM is a no-brainer that instantly shortens inspection time and reduces waste. With a range of ACFM probes like our Sensu 2 Compliant Array or Pencil Probes paired with the TSC Amigo™ 2 instrument, it is possible to separate the roles of local probe operator and NDT inspector. The ability to employ ACFM with rope access technicians enables access in otherwise inhospitable areas without the need for expensive scaffolding or another support structure. Moreover, the length of time that a crane is offline is significantly lower as the alternating current field measurement technique eliminates the need to remove and reapply paint or other protective coatings.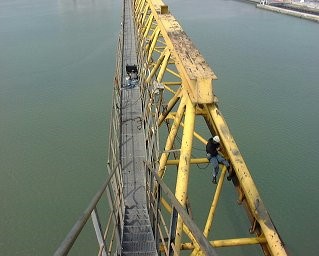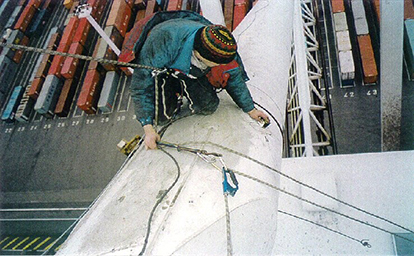 ACFM inspection by rope access
Because of the advantageous cost and time savings offered by ACFM, it was specified for more frequent inspections of all dock cranes at Le Havre following a failure incident. A typical container crane is 90 meters (300 feet) long, 70 meters (230 feet) tall, and 40 meters (130 feet) wide. The many critical welds requiring inspection historically took 20 days using MPI. The same inspection with ACFM only takes five days. The cranes are inspected on a rolling basis and since its introduction at Le Havre, ACFM is now used in other ports around France including Dunkerque, Rouen, and Bordeaux.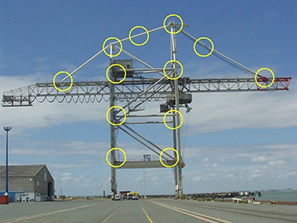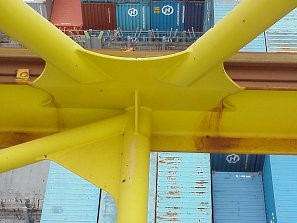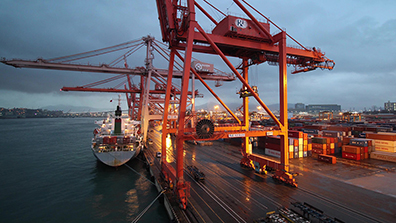 Left to right: Critical welds to be inspected on typical dockside crane, typical weld geometries on crane, dock crane
Eddyfi Technologies offers tested, tried, and true ACFM instruments that undeniably optimize inspection of cranes and so much more. Learn about better structural integrity of bridges here, detailed storage tank weld inspections here, improved drillstring thread inspections here, and even more on our blog. Ready to discuss your specific inspection requirements with one of our experts? Get in touch with us today to stay Beyond Current!