The original method for Non-Destructive Testing (NDT), Visual Testing (VT) is not only cost effective but also the simplest technique for all level inspectors to find most signs of damage otherwise detected by more expensive NDT methods. Visual inspection continues to be a popular technique for initial assessment of surface-breaking defects.
Robotic crawlers have evolved visual testing, enabling operators to perform Remote Visual Inspection (RVI) of difficult-to-access areas of capital assets and critical components found across a diverse range of industries. Bringing robots into the equation may sound like a more complex operation, but Eddyfi Technologies' Inuktun Multi-Mission Modular (IM3™) technology has always followed the KISS (Keep It Simple Stupid) philosophy.
Case in point, if you know how to use an Xbox controller or a standard mouse and keyboard, you can use either option to quickly learn how to drive our robust inspection robots to perform Close Visual Inspection (CVI) on infrastructure —like pipelines, storage tanks, pressure vessels, or drill risers that would otherwise be unreachable— and see the unseen. Our robotic NDT equipment can be adapted for your specific inspection job requirements.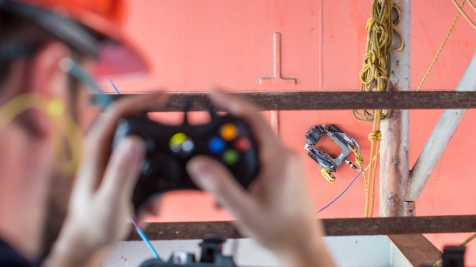 When approached for a quick solution for weld height estimation during RVI, we came up with a simple solution fast. Similar to VT aids like a ruler or gauges, we presented a dial indicator that is held in front of the crawler and visible to the camera for weld height estimation. The simple solution can easily be transferred to other applications to give a very quick visual indication. The dial provides the information required for any technician to determine if a weld has any obvious faults, much like our optional lasers we offer to provide on-screen size estimation through the eyes of our high definition inspection cameras. The dial offers a quick guide to determine whether further investigation is required by one of Eddyfi Technologies' advanced NDT solutions.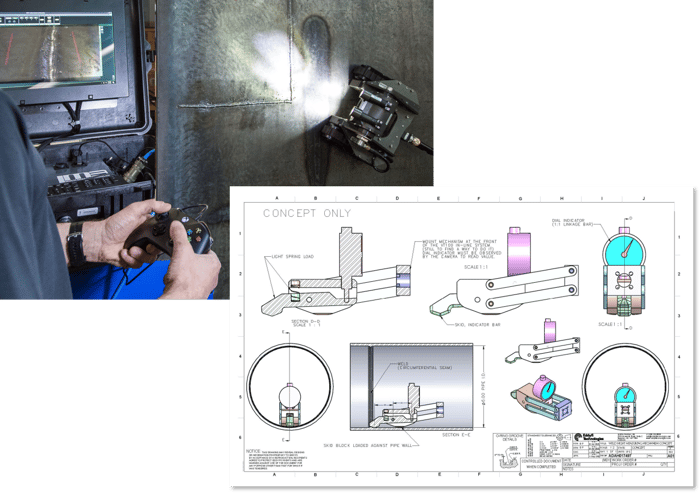 Discover the simple sophistication with IM3™ technology in this blog post, and watch this YouTube Live session with Liam Hanna, Technical Sales Specialist, who reiterates how to keep it simple with Inuktun robotics. Our engineering team is committed to making timely decisions without overcomplicating things, solving tomorrow's inspection challenges today.
Our proven robotic solutions go the distance, delivering a clear picture of the structural integrity of infrastructure asset owners rely on for effective and efficient operations. Check out the #InuktunInTheWild sightings on our blog to see exactly where IM3™ technology has been, and talk to us about where we can take you to stay Beyond Current.