Designed for all levels of technicians, Capture has earned its reputation as the user-friendly, complete software platform designed for all Ultrasonic Testing (UT), Phased Array UT (PAUT), Time-of-Flight Diffraction (TOFD), Total Focusing Method (TFM), and Adaptive TFM procedures (ATFM). With intuitive calibration wizards that require a mere three clicks to complete, Capture software enables phased array inspectors to improve their knowledge without extensive training; moreover, we offer online courses like this that you can complete at your leisure.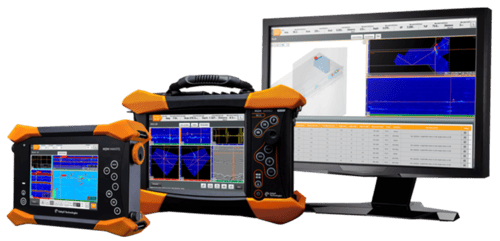 Capture 3.4 is no different from previous software updates in that it continues to offer a good balance between new tools and features requested by customers while improving ergonomics to increase productivity and probability of detection.
New Tools and Improvements
Weld Overlay for Nozzle/Nodes
With the release of its 3.4 version, we have added the ability to define weld overlays for straight nozzle and node configurations. Compatible with PAUT and TFM inspections and scanners up to 3 axis, operators can now have a real-time display of their welds providing huge improvement in terms of probe positioning and echo analysis. The following images show the setup of a set-in nozzle with a V weld overlay.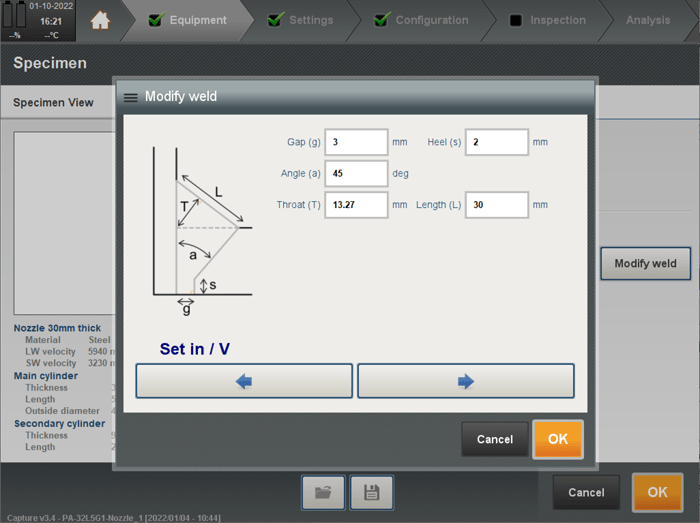 The second image shows the S-scan superimposed with the weld overlay of the nozzle and a 3D view that shows the position of the probe around the nozzle. One can see a geometry echo coming from the corner of the nozzle indicating proper positioning of the probe and an echo coming from a lack of fusion along the vertical bevel.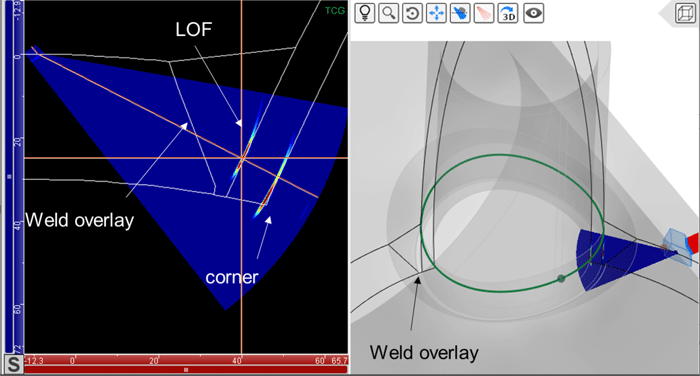 The following video shows the evolution of the overlay as the probe moves around the nozzle.
FFT
Another tool with Capture 3.4 is the ability to calculate the frequency content (FFT) of a signal. The tool provides the central frequency and bandwidth at -3 dB/-6 dB of an A-scan or part of an A-scan within a gate for all techniques (conventional UT, TOFD, PAUT and TFM). This can be useful when selecting the proper probe in terms of central frequency for the inspection of attenuative material. The following image shows the inspection of an HDPE (High Density Polyethylene) butt weld using a 5-MHz probe. Looking at the FFT of an echo coming from a side-drilled hole in the middle of the weld, one can see that the frequency of the ultrasounds coming back to the probe are centered around 1.4 MHz indicating that this frequency range is much better suited for the inspection of this material. This feature can also be used in other applications when indications impact the frequency content of the ultrasounds such as High Temperature Hydrogen Attack (HTHA), creep, etc.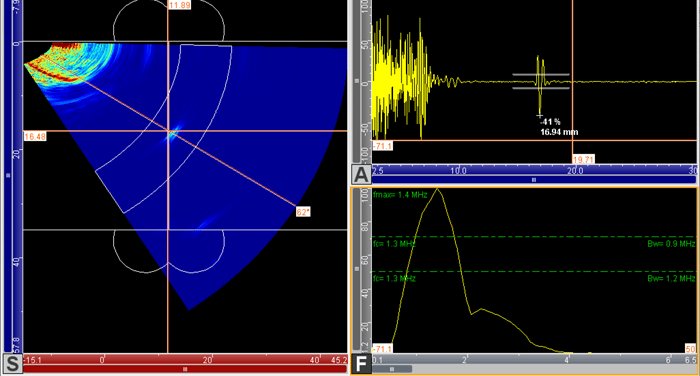 Improved TFM
With Capture 3.4, TFM is now available for all complex components: fillet weld, nozzle, and the true CAD files introduced in Capture 3.3 for PAUT. The tool provides real-time overlays of the complex components on the T-scans and 3D views for direct modes. The following images shows the TFM technique applied to a bolt inspection and Tee-weld.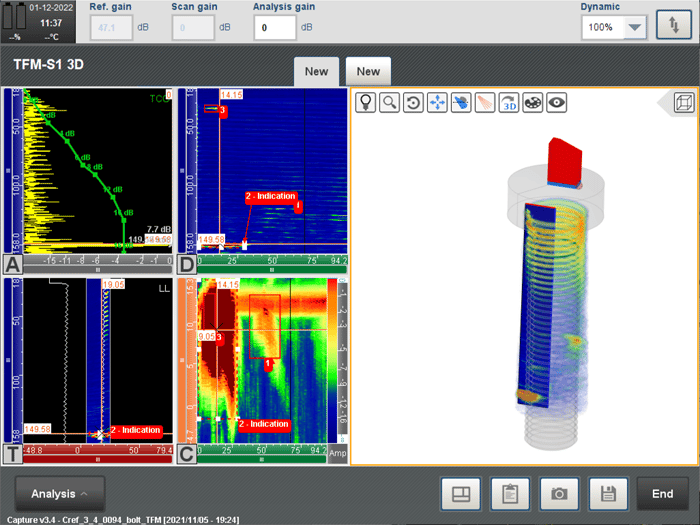 TFM Bolt Inspection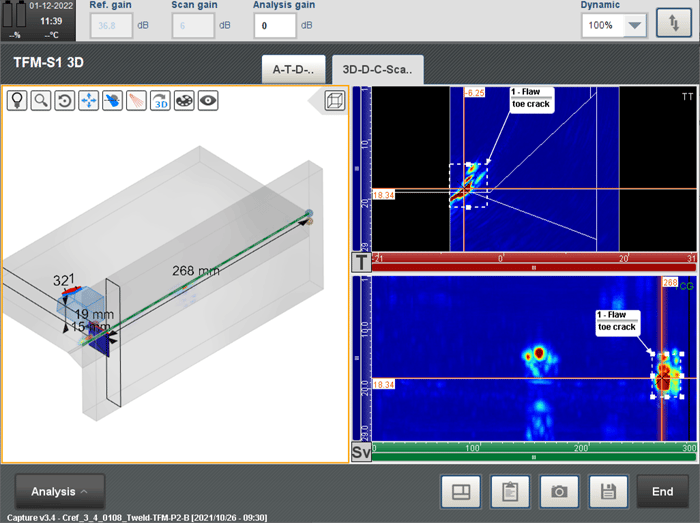 TFM Tee-Weld Inspection
TFM also benefits from big improvements in terms of pixel count, speed, and file size. It is now possible to use up to 2 million pixels on the Gekko® (four groups of 500 kpixels) and 900 kpixels on the Mantis™. You can expect a speed improvement of about 10% for configurations with less than 90 kpixels and up to 30% above that. Finally, file size for TFM inspections has been divided in two making files more manageable.

New License Platform
Capture 3.4 benefits from Nalpeiron, the same license platform as other products from Eddyfi Technologies. Nalpeiron is a cloud-based license solution that makes it easy to update Gekko, Mantis, and PCs via internet. Customers will also be able to rehost easily their license from one PC to another without the need to contact us; easily download the latest version of Capture software online.
Features/Ergonomic Improvements Requested by You
Besides the innovative features, we also deliver more traditional tools requested by our customers. We understand that people have their own way of working and that we need to match those ways.
UT and Gate Settings
Two big ergonomic improvements with Capture 3.4 are the possibility to access the UT setting and gate setting directly in the inspection while avoiding having to go back and forth between the various configuration and inspection panels. Operators have direct feedback on signal characteristics when changing inspection parameters and a flexible workflow that they have been accustomed to when performing PAUT inspections. The UT settings gives access to all the probe parameters (central frequency, voltage, filter, averaging, etc.) while the gate settings allow operators to readjust their gates on the fly to capture interesting information.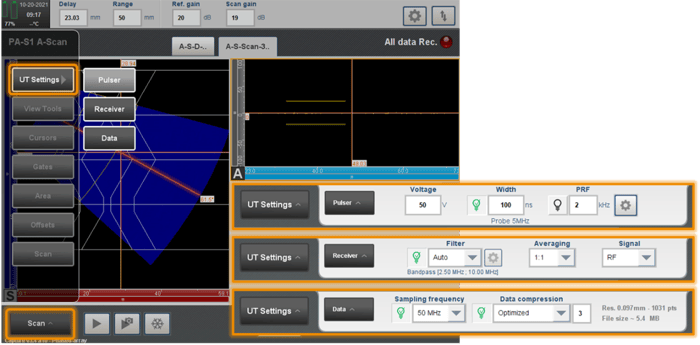 UT Settings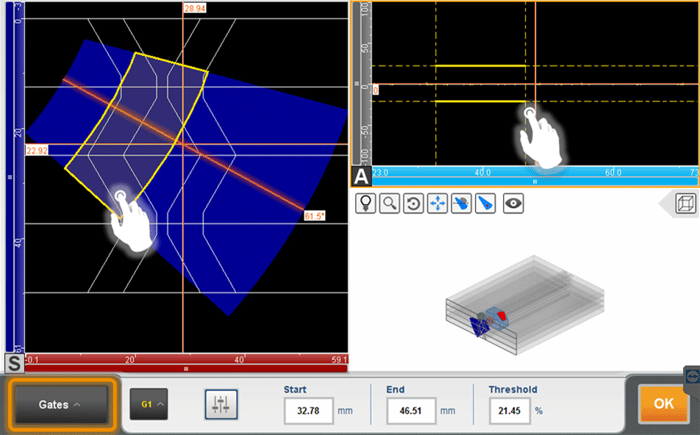 Gate Settings
Scrolling Zooms
When performing inspections of long and/or large components, it is sometimes difficult to display all the information on the screen of a portable instrument. Capture 3.4 introduces scrolling views (C-scans, B-scans, and D-scans) during acquisition and analysis. Operators can drop a second C-scan, B-scan, or D-scan in their layout, zoom in, and when moving the cursors along the scan or index axis the zoomed view adjusts to the new position. The following video shows an application of this tool for PAUT and TOFD data.
Here is the complete list of features added to Capture 3.4. People doing corrosion mapping will benefit from the possibility to edit the synchronized gate in analysis, customers performing corrosion under support with the PA-CAT technique will be able to configurate their Gekko/Mantis; it is now possible to use up to eight pairs of TOFD for particular TOFD applications, and the list goes on.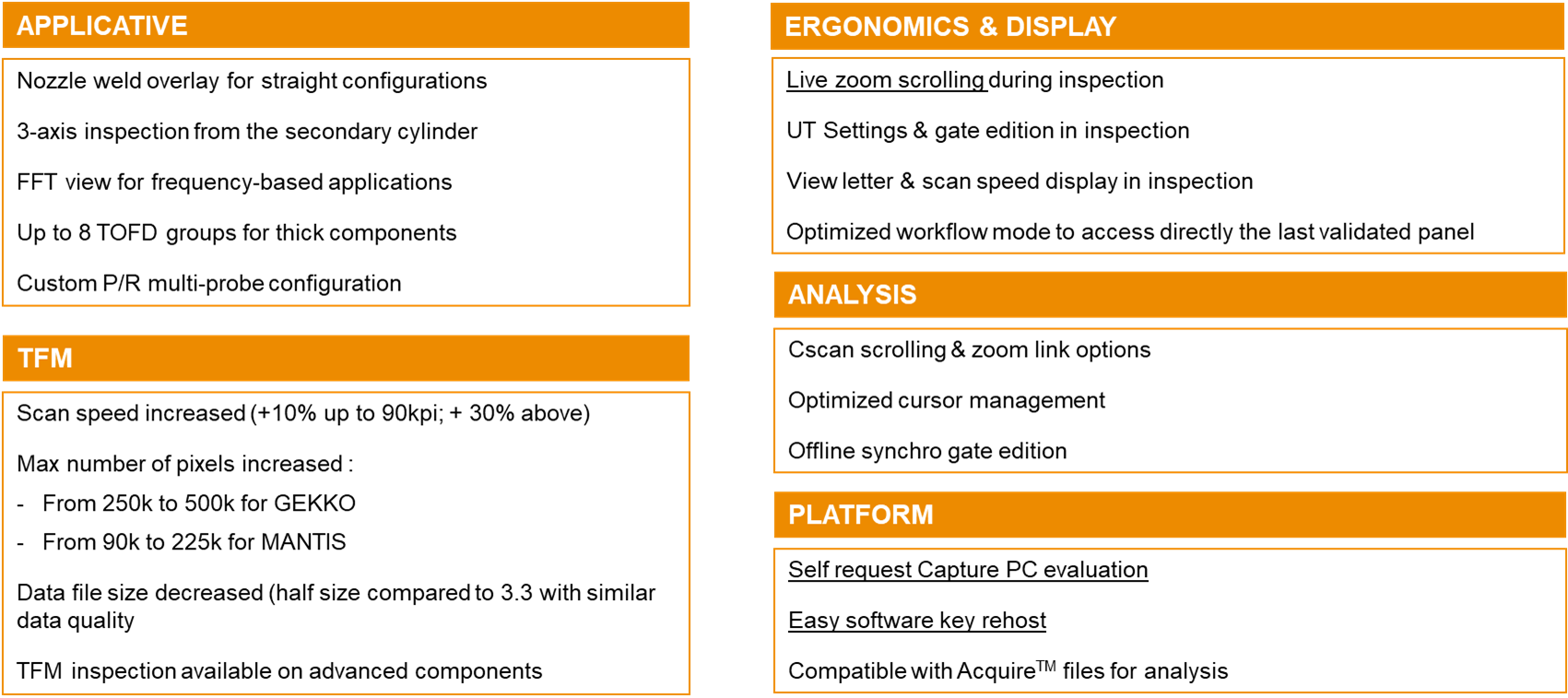 Eddyfi Technologies continues to deliver on its promise to offer three major software updates a year with Capture 3.2 and Capture 3.3 released in March and July 2021, respectively, and now Capture 3.4. The Capture roadmap includes more features for PAUT and TFM, new analysis tools, but also improved ergonomics to ensure people can easily transition from any PAUT system to our increasingly popular Gekko® and Mantis™ offering. For more information on Capture™ software and our advanced PAUT and TFM offering, contact our experts today!