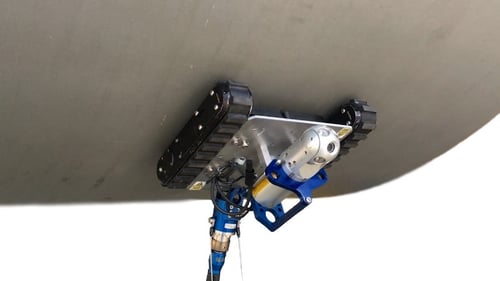 This custom crawler is based on the VersaTrax™ M-Series (formerly known as Magg™ 480) workhorse platform. It can carry up to 45 kilograms (99 pounds) vertically using massive magnet cups and a proprietary track design. As long as the wall is made of a ferrous alloy, the robotic crawler delivers an impressive performance making it the perfect fit for heavy duty painting applications. Because this is an OnSpec robotic solution, it was adapted to address the customer's precise needs. In this particular case, there is also a second vehicle that performs a thickness measurement of the coating to ensure the remote operations are up to the required specification. As soon as the paint dries, the second unit can start scanning – this being the first robotic system that allows painting and inspection to be performed at the same time by two operators.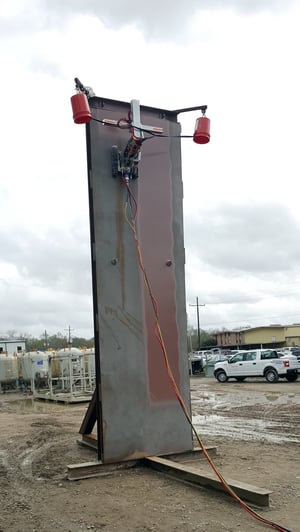 As part of OnSpec product development, our engineers excel in innovating to address the exact needs of our clients and the industry. Solutions can be as simple as a custom guard that prevents paint from getting on the tracks while keeping the surface clean. They can also be as sophisticated as an air shield that covers the camera lens in order to keep it clear and functional during industrial use. An Eddyfi Technologies' custom OnSpec robotic solution is a tailored system that delivers according to the client's precise and exact need. Every time.
When it comes to repainting or recoating storage tanks or other capital assets, consider an Eddyfi Technologies robotic solution that can offer better, faster, and safer benefits. And, when you are looking to achieve something that's never been done before, stay Beyond Current and challenge our robotic experts for a system catered to your precise requirements. Contact us today to discuss your next project!