It is hardly surprising that the Alternating Current Field Measurement, or ACFM®, technique comes highly recommended for ship weld inspection. With the technology's start borne from offshore inspection applications in the oil and gas sector, it has since grown a strong reputation for effective and efficient crack detection and sizing. The true differentiator for ACFM is its impressive ability to work through paint, protective coatings, and undesirable surface conditions. It has received independent approvals from a range of authorities including ABS Non-Destructive Testing of Hull Welds, February 2014, Section 6, ACFM Technique. Perfect for the often rough and difficult-to-inspect welds encountered on ships, ACFM is ideal for analyzing weld fatigue. It's worth mentioning that structural fatigue is responsible for 90% of weld failures; learn more in this video.
Operators deploying ACFM for their marine vessel inspections can enjoy these benefits: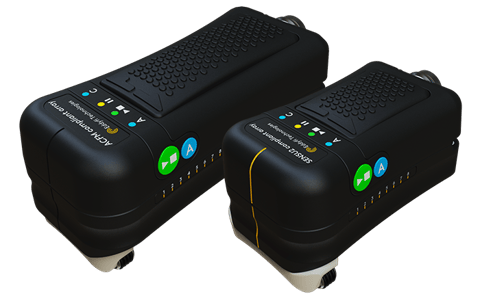 Cost-effectiveness

Time savings

Proven reliability

Flexible deployment

Ease-of-use

Auditable data records

Regulatory bodies approvals
Eddyfi Technologies is the only provider of true ACFM technology. The Amigo™ 2 instrument stands up to industry demands for performance in speed, signal quality, and portability. Add our compliant array probe and feel immediately confident in your inspection data.
With weld inspection covered, the next thing to consider is a ship's deck plates. These plates are susceptible to corrosion given the unavoidable harsh environment the salty sea provides. Knowing this, the detection and assessment of corrosion in ship deck plates is a critical part of service-life extension programs leveraged by naval forces and others in the maritime sector faced with the rising costs associated with purchasing new vessels. Pulsed Eddy Current, or PEC, has truly made waves in the marine defense and transportation sectors. With its ability to screen for Corrosion Under Insulation (CUI) without the need to remove insulation materials, PEC offers substantial savings in terms of both cost and time. In fact, Eddyfi Technologies collaborated with engineers close to the Canadian Department of National Defense to develop a custom solution optimized for detecting both generalized corrosion and pitting colonies in ship flooring. See the impressive results in this article.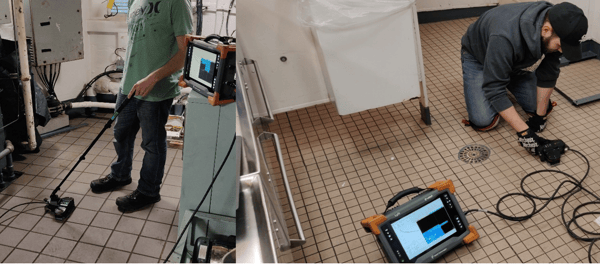 Download Eddyfi Technologies exclusive white paper on fighting corrosion in aging ships here.
In addition to ship deck plates, PEC can tackle ship hull inspection challenges. Corrosion is frequently found above the longitudinal stiffeners as a result of clogged drain holes providing passive protection. Eddyfi Technologies has developed a custom Pulsed Eddy Current Array (PECA) probe designed specifically for ship hull inspections.
But we haven't stopped there. Leveraging worldwide centers of excellence, Eddyfi Technologies has integrated its advanced technologies with standard robotic crawlers to perform remote inspections in areas of the ship made inaccessible when out at sea. The deployment of miniature magnetic crawlers like the waterproof Magg™ enable early assessment or UWILD (Underwater Inspection In Lieu of Dry-Docking) and more proactive maintenance and repairs when in dry dock. Employing an NDT enabled robot by Eddyfi Technologies ensures full coverage during ship inspection.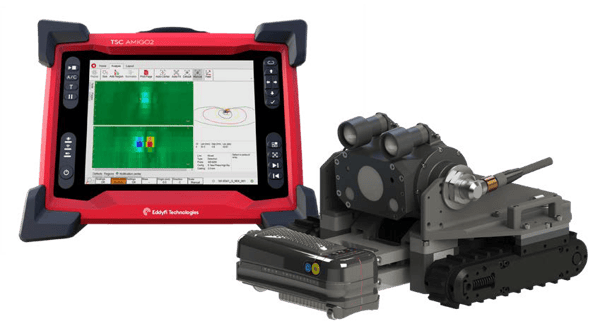 Beyond inspection, custom robotic solutions help combat marine biofouling. Learn more about the economic benefits afforded with remote removal of marine growth here.
With Eddyfi Technologies, you don't need to choose. Contact our team of experts to match your precise ship inspection needs with our trusted and reliable solutions today!