This article concludes our Eddyfi Datalliance mini-series explaining each stage of the data-driven NDT optimization program introduced in an exclusive eBook on robotics for NDT, The RAMP Index. While each component is meaningful and important, ending with Reporting is likely the most relevant. We understand that the inspection report is your deliverable to your client. That's why it is so critical to have technology based on a Multi-Mission Modular (IM3™) philosophy. Having systems that speak to each other often feels more like a luxury than a staple, and yet it's this kind of data sharing that is required for collaborative results across the entire value chain. Let's take a closer look.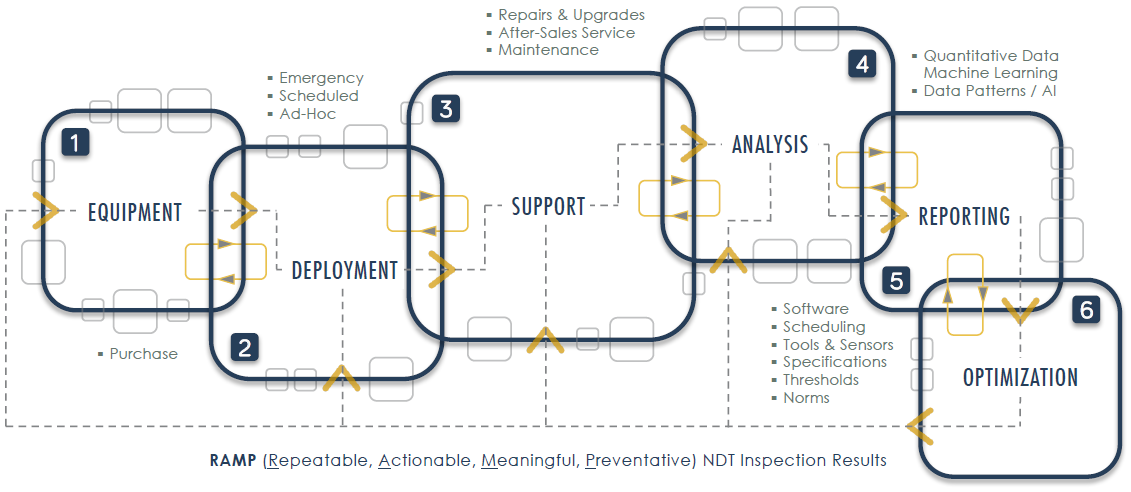 We invite you to view our other blogs that show how to efficiently get from equipment procurement to the final inspection report:
Inuktun inspection robotics are relied on every day to gather the data necessary for informed decisions. Our remote visual inspection (RVI) equipment can collect still and video images from the same angles and locations with Repeatable, Actionable, Meaningful, and Preventative, or RAMP, results that reveal changes and measure defects like cracks and corrosion. This data is included in an inspection report and provides maintenance managers and technicians with an accurate look of their assets' condition. Facility personnel are kept informed of historical data, corrosion rates, engineering calculations, next planned inspection, and retirement through this important documentation. The data in a report doesn't always offer local information about where a problem or area of interest in the image was captured, but with open third party software, users can create a permanent record of inspection in the form of a digital twin. A digital twin provides contextual data with a 3D model that enables better decision making.
Robotically transported NDT sensors can rate defect severity not always visible to the naked eye and allow earlier intervention of potential issues. A good inspection report will offer data visualization tools that clearly identify trends and highlight hotspots to help plan maintenance and forecast costs.
All Inuktun technology is controlled by ICON™ software which features a reporting function, but just as importantly, we integrate with other industry leading reporting software. We recognize that a majority of customers will input into third party ISO/EN accredited reporting software, but the ability to back this up locally is a great option. WinCan is a reporting software that is used frequently by some of our Inuktun Versatrax™ 150 customers who perform municipal water and sewer inspections. Similar to the photogrammetry approach with a digital twin, WinCan provides defect scoring overlaid on data on an asset with a heat map so a client or asset owner can immediately visualize the report. This data takes the guesswork out of an asset's remaining useful life.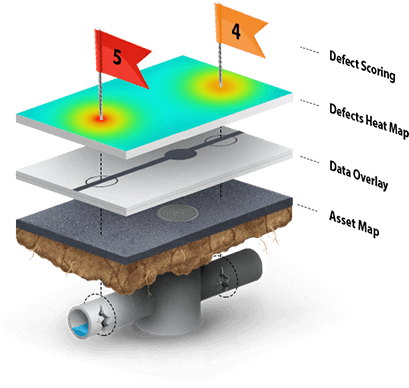 Image courtesy of WinCan
A robust monitoring strategy ensures smooth operations and mitigates risk to plant integrity whether a pipeline or turbine. With a quantitative risk-based inspection and maintenance program, operators can protect the integrity of assets vulnerable to deterioration in the most cost-effective manner. Obviously, RAMP data feeds this intel. Robotics used to gather this intel further optimizes the whole process. Access to more available data means better learning, patterns, and predictions and with advances in machine learning, it is becoming increasingly possible to automate inspection of infrastructure. The future of robotics for integrity assessments undoubtedly includes Artificial Intelligence (AI). The repeatability that our inspection robotics offer paves the way for deep learning which does particularly well with image processing – in some cases, better than a person could. Eddyfi Technologies is actively investing in AI having recently added to our dedicated research team.
The value of any inspection lies in the final inspection report. This detailed evaluation report is key for improving reliability and future operating requirements. Being able to benchmark and manage assets through key metrics shared with flexible software helps keep the entire value chain informed and Beyond Current. To learn more about how our Inuktun robotic crawler systems can collect data that enable you to deliver RAMP reports, contact our experts today!