The alternating current field measurement, or ACFM®, technique continues to earn industry awareness with hard-to-ignore benefits over the conventional inspection methods used for surface-breaking crack detection. Eddyfi Technologies offers a range of true ACFM inspection tools designed to increase operator efficiency and quality data output for strong risk management programs implemented across the industries that provide goods and services the entire globe relies on. We explore some key content designed to assist those curious about learning more about the appeal of ACFM.
ACFM has been identified as the ideal alternative to conventional inspection techniques requiring extensive surface preparation involving coating removal and cleaning. Because ACFM doesn't need electrical contact with the test piece, any paint, coatings, or general grime may be present during a successful inspection for crack detection. Alternating Current Field Measurement is capable of not only detecting flaws but also measuring their depth up to 25 millimeters, or 1 inch, deep. This provides a distinct advantage for thick-walled structures. But can it work through metallic coatings, scale, or rust? Yes! We've answered some of the most frequently asked questions about ACFM in a quick reference guide available here.
The Alternating Current Field Measurement technique was originally created in response to the offshore oil and gas industry's request for more reliable and efficient subsea weld inspections robust to liftoff variations and rough surfaces. Given its great success, it has been recognized across a broader range of sectors for a greater number of asset inspection opportunities. Learn how ACFM does the heavy lifting for crane inspections here, and why the technique bridges the gap for better structural integrity assessments here.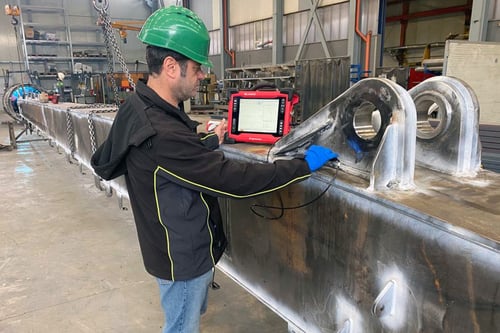 For a more in-depth look at how ACFM sets the standard for surface inspections, download this exclusive eBook which includes compelling use cases that are sure to make magnetic particle inspection, or MPI, a thing of the past.
There are a few factors to take into consideration when selecting the right ACFM probe for your application. Material type, access to test location and dimensions of test piece, weld quality, productivity, temperature, and the minimum detectable defect size will determine the best suited technology. Understanding this, we've helped take out the guesswork with this catalog that pairs your need with the precise solution to ensure reliable, repeatable, and actionable results.
Eddyfi Technologies offers advanced ACFM instruments like the Amigo™ 2 for the better solution to inspection through paint and coatings and accurate sizing of surface-breaking cracks. No other supplier can offer true ACFM® with no onsite calibration required. Our technology features a uniform field inducer, constant current drive, orthogonal sensors, and discrete phase sensors. Ready to discuss your particular application? Contact our NDT experts who can offer you the best advice on how to stay Beyond Current for inspections today and tomorrow.