Bottom hole assemblies (BHA) represent a critical part of drilling rigs. They are the lowest part of the drillstring between the bit and drill pipe, comprising of stabilizers, jars, mud motors, drill collars, directional drilling and/or measurement packages. BHA component inspection includes the assessment of the threaded connections between the different parts of the stack.
In an industry that must be cognitive of all production and cost efficiencies, the energy sector recognizes that a failure in drilling rig infrastructure must be mitigated as much as possible. Shell quoted an average cost just shy of $400,000 USD per twist-off. Washouts are less expensive provided the string is recovered without severance. Fortunately, most failures can be avoided. Fatigue cracking at the threaded connections over time is the most common failure. This damage mechanism can be closely monitored with improved inspection management and better conventional inspection practices, minimizing risk with real-time asset integrity data.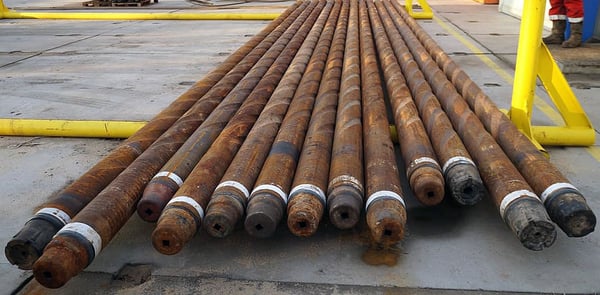 Conventional methods of Non-Destructive Testing (NDT) for fatigue damage involve enhanced visual techniques, Magnetic Particle Testing (MPT or MT) for carbon steel components and Dye Penetrant Inspection (DP) for non-magnetic components. Both options require a high degree of cleaning prior to assessment by skilled operators. Even the best technician has difficulty achieving the detection performance usually associated with these techniques, and there are no inspection records available for auditing. This all adds up to potentially expensive errors. MPT remains the nearly universal NDT solution used despite its inability to predict flaw depth, which is important for repair or replacement decisions.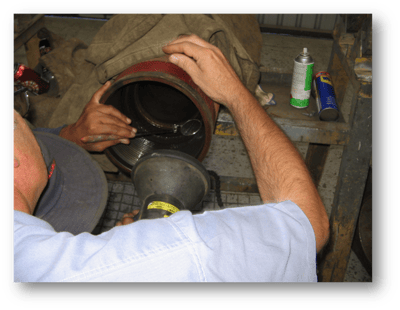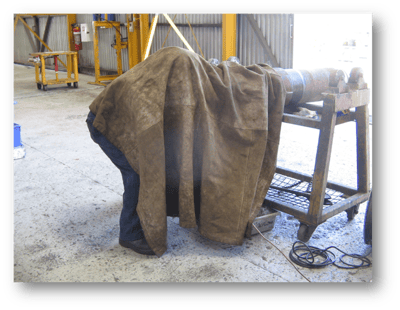 Under the right circumstances, MPT is capable of detecting flaws measuring 1 to 2 millimeters (0.04 to 0.08 inches) in length but when it comes to drillstring thread inspection, challenges related to visibility, access and geometrical intricacies significantly reduce the actual Probability of Detection (PoD).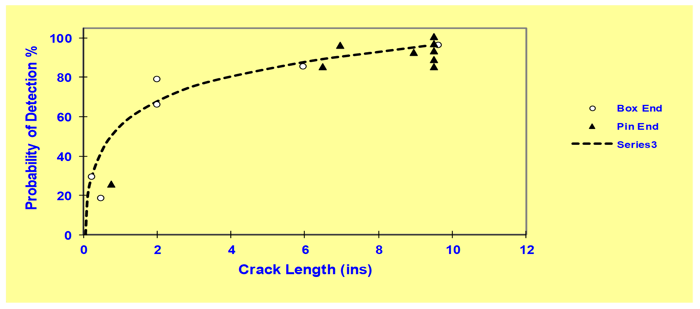 Source: Dale B A and Moyer M C. "Sensitivity and Reliability of Commercial Drillstring Inspection Services". 7th Offshore South East Asia Conference, Singapore, February 1988.
Moreover, overcalls can occur. The following example shows what is just a machining mark that MPI identified as a defect and a flaw missed by MPI that another technique detected (spoiler alert: it was ACFM).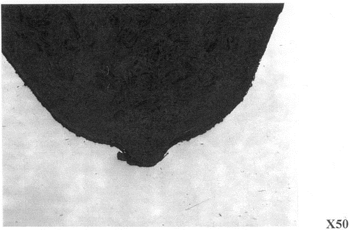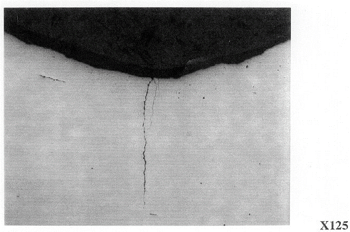 Left: MT - Defect call, ACFM - No defect call, Right: MT - No defect call, ACFM - Defect call (sized as <0.75mm deep)
Just like the example indicates, Alternating Current Field Measurement (ACFM®) is the ideal method for detection and measurement of surface-breaking defects in welds and metal components exactly like BHA service connections. The method was originally developed by TSC with BP, Shell, BG & Conoco —industry leaders who recognize the value of offshore NDT— to radically improve the reliability of subsea inspection and reduce operator dependency with objective data records. The advantages of ACFM over visual techniques are significant. This advanced, field proven electromagnetic inspection technique enables examination without the removal of protective coatings, resulting in major cost and time saving over other NDT methods. ACFM instruments like the TSC Amigo™ 2 provide real-time defect sizing and data records with minimal missed or false calls, offering a digital record for confident risk assessment and audit purposes. ACFM has been approved by all major certifying authorities and specified internationally by operators and integrity management contractors.
But don't just take our word for it. Halliburton performed a trial on 140 drillstring threads. MPT successfully found 14 surface indications but no positive crack indications. On the other hand, ACFM identified 23 defects with more in-depth information: 9 could be reworked and returned to service, the remainder needed to be scrapped, and 2 of these defects would have been passed by MT. That's two too many in our books. Another trial was conducted by Shell on 20 drill collars, also comparing MT to ACFM. The collars were first inspected by Alternating Current Field Measurement technique, then by Magnetic Particle Testing. There were two discrepancies between the results which lead to re-inspection. MT returned one false call which was not found on re-inspection. It also missed one defect found by ACFM which was 0.4mm (0.02in) deep.
On top of removing the need for extensive pre-cleaning, making possible the inspection of both magnetic and non-magnetic threads, being easy to deploy and auditable, ACFM is a proven technique independently approved specifically for the examination of drillstring threads:
The ASTM international E2928-13 standard defines a standard Practice for the Examination of Drill String Threads using the ACFM Technique.
North Sea standards (NS-2), 2012 revision: ACFM is accepted as an alternative to MPI for drill string thread inspection.
In addition, ACFM is well covered under operator certifications available through SNT-TC-1A, PCN, and CSWIP Schemes.
Eddyfi Technologies provides leading edge TSC ACFM inspection instruments, probes and sensors with applications like drillstring inspection in mind. Case in point, our Universal Thread Probe is designed to be used with interchangeable plastic shoes in order to accommodate a variety of thread profiles and diameters; generally, male and female threads as small as 90mm (3.5in) diameter can be assessed.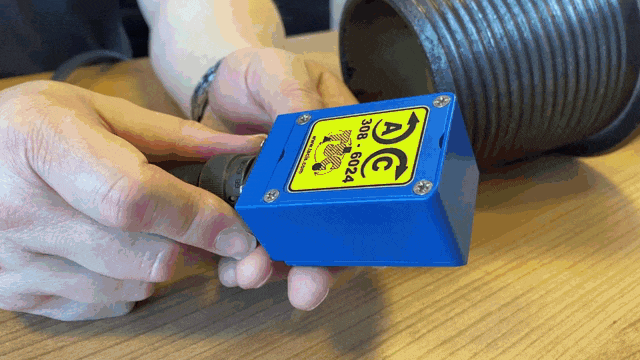 Field deployed solutions can involve drillstrings installed on rollers for optimized productivity. This way, each threaded pin or box can be covered in less than a minute. Our advanced ACFM solutions offer time savings, but more importantly, the welcome cost efficiencies needed to ensure maximum productivity in the energy sector. Bring us your specific NDT data requirements, and we'll offer the Beyond Current solution. Contact us today!