As an NDT solutions provider, Eddyfi Technologies would be serving an injustice if we did not invest in product development ultimately leading to a safer world. The Floormap family possibly has the deepest roots of all our products with its evolution starting over 30 years ago. In 1990, TFT or Tank Floor Scanner was the first Magnetic Flux Leakage (MFL) tool commercially available. Continuous innovation birthed better and better tank floor inspection scanners which brings us to today. Storage tank inspection has just been revolutionized with the Floormap®X setting new standards. This article exposes the game-changing features industry has never seen before.
We've pushed the boundaries of the MFL and proprietary Surface Topology Air-gap Reluctance Sensors (STARS) technology found in the FloormapX knowing its data quality is responsible for critical asset management. This powerful multi-technology MFL array scanner enables operators to quickly identify pitting and corrosion from both the top and bottom tank floor surface. The next generation system features 128 high-definition MFL array sensors and 64 STARS to find defects smaller than before. Combining this arrangement of sensors with best-in-class signal processing capabilities, technicians can now view MFL data in three individual formats: STARS for topside discrimination, MFL array for fixed threshold defect assessment, and MFL raw for non-threshold data that can significantly improve minimum detectability recorded as 2 millimeters (0.08 inches) ø x 20% loss. Besides high-resolution imaging, this enhanced signal processing delivers unrivalled MFL Signal-to-Noise Ratio (SNR) which means improved detection, lower threshold analysis and no false calls, and therefore minimized prove-up and eliminated erroneous repairs and maintenance. Box up and reinstate in half the time!
So, what else have we done to make your tank inspections a whole lot better?
Precise Steering with Ergonomic Control
The FloormapX provides complete tank coverage including the critical zone. Tank shell wall inspection to within 12 millimeters (0.5 inches) is now achievable, ensuring no flaw is left undetected. Operators can easily follow the tank curve with motorized steering and a manual dial with auto-straightening feature. The tank floor scanner ergonomics have been carefully considered with its reduced profile and adjustable handle to accommodate scanning under pipework. The FloormapX puts control in your hands. Technicians will enjoy the simplicity of the touch screen and hardware buttons for interactive workflow, acceleration throttle, height adjustment, laser button, magnet on/off, system power, light control, and curved scanning control.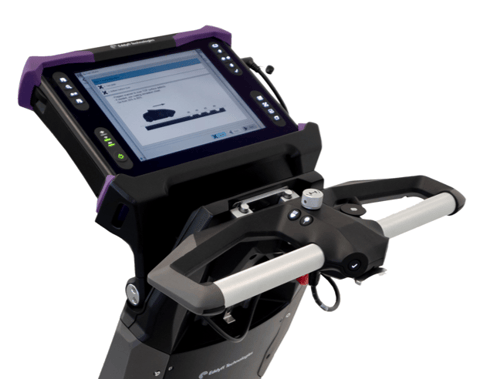 The removable tablet computer is built for field conditions being shock and waterproof (UL, IP65) with battery life up to four hours. It offers an adjustable angle scanner mount and is easy to carry with shoulder strap anchors. When you finish the MFL inspection, undock the tablet, perform any supplementary NDT, and update the defect listings all before leaving the tank. There's also a handy rear kickstand for desktop work. With an optimized overall inspection workflow, the FloormapX keeps you productive and proactive.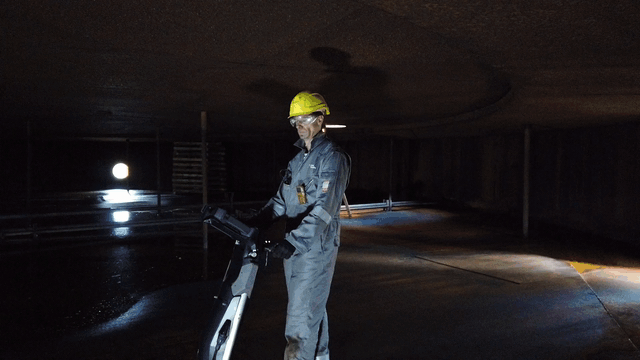 Adjustable Bridge Height
Tank inspectors know that the closer the sensor array to the surface, the better and more accurate the results. However, we are well aware that this can sometimes cause problems and scanning can be restricted. That's why the FloormapX features an easy-to-use adjustable sensor height mechanism to ensure that no amount of undulations, lap welds, or support plates will stop the job from getting done! Reach maximum sensitivity where conditions allow, and easily raise the bridge to scan even in the most challenging conditions including undulated plates, repair plates, and lap welds, or when surface preparation is not ideal.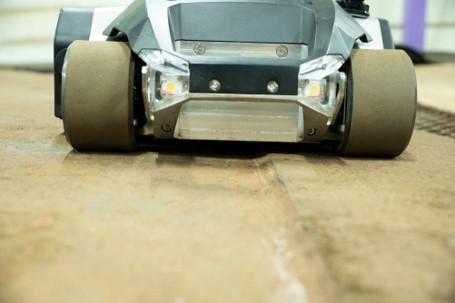 Easy-break™
We've always wanted to provide the best compromise between inspection performance and ergonomics, and we have listened to our clients about the benefit of improving the Floormap magnet breaking system. The next generation MFL array tank floor inspection scanner offers intuitive ergonomic breaking of the magnet by operators, providing improved dexterity around obstacles and increased efficiency for floor coverage. With the magnet set to full flux mode, the cleverly designed lever system makes it SO easy to break and reposition the magnet. We are convinced that this new Easy-break™ feature will be a huge fan favorite. You might wonder if the magnet is actually on!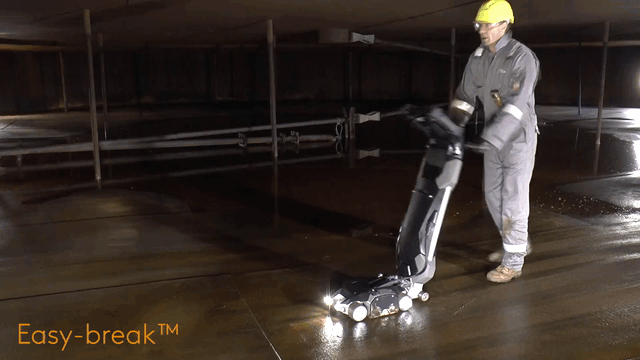 SmartMAGNET™
Being able to control the level of magnetic flux is a key benefit of FloormapX. Operators can simply select the flux level to meet inspection requirements:
For 5 to 8-millimeter (0.2 to 0.3-inch) thick tank floors, choose the low flux setting to improve battery consumption, remove drag, and eliminate risk of plate buckling with no effect on data quality.
For heavy wall plates up to 18 millimeters (0.7 inches) thick, select the high flux to provide the necessary increase in magnetic force to saturate the thicker material.

The ability to mechanically control the permanent magnet goes beyond optimizing performance: cleaning is no longer an impossible and laborious task, shipping is easier to control, positioning the scanner is now 100% accurate, and general manual handling is a completely different experience. Talk about total optimization.
Interactive Laser Guide
Marking the tank floor while you map is now quick and easy thanks to laser assisted defect location. A laser line is simulated live in the C-scan, allowing operators to correlate the physical location of tank floor defects with C-scan indications. Use the interactive laser guide to reposition and accurately mark defects without stopping the workflow. Resume your scan and carry on inspection. There's no need to manually take notes with inherent inaccuracies. Throw away the paper and enjoy increased confidence, traceability, and reliability.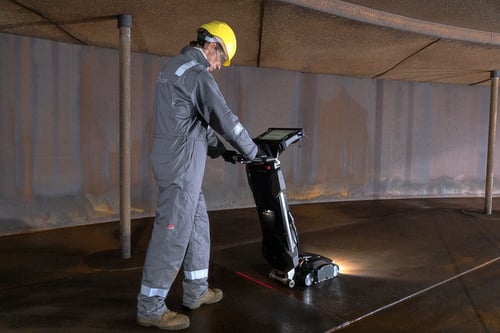 Onboard Powerful Lighting
The FloormapX truly brings defects to light with front dimmable, focalized LEDs with diffusing lenses and rear LEDs. Chip-on-board technology provides high and uniform intensity in line with API recommendations for visual inspection to perfectly highlight product side pitting and scan obstacles. Three levels of intensity are available through familiar thumb button control. With no setup time required, technicians benefit from increased speed and efficiency with improved visual inspection of topside corrosion.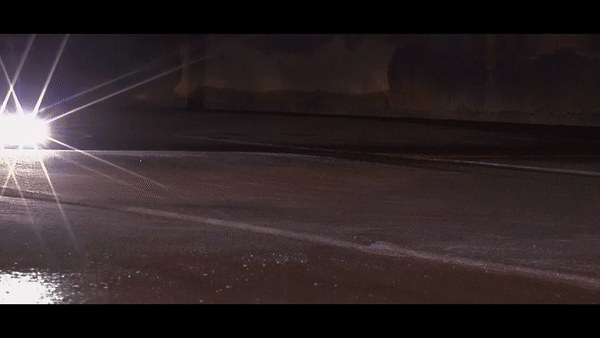 These key features speak for themselves on how the FloormapX multi-technology MFL array tank inspection solution has redefined the standard for accurate, effective, and efficient asset integrity health monitoring. A versatile solution that addresses all market needs and leaves no tanks uninspected, the FloormapX empowers faster and more confident decision-making. This translates into a strong risk management program and extended inspection intervals.
View this webinar to see the world-leading inspection scanner up close, and contact our friendly and knowledgeable team for more information today.