Pacific Gas and Electric (PG&E) is the largest investor-owned utility in the United States, providing natural gas and electricity services to more than 16 million people in northern California. They have standard off-the-shelf Eddyfi Technologies video inspection equipment as well as custom, one-of-a-kind enhancements to their crawler systems. PG&E employs VersaTrax™ and OnSpec custom robotic systems used primarily for gas pipeline or hydro penstock inspections, as well as a custom low-profile magnetic crawler used in their nuclear station to inspect reactor heads.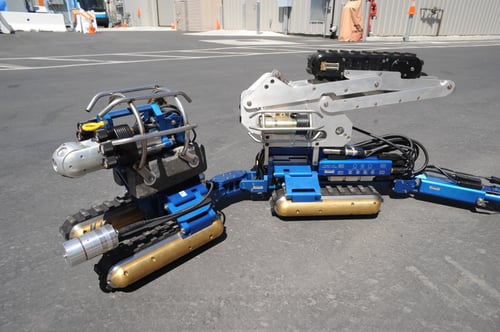 "It's not a big problem to have debris in the pipeline for normal gas operations but it is a problem when the pipeline is inspected with sensor tools," said de Haas. "These tools are very complex, expensive, and debris left in the pipeline can cause damage to the sensors (resulting in) loss of or erroneous data. In addition, we are responsible for damage caused to the tool while in our pipeline."
Since the debris was known to not be ferromagnetic, and planning excavations to access the pipeline is costly and uses considerable resources, takes a lot of time, and requires permits, de Haas suggested to his gas integrity management group that PG&E's long-range robotic crawler be deployed with the addition of a four-function manipulator.
"I think the strength of Inuktun (now Eddyfi Technologies) is that they are able to bring a concept to life, and with great flexibility, innovation, and ingenuity," said de Haas. "We are looking forward to teaming up with them to solve our next challenge."
Richelle Eck, Director of Engineering and Projects at Eddyfi Technologies' Center of Excellence for Robotics, traveled to San Ramon to assist, and together the team overcame schedule constraints and vehicle configurations to make the OnSpec custom robotic project a success. Once mounted to the front of the long-distance pipe inspection robot, the bends became too tight for the crawler to pass through. Eck, with support from her team in Nanaimo, modified the vehicle to allow it to pass through the pipe.
"Our client deemed the operation successful even though all of the missing parts were not located," said de Haas. "We were able to locate and remove one item that we were not immediately aware of that would have caused a problem and/or damage to the sensor tool run scheduled for the near future."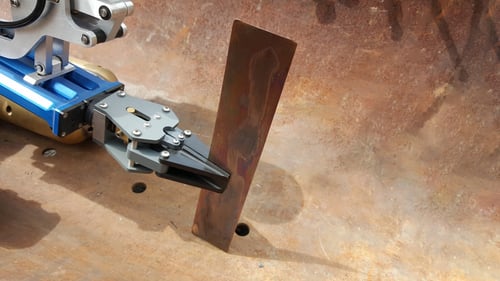 Robert praised the gripper arm for being precise, easy to operate, and flexible while maintaining a strong grip.
"We were able to remove the debris without any problem," he said.
Eddyfi Technologies' manipulator, originally designed as a deep-sea articulating gripper with an array of interchangeable jaw sets, is capable of surprisingly high closing forces and continuous rotation capability, making it easy to position the jaws for almost any remote handling operation. Integrated on our confined space entry (CSE) crawlers, this setup is ideal for foreign object search and retrieval (FOSAR) needs across the security and military sectors among many other industries.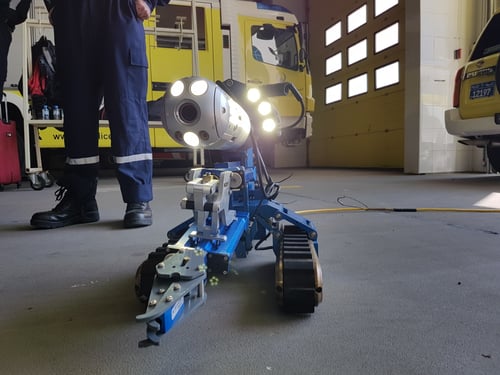 Replacing the need for direct human intervention, eliminating manned CSE, and reducing environmental risk are obvious advantages of OnSpec robotics. Rely on Eddyfi Technologies' robotic crawler solutions for improved safety, asset life extension, cost effectiveness, and reduced downtime.
That's exactly what Occidental Petroleum Company did when they needed to recover a missing grinding wheel at a plant in South Texas. Although the remote operation didn't require the vertical travel the VersaTrax™ Y-Series (formerly known as the TriTrax™) crawler is designed for, it proved optimal for recovering a missing grinding wheel inside a 27-meter (90-foot) pipe. Team Qualspec's operators fastened a 150-millimeter (6-inch) suction hose that cleaned debris, removed blockages and metal shavings, and retrieved the grinding wheel. See it for yourself here.
Over to the nuclear sector, VersaTrax OnSpec robotics have been used for tool recovery from fuel pools.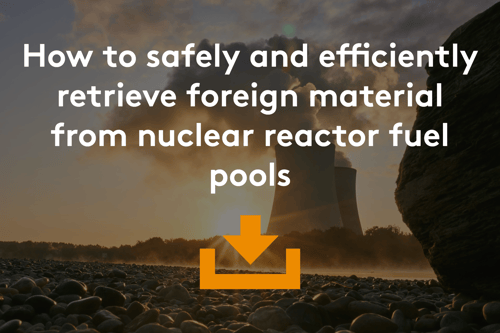 When it comes to retrieving objects from places they don't belong, Eddyfi Technologies robotic crawler solutions excel. Start discussing your remote industrial challenge(s) with our team of robotics experts today!!