How often have you found yourself or your crew contorting into a human pretzel to access some of the most awkward confined spaces within assets requiring inspection? What about the hassle associated with balancing on scaffolding or via rope access to reach regions up high to collect this imperative data? It's likely that your NDT toolbox has or will conceivably carry Eddyfi Technologies' range of advanced inspection solutions and now is the perfect time to add robotics to your kit.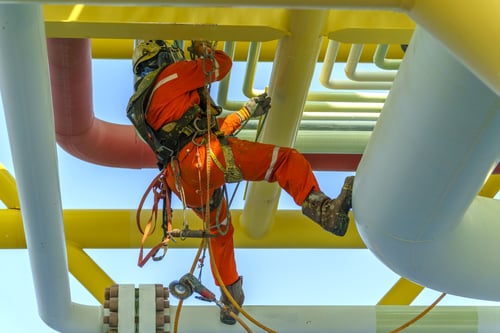 The Magg™ is a miniature magnetic crawler specifically developed for remote inspection and operations in hard-to-reach and otherwise unsafe locations. This tethered crawler reduces or replaces the need for rope access, work at heights, and scaffolding. Magg limits or eliminates confined space entry, or CSE, with its ability to efficiently perform all steps required for inspection remotely. Offering objective results, users benefit from improved data quality and repeatability with the positioned sensor and controlled probe placement. A universal actuator mount easily enables tools and probes. Designed with field conditions in mind, the rugged and stable design ensures accurate operations; the spring-loaded design prevents damage to the probe when overcoming obstacles. Controlled by ICON™ software, the motor driven mechanism remotely raises and fully disengages the probe. An integrated encoder provides the distance output directly in ICON and a raw encoder signal is available on the Magg for external instruments. It's not uncommon to see this robotic crawler performing integrity assessments on offshore platforms, in nuclear power stations, or on wind turbines. As an RVI robot, it boasts:
Live HD video streaming and stills with 10x optical zoom for crystal clear visualization of even the smallest defects,

Easily tagging areas of interest in ICON,

Auxiliary lighting for great performance even in dark environments,

Tilting camera head for better control.
Compared to conventional manual NDT techniques, inspection robots allow more productive remote assessments with limited human interaction, putting efficiency, and more importantly, safety at the forefront. Remotely deploy probes and tools removed from dangerous areas. Our inspection crawlers like the Magg help reduce overall program costs. The higher quality data output empowers better decisions and better asset management. It's really a win-win situation here.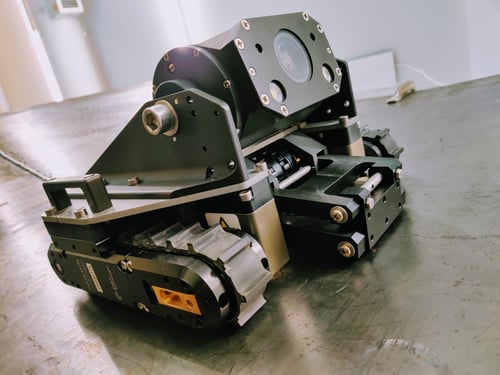 Beyond RVI, Eddyfi Technologies offers standard robotics for other NDT operations.
The Magg ACFM® combines our leading edge alternating current field measurement technology for surface-breaking crack detection and sizing through remote operations. The standard weld kit:
Features a 16-channel probe kit allowing quick assessment of welds,

is great for surface-breaking crack detection and sizing on poor quality surfaces through paint and coatings,

has remarkable tolerance to liftoff,

includes a compliant probe holder for optimal probe placement every time,

is super quick to setup with quick mounting of the probe on the crawler.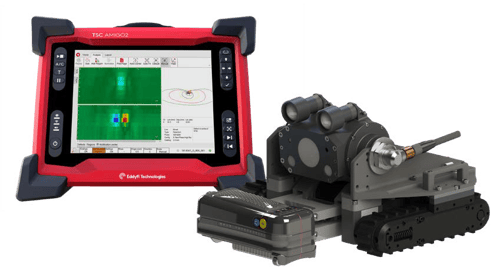 Interested in discussing integrating your ACFM gear with a plug-and-play robotic solution? Get in touch here!
R-Scan owners can pair up with the Magg for wall thickness measurement and weld assessment of storage tanks, pressure vessels, marine vessels, offshore platforms, large diameter pipelines, water towers, wind turbines, and more. The Magg™ R-Scan offers cable options for our Swift™ or Mantis™ instruments and is ideal for thickness measurements of clean surfaces found in remote or typically inaccessible areas. Ask our robotics experts for more information on how to leverage your Eddyfi Technologies ultrasonic testing gear with our NDT robots.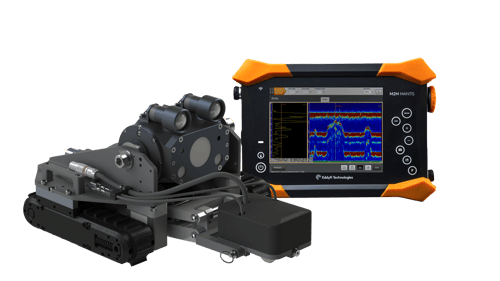 Industry already knows that the Sharck™ eddy current array (ECA) probe is optimal for butt weld assessments, and now they can leverage the Magg crawler to expand their inspection offering.
It is great for weld and heat affected zone (HAZ) crack detection and sizing on relatively clean surfaces.

Spring-loaded elements and a built-in encoder allow for nice, smooth scanning of butt welds; it requires relatively small lift for optimal performance.

The standard butt weld kit is well suited for tanks, large diameter pipes, and many other applications.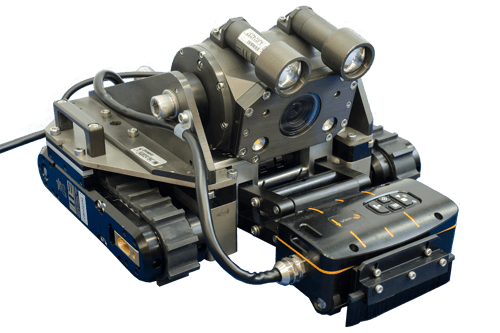 Check out this video featuring an ECA enabled Magg in action.
Here at Eddyfi Technologies, we understand the importance of adaptability. That's why we offer an OnSpec custom kit for your precise applications. With a base platform being very flexible, new modalities can easily be integrated. The Magg inspection robot can carry virtually any payload up to 14 kilograms (30 pounds) vertically, depending on the surface condition and tether weight. Bring your custom kit requests to us.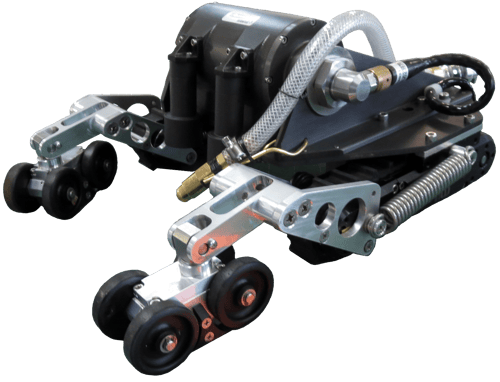 If you've found yourself struggling to perform certain NDT inspections, are regularly dealing with confined space entry or restrictions preventing access, depend on rope access or other work at heights, then we invite you to discuss the opportunity available by integrating Eddyfi Technologies robots ready to make your life a little easier and keep you Beyond Current.