What motivated Shell to choose our robotic technology for safer inspections in its NDT operations?
Shell is responsible for approximately 11,000 underground storage tank (UST) systems worldwide, and it's absolutely critical that we have a solution that can pragmatically assess the integrity of tanks while minimizing the risk to personnel conducting these activities. Using Eddyfi Technologies' inspection robotics meets both our quality as well as safety requirements. This robotically deployed NDT method gives a very accurate recording of the assessment which can be further reviewed by internal experts without having to be on site. Moreover, this inspection method helps us in our decision making to continue to operate as is, increase monitoring levels, make repairs, or replace tanks as necessary. Furthermore, this robotic inspection process helps in our three-to-five-year planning and prioritizing of sites to upgrade based on the assessed condition of these underground tanks.
How has our technology impacted the safety and efficiency of your inspections?
Employing Eddyfi robotics reduces our health, safety, security and environment (HSSE) exposure hours by not requiring manned entry into a tank. These inspection robots allow further assessment through the recording by our experts without having to travel which is not always practical; overall, robotic deployment for tank inspection reduces time and travel costs by subject matter experts.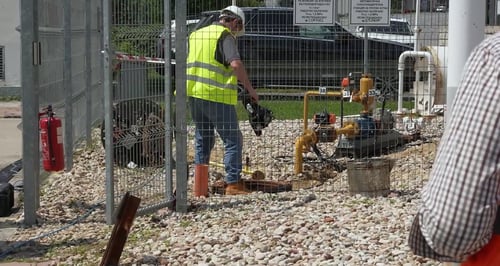 Can you share specific examples of how our robotic technology has helped identify and mitigate potential safety hazards?
There have been a number of incidents in the industry where flash fires have occurred with fatal consequences due to conditions not properly monitored and mitigated with personnel inside the tank. Further to that, emergency response to retrieve personnel inside the tank has also failed in some cases. Employing this robotic technology avoids typical ignition sources and avoids personnel being in the line of fire.
What do you see as the biggest benefits of using our technology for inspections in the oil and gas industry?
Today, decisions to address tank integrity is simply based on the age of tank rather than the condition. There are many variables that effect tank condition and therefore age is not the best nor most cost-effective approach. Deployment of Eddyfi Technologies inspection robotic technology allows the industry to establish and assess performance criteria which can be integrated into an integrity management program within a company or geographical region. It also provides a much more transparent way for industry and regulatory authorities to collectively understand the overall health of UST performance within this sector.
How do you see the future of inspection technology evolving in the oil and gas industry, and where do you see our technology fitting in?
I think Eddyfi robotics coupled with unmanned entry technologies for cleaning, coating, and lining repairs would greatly de-risk the end-to-end (E2E) process of upgrading a tank as well as avoid HSSE exposure required during tank replacement. Dewatering, excavations, lifting, and hoisting are major safety hazards during a tank replacement which can be significantly reduced with E2E UST assessments and upgrades that eliminate the need for direct human intervention.
How has the implementation of our robotic technology affected Shell's bottom line?
In our markets where we have deployed inspection robots, we have saved $250k per site by not replacing tanks based on tank age. This is a big deal!
What role do you see technology playing in the overall safety culture of the oil and gas industry?
This technology serves as a catalyst in improving both the overall safety and efficiency of inspections for customers, inspection companies, and regulatory authorities. Eddyfi's inspection robot technology allows quality recording that can be remotely peered reviewed and allows for better decision-making on any action to take which is very transparent to the regulatory community. Inspector mistakes and liabilities can be lessened by a peer review approach rather than a localized single set of eyes making a quick judgement call. With your proven technology, the overall expectations of the industry will improve both in terms of safety and efficiency, driving towards improved regulatory inspection standards. When technology can improve value to the UST owners as well improve the quality of inspections that is transparent to the regulatory community the entire industry wins!
How do you ensure that your workers are properly trained to operate and maintain the robotic technology for inspections?
Manufacturers and customers need to agree to develop a mandatory certification process that includes industry training of safe work practices in hazardous environments and use of intrinsically safe equipment. Plus, a trackable inspection program of the equipment needs to be developed.
Have you encountered any challenges or limitations in implementing our robotic technology, and if so, how did you overcome them?
No! From the start, Shell worked closely with Eddyfi Technologies to first understand the technical and legislative challenges. From there, a desktop analysis was created with a specific concept robot build. This was also shared with the local market requiring the same solution, and in return, this means that there is full confidence that we have a solution that will meet the requirements - there is no guesswork. Eddyfi Technologies' center of excellence for robotics factory tested the solution and made any small amendments so that we could physically demonstrate the inspection robot on site. We have a fully capable system.
How do you measure the success of using our robotic technology for inspections, and what metrics do you use to evaluate its effectiveness?
Overall, time and cost should be less than a manned entry (once implemented at scale). Tanks can be assessed against pass/fail and we continue to monitor criteria that can be consistently determined by subject matter experts (SME) in the industry. This should evolve into an industry standard agreed by a SME community.
A big thank you for taking the time to speak with us, Brett! We always appreciate hearing how experts in the industry employ Eddyfi Technologies' advanced solutions to check off all the boxes to stay Beyond Current.
For our readers looking for more information, check out these available resources, and make sure to subscribe to our blog for NDT enabled robotics news direct to your inbox!
Looking for more? Our team of friendly robotics experts are just an email away.