While we all know that non-destructive (NDT) methods are complementary, when it comes to inspecting welds, Visual Testing (VT) is often overlooked - no pun intended. Given the right camera, Remote Visual Inspection (RVI) reveals an otherwise unseen world with high quality video feedback providing an instantaneous and readily understandable report on asset integrity health. Eddyfi Technologies provides sophisticated inspection cameras that offer helpful insights for ensuring weld quality. We take a closer look in this article.
As a standalone unit or part of a complete robotic system, Eddyfi Technologies offers a comprehensive line of remotely operated inspection camera systems for use across a wide range of industries and applications. Offered in three models to suit inspection requirements, the Spectrum™ camera delivers high-definition video with advanced imaging options.
The Spectrum 45 pan and tilt camera is one of the smallest industrial cameras of its kind. At only 45 millimetres (1.75 inches) in diameter, this robust colour camera operates in air or underwater, at depths up to 150 metres (500 feet). It is ideal for the inspection of pipes, caissons, and wells, to name a few applications. This version features a custom wiper to overcome visibility issues in dirty environments like those encountered in the energy and water sectors.
One of our most popular inspection cameras, the Spectrum 90 offers pan, tilt, and 40x zoom. At only 90 millimetres (3.5 inches) in diameter, the Spectrum 90 provides 460+ TV line resolution at 1.5 lux sensitivity allowing inspectors to view clear images in confined spaces and hazardous areas. See the standard light functions of the Spectrum 90 pole camera configuration in the video below.
When high-definition video resolution is required, the Spectrum 120 inspection camera delivers with full 1080p resolution and an optical zoom up to 30x in a compact package only 120 millimetres (4.75 inches) in diameter. The marine-grade aluminum parts and built-in high intensity LED lights allow the Spectrum 120 to provide crystal clear video in air or underwater. See this camera integrated on a custom mast crawler robotic system below.
It is also the trusted camera deployed by the STIK, our turnkey Spectrum Tank Inspection Kit - the portable, automated RVI solution for integrity assessments of tanks, pressure vessels, rail cars, and more. The STIK system provides repeatable, actionable, meaningful, and preventative data collection results.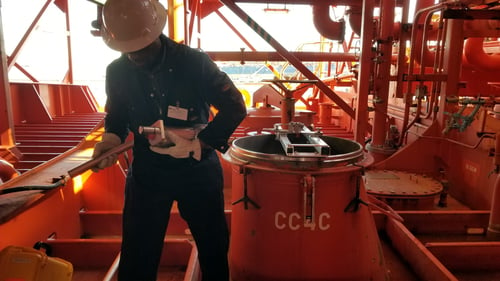 Every Eddyfi Technologies inspection camera is available as a cable deployed or pole mounted system, with options for portable tether reels with encoders. Our intuitive control software, ICON™, allows operators to easily switch between different Inuktun systems based on their specific inspection or non-destructive testing requirements. They also serve as a great navigation tool for OnSpec Robotics performing work Beyond Inspection. Learn more about our custom robots for remote industrial challenges here.
Remote visual inspection of welding is a great option for owners and operators who want to really see what's going on and compare against other available testing. Look no further than Eddyfi Technologies who provides the highest performance NDT inspection technologies that enhance productivity, save lives, and protect the environment. Contact us to speak with an expert on your next inspection application and stay Beyond Current.