While scheduled turnarounds ensuring the efficient operations of chemical and petrochemical plants aren't going anywhere, industry has witnessed a trend for performing more and more pre-shutdown work in order to avoid additional personnel wherever possible during these busy periods. Inspection robotics play a key role in gathering in-service asset health data which ultimately allows operators to proactively plan their next turnaround initiatives. This article offers an example where, despite some challenging circumstances, Eddyfi Technologies' robotic crawler prevailed in examining inside a petrochemical reactor.
Robotics just make sense when it comes to servicing a petrochemical plant. Given the requirements for working at great heights or within confined spaces, Eddyfi Technologies offers a range of miniature magnetic crawler vehicles designed to take on the hazardous work that humans shouldn't be doing. Our robotic technology is built to withstand the high temperatures, potentially hazardous atmospheres, confined space entry and varying accesses, on top of other divergent circumstances that arise with vessel inspection. Because these vessels provide one of several boundaries that keep potentially dangerous material contained and out of the environment, it is critical that regular integrity assessments are performed to certify the compliance and fitness-for-service of these structures.
It's commonplace to have Magg™ onsite scoping out the inside of process vessels for any potential defects. This confined space robot featuring a small footprint and powerful tracks to navigate steel structures is a unique solution for high-definition remote visual inspection, or RVI.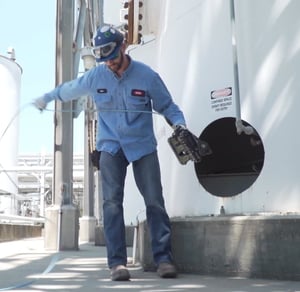 Magg is the trusted inspection robotic crawler for:
Locating suspect areas internally for supplemental external analysis with complementary technology
Inspecting vessel head nozzles
Evaluating expansion joints in transfer lines
Measuring objects within vessels and pipework using on-screen laser guides and embedded software
Detecting visual flaws and surface breaking defects including corrosion pitting, cracking, buildup, blockages, and other anomalies
Providing risk assessment of critical factors such as design, cyclic fatigue, and product induced corrosion
Validating prior cleaning
Removing the need to stop service, clean or empty vessels, or the requirement for scaffolding.
Operated with an easy-to-use control interface, ICON™ allows for plug-and-play performance when time and budgets are tight. Eddyfi Technologies proprietary software empowers inspectors to prepare immediate test results with onsite reporting for their clients. This recorded and repeatable data is key to successful prevention through routine checks, maintenance processes, and safety plans. After all, preventing and better preparing for emergencies at chemical plants and other facilities is the top priority for industry, stakeholders, regulatory agencies, and communities alike.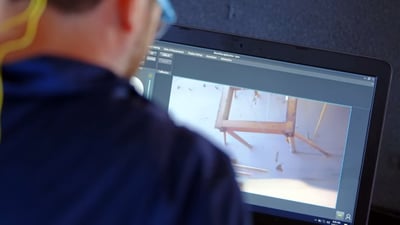 Go anywhere. See everything.
Magg rises to the challenge of adverse circumstances to deliver these data results necessary for informed decisions. When commissioned to inspect the inside of a petrochemical reactor at a facility in Texas, it was certainly put to the test. Unlike a typical storage tank, these pressure vessels exhibited more complex geometry with a cylindrical bottom and conical top - similar to a microphone. Therefore, the inspection robot needed to climb vertical walls but also incline planes and transition sections, without falling off or losing traction. To add another challenge, the surface of the vessel was expected to have a build-up of non-magnetic, slippery material – potentially up to 6.35 millimeters, or 0.25 inches, thick.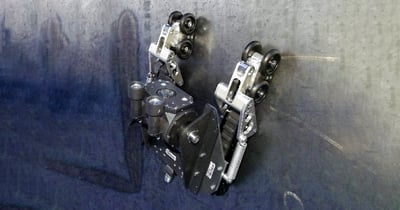 By exploiting the multi-mission modular design of the Magg and building off of previous experience, Eddyfi Technologies Center of Excellence for Robotics introduced a magnetic linkage that could be bolted to the existing crawler tracks. Resembling the robot's own roller skates, these new "reactor arms" enabled the Magg to traverse the expected forward bend transitions. Factory testing demonstrated the effortless negotiation of a transition mimicking the shape of the reactor vessel, even with a coating simulating field conditions. Eddyfi Technologies robots are always ready to lend a hand, or reactor arm, to get the job done. Request a remote demo of the Magg today.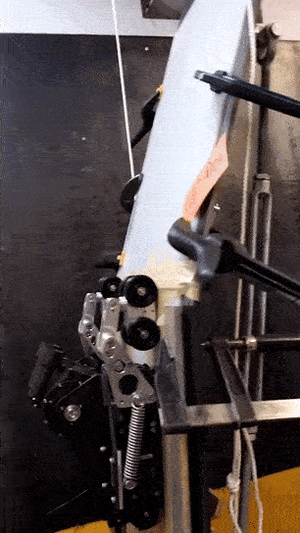 Beyond inspection, our robots are the ideal proven base for OnSpec Robotics or custom solutions for repair and maintenance operations during turnarounds. We invite you to contact our team of robotic experts to discuss how to leverage remotely operated inspection robots for mitigating unplanned downtime and process disruptions with reduced maintenance costs through proactive maintenance routines.