The mining sector continues to onboard advanced non-destructive testing solutions offered by Eddyfi Technologies, recognizing these modalities are the perfect solution for monitoring integrity threats to industrial assets. An industry employing a lot of heavy-duty machinery, storage tanks utilized in mining operations probably aren't the first asset that comes to mind as requiring close condition monitoring. On the contrary, these storage tanks typically contain extremely aggressive materials leading to unpredictable and severe damage mechanisms. We present the Beyond Current solution.
Phased Array Ultrasonic Testing (PAUT) is increasingly being adopted for corrosion mapping large surface areas of in-service assets like storage tanks found in the mining industry. The technique offers significant time savings and better Probability of Detection (PoD) to help calculate remaining useful life. This article provides a great explanation of the efficiency of PAUT for corrosion mapping.
The Rapid Motion Scanner phased array (RMS PA) inspection solution is the industry's answer for complete corrosion coverage of critical assets including storage tanks. This powerful scanner can inspect 10 times faster compared to conventional ultrasonic testing. Moreover, it delivers high resolution imaging with standard 1x1mm (0.04x0.04in) resolution for high detection and characterization of any defects present.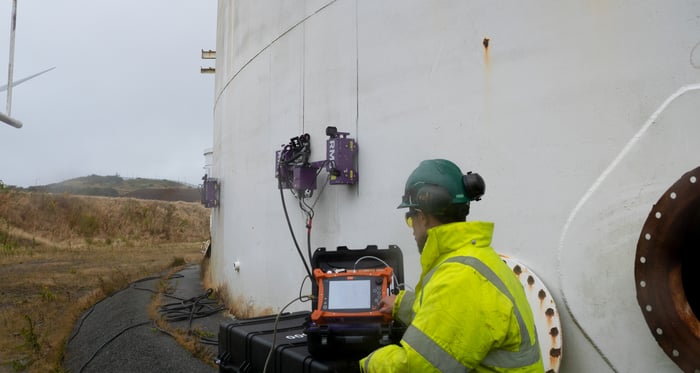 Given that storage tanks in the mining sector typically contain harsh chemicals leading to extreme and erratic damage mechanisms, the entire tank shell is susceptible and must be regularly inspected. Working closely with NDE Solutions in Australia, the robotic RMS PA system has become a powerful tool for the inspection of chemical storage tanks on mining sites. The following video shows data collected during assessment of a rubber lined, 16-millimeter (0.6-inch) wall thickness, carbon steel tank containing a chemical thickening agent. This includes sulfuric acid, arsenic, jarosite, and water. The 40-meter (130-foot) tank featured two strakes. Examination by the RMS PA identified a very localized but severe area of corrosion that had passed through the protective internal lining. The corrosion location was verified after removal of the internal rubber lining.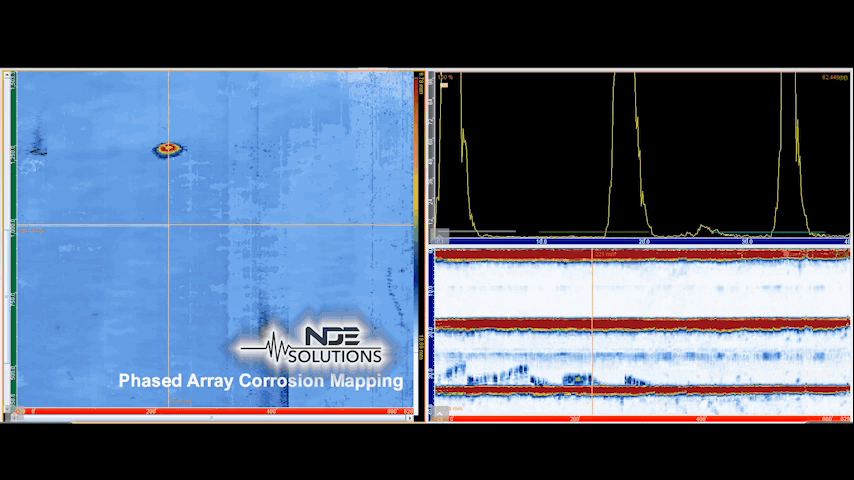 Eddyfi Technologies offers a range of complementary NDT solutions for all inspection requirements for mining operations. Check out this article on NDT data that's as good as gold for mining inspection applications.
How can we help you? Contact our friendly and knowledgeable team to discuss your next inspection challenge!