Our robust inspection robots are always up for a challenge! The LineTrax™ and VersaTrax™ line-up of pipe crawlers have been designed and built to perform in-service inspections in some of the most inhospitable and restrictive environments found across several industries including power generation. This means that piping doesn't necessarily need to be inactive or offline to perform a remote visual inspection (RVI).
Take Utilities Support Engineering, or USE, for example. The company located in Essex Country, England, offers pipeline isolation services including line stopping, pressure valve installation, encapsulation collar fitting, pipe freezing, and pressure main inspection to the water utility industry. They employ an OnSpec custom robot resembling a long-range VersaTrax crawler that operates in environments up to 16 bar or 230 PSI for under pressure main inspections. During a test run, USE performed a search and identify exercise where they successfully recovered a small propeller-operated submersible that had become lodged several hundred feet inside a high-pressure pipe system. This OnSpec custom robot provided clear video inside a dark, medium diameter pipeline – the onboard Spectrum™ 45 camera panning and tilting for an encompassing field of view. Talk about raising the "bar" for in-service pipeline inspections!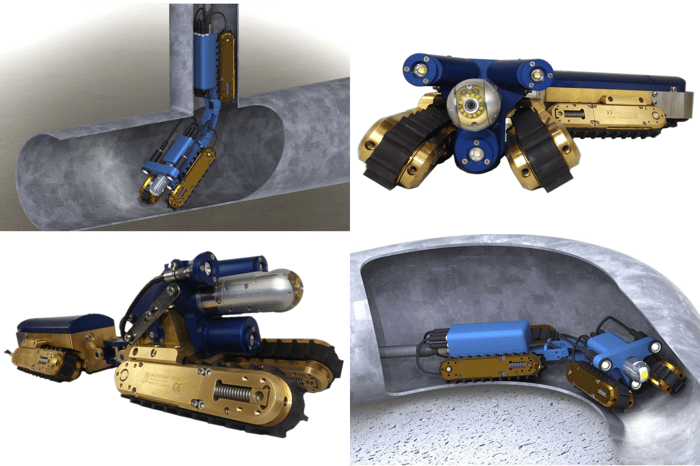 A similar success story comes from Interactive Pipe Inspection, or IPI, who have established an impressive record of complex inspections of pipelines submerged underwater. Check out the article by Underground Construction on an inspection of a fully-submerged water intake tunnel performed by an Eddyfi Technologies long-distance pipe robot here.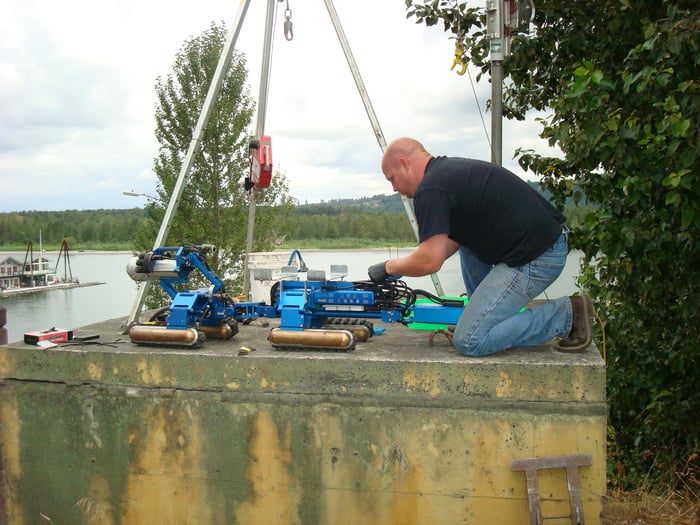 When it comes to operation in areas with high radiation, Eddyfi Technologies' robotic crawlers and inspection cameras have a proven record of offering RVI and remote-controlled transportation of third-party sensors and tooling for nuclear applications. See how our technology has been employed for the Fukushima nuclear remediation efforts here.
Additional applications include the structural integrity assessment inside twin Reactor Pressure Vessels (RPV). Located within the Snowdonia National Park in North Wales, the Trawsfynydd nuclear power plant generated up to 470MW for the United Kingdom between 1965 and 1991 and was defueled between 1993 and 1995. The station is now well into the process of being decommissioned. As with any nuclear site, the decommissioning process requires both painstakingly slow and monumentally precise operations, including visual inspections of numerous key components. Between September 2011 and July 2013, the two most significant components of Trawsfynydd, the twin Magnox reactor pressure vessels, were visually inspected.
According to the company responsible for the inspection, Magnox Ltd., the team tasked with performing the job had no previous experience undertaking an RPV inspection. Although this type of inspection had not been performed at Trawsfynydd since the 1990s, access was known to be limited through one of the reactor's bioshields. Therefore, as with many nuclear inspections, a mockup was made to allow the team to better understand the challenges.
In answer to this inspection challenge, the team integrated Eddyfi Technologies' proven modules in their custom inspection vehicle including tracks and an inspection camera. The Microtracs™ and Minitracs™ were both fitted with a pantograph created by BICO Ltd. that provided the ability to lift the camera 1.5 meters (4.9 feet) from the floor level and pitch it 1.2 meters (3.9 meters) forward to access the vent holes in the RPV skirt. Generally, the Microtracs were used below the sub-floor while the Minitracs were used above. The Spectrum 45 was deployed using a tether above the charge pan of the first pressure vessel.
The result was what the team had hoped for. The robots and camera provided proof of the good condition of the pressure vessels, confirming the presence of an anticipated amount of corrosion. Diagrid supports, torsion bars, debris ducts, cold gas ducts, and other infrastructure were all inspected and also showed no unanticipated corrosion issues. The information gathered over the course of the inspection is used as a point of reference for the teams responsible for the long-term care of the station. Trawsfynydd entered a period of care and maintenance in 2017, after which the site has been in a passive state until the final site clearance beginning in 2076.
So, can Eddyfi Technologies' robotic solutions inspect primary piping found inside a research reactor? You bet!
Eddyfi Technologies' rugged and tenacious robotic systems are designed to operate under the harshest conditions, like those found in the nuclear sector. As part of regular maintenance, during outages, or under emergency situations, our inspection cameras and crawlers offer unparalleled durability and accurate condition assessments. Furthermore, they save operators and owners time and money by providing a safe and efficient robotic solution for the inspection of pipelines, tanks, pressure vessels, and other assets without going offline. Beyond inspection, OnSpec Robotics offer the precise solution for remote tooling, repair, and other nuclear operations. Learn more here.
For reliability around the clock, contact our friendly and knowledgeable team to learn more about the efficiency gains with the incorporation of Eddyfi Technologies inspection robots and cameras in your operations today.