Where confined space entry limits visual inspection, Eddyfi Technologies' remote camera systems shine with its evolving design capabilities to be smaller and go further than industry norms. Our proven technology provides downhole video and visual access to otherwise inaccessible locations. Whether a routine assessment or emergency response situation, our inspection cameras provide critical data in real-time from tight spaces. Learn more about the improved control system driving these results.
Eddyfi Technologies offers a range of depth rated industrial inspection cameras typically used on our confined space robotic platforms. These sophisticated cameras can also be used standalone for industrial applications through drop, pole, and push configurations. Our technology provides visual inspection in places where physical parameters prevent normal methods from being used. With a line-up of miniature technology to enter extremely confined spaces and potentially hazardous environments, operators can obtain condition assessments on the structural integrity of boreholes, construction drilling pylons, mine shafts, sinkholes, and other underground cavities restricted from direct human intervention. Standard accessories enable remote access via tether, pole, or hatch mount for quick inspection of capital infrastructure like storage tanks with little setup time required.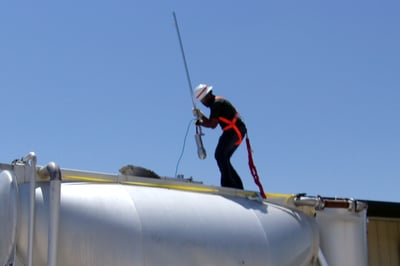 In the past, the 'top-end' controllers used for these remote visual assessments have either been integrations of DVRs, small screens, and other components, or required a larger ICON™ Portable Controller for camera use. Understanding the desire for ease of mobility during routine visual inspections, Eddyfi Technologies has scaled the ICON Portable Controller for more efficient camera only operations. The compact, light, and rugged ICON Controller 100 (IC100) can be used with our full range of Spectrum™ and Diamond™ camera lines.
The IC100 runs ICON™ software which not only provides recording, tagging, and inspection capabilities, but also runs automation routines so that packages like the STIK™, or Spectrum Tank Inspection Kit, can be operated. Those employing other Inuktun technology will appreciate the universal software performance while new equipment users are already ahead of the game thanks to familiar keyboard and mouse, touchscreen, and Xbox functions for pan, tilt, and zoom.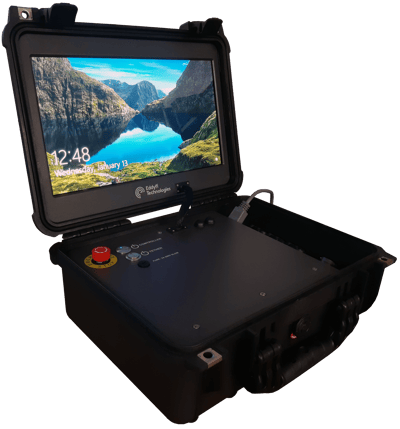 The IC100 features a 380-millimeter, or 15-inch, touchscreen display so operators have a clear view of the otherwise unseen with 1 TB of recording space available for post-process analysis and reporting. Our controllers are designed with industrial packaging resilient to harsh operating environments and offer improved safety with features like e-stop and power shut off for the tether.
Eddyfi Technologies offers sophisticated inspection camera systems with unmatched quality and capability featuring adaptable architecture ensuring tomorrow's integrity assessment requirements are addressed today. The introduction of the ICON Controller 100 sets the foundation for advanced remote inspections otherwise unachievable, leveraging Wi-Fi 6 (802.11ax, 2.4/5 GHz) and Bluetooth 5.1 functionality. As we continue to evolve and elicit the synergistic technology capabilities across our complete product offering, like the integration of tangential eddy current array or TECA™, we are committed to delivering advanced remote inspection capabilities for visual and more to keep you Beyond Current.
The IC100 will be shipping to clients in Q1 2021 – we encourage you to discuss your next inspection job with our RVI experts today!