Why Enabled Robotics?
As robotics step into the forefront as a more commercially available option for performing a range of different activities, non-destructive testing has taken great strides in going from hand to unmanned inspections. It is important to note that robotics are not meant to replace inspectors but rather take them out of the hazardous environments, or dangerous areas, and allow them to inspect remotely, safely, and in greater detail than ever before. The key drivers for choosing a remotely operated vehicle to perform work are to improve safety and/or environmental performance, increase operational efficiency, and avoid or reduce costs. These benefits are being realized for many applications shared across diverse industries.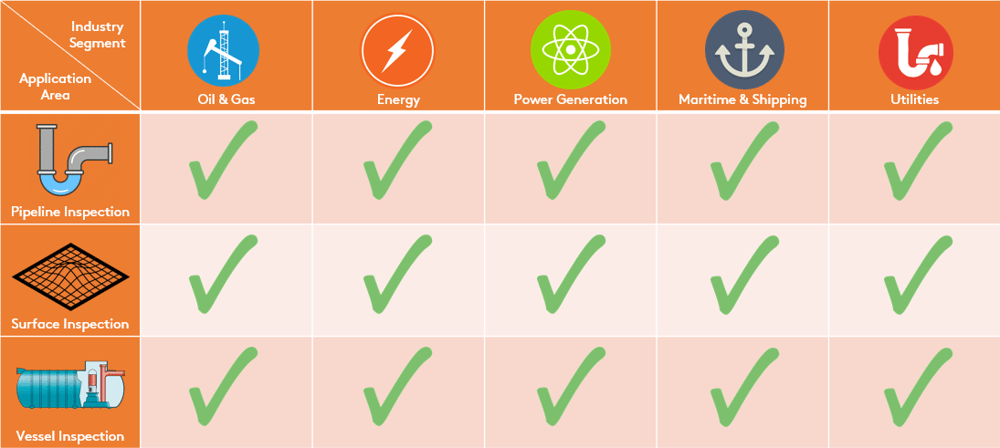 For decades, our remote visual inspection (RVI) camera and crawler systems have been trusted by industry leaders across the globe to offer a look at what can't be seen by the naked eye. With increased demand for remote operations, industries seek solutions beyond RVI. Enabled robots are progressively being used for:
Remote cleaning: surface preparation operations

Remote asset maintenance: painting and coating applications, grout removal, industrial vacuuming

Remote handling: foreign objects, sample collection, search and rescue, tool recovery, NDT applications.
Eddyfi Technologies has a range of NDT enabled robotics available off-the-shelf while also providing OnSpec custom solutions for beyond inspection. For purposes of this article, we will focus on the synergistic coupling of world-class technologies to deliver unmatched asset integrity assessment results. It all comes down to saving costs, reducing risk, increasing efficiency, and raising the quality standards of inspection data to allow for relevant and contextual reporting for good condition monitoring when cross referencing with future inspections.
Large Surface Structure Inspection
When addressing large surface structures, Eddyfi Technologies offers a selection of NDT solutions for Non-Intrusive Inspection (NII) and Remote Internal Inspection (RII).
External Assessments
Integrity threats plaguing capital assets such as storage tanks/hotels/spheres, pressure vessels, heat exchanger housing, and slug catchers include:
Internal and external corrosion

Fatigue cracking

Flange face corrosion

Structural integrity

Stress corrosion cracking, or SCC

Weld root erosion

Internally attached welds/furniture.
Among its advanced ultrasonic solutions, Eddyfi Technologies provides phased array corrosion mapping delivered by robotic scanners. The RMS PA robotic scanner has been successfully deployed on storage tanks, pressure vessels, pipelines, and other critical infrastructure. It offers remote access up to 50 meters (160 feet), features the detachable R-Scan Array and four scanning heads to suit various applications.
Internal Assessments
Our family of magnetic crawlers are routinely used for RII of large surface structures including forecourt fuel storage vessels as featured later. The Magg™ enabled robot not only offers visual inspection but also phased array ultrasonic testing (PAUT), alternating current field measurement (ACFM®), and eddy current testing. The trusted technology can be used to scout internal and external corrosion, ovality or deformation, bunded vessel external conditions, internal structural anomalies, SCC, corrosion under insulation (CUI), and corrosion under vessel supports or touch point corrosion.

Case Study: Shell Global Goes Unmanned for Internal Inspections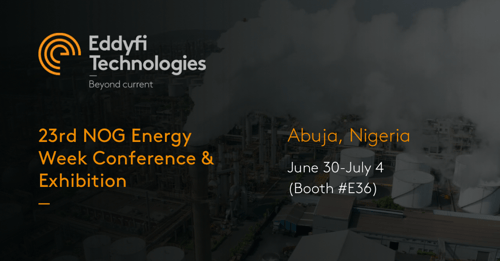 With industry leader Shell exercising its mandate to replace manned tank inspection with a safer alternative, Eddyfi Technologies' robotics have been the answer for:
Capturing data and completing inspection on par or better than manned inspection

Performing a visual assessment

Collecting volumetric data results without external access.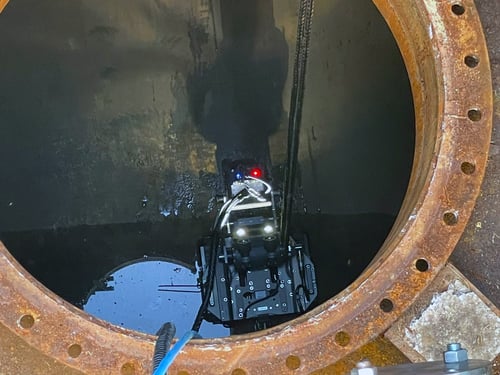 There are obvious advantages to deploying the Magg crawler for RVI, image capture, and probe transportation. The following images show the Magg's ability to operate inverted inside a vessel, its rubber tracks leaving only marks in the dust. The baseline system offers a high-definition industrial camera with high optical magnification.

Taking already developed phased array solutions and adding functionality, the Magg with R-Scan Array links with Capture™ software for data acquired during large structure inspections.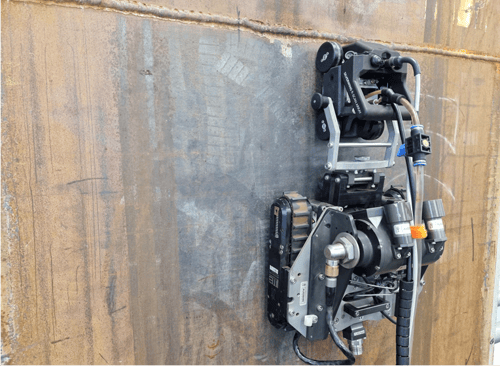 The camera assisted inspection ensures complete phased array corrosion mapping. Integrating the LYNCS™ further enables phased array/Time-of-Flight-Diffraction (TOFD) weld inspection.

Better Data Acquisition Within Sight
The following video shows the 360° view from the Magg, including a transition to a perpendicular 90° weld joint at 03:24.
The following images are from a sample petrol/spirit tank. On the left, the robot is looking at the 12 o'clock position of the tank air gap above the fuel line, and on the right, at the bottom of the tank.

Featured here is a close-up view of the welded joints/critical welding seams (butt welds and fillet welds) with the Magg crawler's sizing lasers engaged.

The following images show the interior surface of the tank wall where only the gas phase of the fuel touches the tank's interior. A "tide mark" is visible, consistent with the maximum fill level.

The Magg offers a look at the separation walls of the chambers and their environment including associated vents, furniture, deposits, pipes, and hoses where relevant.


Better Reporting Offers Better Risk Management
By capturing multi-sensor information, or a 3D model, filled with relevant, contextualized data, owners and operators like Shell can literally step inside their asset using this permanent record of inspection or digital twin to make more informed decisions. Tank photogrammetry is achieved in three basic steps going from flat images to a 3D model:
Taking the raw image data in TIFF format

Aligning in Reality Capture Software

Rendering to a 3D model.
The digital twin is topographically rendered. It is possible to combine ultrasonic/laser scanner data to the images. The simple-to-use, easy export of report data in a PDF format makes sharing painless, and the flexibility to analyze this data directly on the unit onsite or on a PC elsewhere ensures maximum efficiency. The automatic reporting serves as an ideal starting point or baseline for other purposes.
Are You Taking Advantage of Available Robotic Solutions?
Beyond the forecourt fuel storage vessel inspection referenced in this blog and an earlier Shell trial here, Eddyfi Technologies' enabled robotics serve the maritime and shipping sector for underwater in lieu of dry dock (UWILD) inspections, internally and externally applied assessments of pipelines, and the renewables sector for wind turbine blade and tower inspections.
A leader in advanced non-destructive testing solutions, Eddyfi Technologies continues to push the limits and offers robotic delivery of probes, sensors, and tooling for remote operations previously unachievable. Contact us today to discuss your specific requirements and stay Beyond Current.