Eddyfi Technologies has continuously been at the forefront of providing high-quality training to its customers. Recently, this offering has been significantly improved and incorporated into the newly launched online Eddyfi Academy. Given the current global state, we are seeing companies and individuals having to adapt to new ways of working with a large portion of this being done from home.
In the spirit of making lemonade, this creates an opportunity for NDT technicians to gain knowledge of Teletest products and guided waves through our e-learning modules. This online training allows personnel to obtain a significant portion of their required training hours in readiness for more positive times ahead.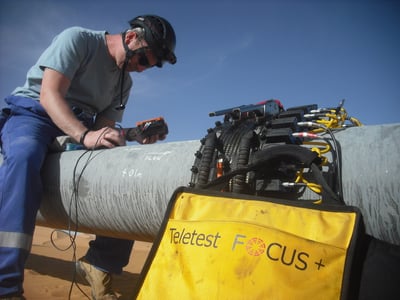 The CSWIP Certified Guided Wave training course has been significantly updated to allow up to 50% of the required 80 hours of training to be a web-based online course. This training is extremely flexible and can be completed at participants' personal convenience. Successful completion of the online portion reduces classroom time from 80 hours to 40. This scheme continues to be compliant with ISO 9712 standards.
During trials of this program, customers found this method of learning to be much easier to schedule around other work commitments and the reduced classroom time required to become certified was well received. Trainees reported the course material being of excellent standard, and the course engaging. Now may be the perfect time for otherwise idle inspectors to bank the 40 hours of online training in preparation for attending the classroom training at a later date.
The Eddyfi Academy has also developed smaller training modules designed for those who want to know more about how Teletest technology on a practical or theoretical basis. Visit us online regularly to see our frequently updated library of training.
Take a closer look at the Teletest Focus+™ guided wave pipeline inspection instrument online here and check out our other blogs to see this robust system in action. For more information on Guided Wave Training offered by Eddyfi Technologies, get in touch today!