When thinking about eddy current array (ECA) for integrity assessments, the first applications that come to mind are likely related to inspecting power generation turbines, nuclear reactors, or oil and gas assets. Most non-destructive testing applications focus on the inspection of welds to detect corrosion and cracks, and the rail industry faces these exact same issues, among others. Here we take a closer look at how ECA can assess a wide variety of train components reliably and effectively.
In recent years, Eddyfi Technologies was challenged by train operators and contractors to develop a solution that enables train inspection of commonly encountered complex geometries with tight accesses. While conventional eddy current testing (ECT) and visual testing (VT) methods can detect cracks and corrosion in this environment, they are highly dependent on the operator's skill. Moreover, in the case of magnetic particle inspection (MPI) or penetrant testing (PT), extensive surface preparation is required which generates additional costs since several components must be repainted prior to going back in service.
We present three applications where the advantages of ECA truly shine: train carriages, bogies, and wheels.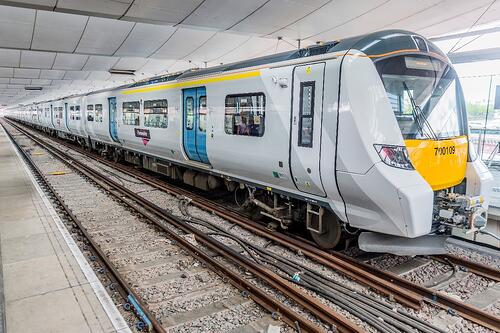 Train Carriages — High-Speed Probes for Tight Access Regions
Nowadays, most passenger train carriages are made from either aluminum or stainless steel, depending on the type of rolling stock. Because of vibration, sensitive components can start fatigue cracking which, if not detected in time, could cause costly service disruptions to both operators and passengers. Among such sensitive components, welds are the most prone to develop fatigue cracking over time. Such parts can be challenging to access in addition to having a rough surface finish. Eddyfi Technologies offers padded ECA probes that conform well to non-uniform weld crowns. Different coil diameters and coverage are offered, enabling the fast inspection of welds that are several meters long. These probes are compatible with a high precision encoder, allowing accurate location of defects along a weld. Furthermore, powerful Magnifi® software allows for automatic detection alarms to discriminate between geometric weld features and actual crack indications.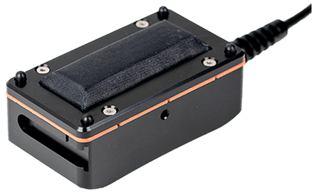 For fillet welds, the same sensors can simply be used in a different probe body specifically tailored to the geometry under inspection, such as the one shown in the picture below. Additionally, if access to the weld is limited, Eddyfi Technologies can develop smaller custom probes with tailor-made sensors to detect submillimeter cracks in all orientations.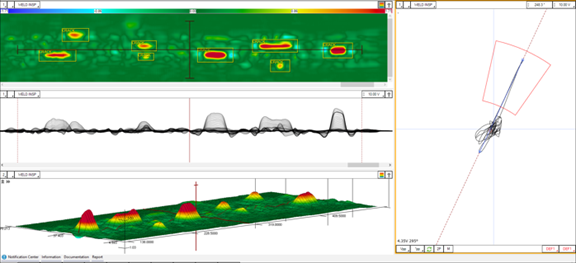 If your fleet is composed of carbon steel carriages, we also have you covered! Eddyfi Technologies ECA Sharck™ probe exploiting our proprietary technology can be used to detect and size cracks along the weld crowns and toes. For rougher structural welds, alternating current field measurement, or ACFM®, also offers advanced solutions for the rail industry. Learn more about derailing deficient tank car inspections with ACFM here.
Bogies — Look Where Eyes Can't See
Train bogies can be a wide variety of materials, among which aluminum is becoming increasingly prominent for high-speed requirements. Several welds are present within a bogie, most trimmed and ground flush. In addition to surface-breaking cracks, lack of fusion (LoF) and lack of penetration (LoP) underneath the surface are common manufacturing defects found in these welds, often due to the poor welding characteristics of aluminum alloys.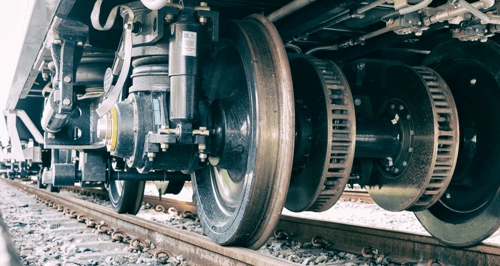 It is true that the detection of subsurface defects is commonly left to ultrasonic testing (UT) to manage. In field conditions, however, when immersion testing is not possible and coupling is required, and locating the weld has to be done manually, ECA can provide faster inspection results. Over the last few years, our application experts have developed ECA solutions that can detect LoF and LoP up to eight millimeters (0.32 inches) underneath the surface of aluminum alloy welds, thus significantly reducing the inspection time with respect to UT.
In addition to their structural function, bogies host various other components such as the braking units. The slots housing the braking units in the bogies may be subjected to both mechanical and thermal fatigue, each leading to surface-breaking cracks. Furthermore, the action of atmospheric agents may lead to localized corrosion along these parts. The geometry of such slots can be complex, making full contact of the probe a serious challenge. Our team of application experts and mechanical designers have conceived probes that can adapt to almost any geometry, resulting in a high probability of detection and a fast, reliable inspection.
Wheels — Rolling Fast, Detecting Faster
Among the most critical components of a trainset, train wheels are at the top of the list, being the only point of contact between the carriage and the rail tracks. In addition to vibration, several other factors can lead to cracking such as debris on the track, heating/cooling cycles due to braking, and residual moisture. The tight radii found in wheels can further enhance the propagation of these failure mechanisms. Our I-Flex™ ECA probes have high flexibility and durability, making them the ideal companion for inspecting the surface of the wheels and the main shaft of their axle.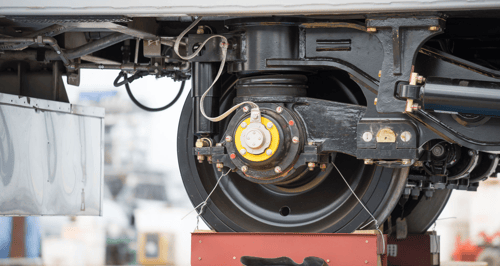 An Array of Possibilities for Rail Inspection
All these ECA solutions are compatible with the multi-technology Ectane® 2 instrument, but most importantly, with the portable Reddy™ instrument. Featuring a 264-millimeter (10.4-inch) premium touchscreen, 8-hour battery life, and embedded analysis capabilities, operators can easily perform bullet train integrity assessments on-the-go. For complex access sites, a shoulder harness can be installed on the Reddy, freeing hands for easier rail transportation inspection.
Eddyfi Technologies also offers other advanced NDT solutions for several needs in fast-train inspection and maintenance, like ACFM for rough carbon steel welds and phased array ultrasonic testing (PAUT) for detection of sub-surface defects in carbon steel or composite materials.
We are always eager for new challenging applications to solve with eddy current or another Eddyfi solution. Whether you are manufacturing the railcars or operating them, contact us to learn more and discuss your train inspection requirements and stay Beyond Current.