Let the workhorses do the tough jobs in places where people really shouldn't while leaving the data analysis to the human experts. With ICON™ software, inspectors are empowered to make recommendations and business decisions based on the remote visual inspection (RVI) information collected electronically. Furthermore, ICON gives operators a hand up when it comes to post-process reporting so they can get the job done and move on to the next one.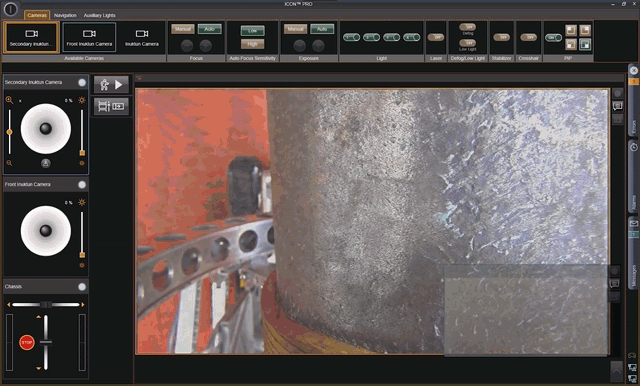 Featuring an intuitive GUI, the hardware to operate ICON is also familiar. Even inexperienced users can quickly operate the system using their preferred method whether it be keyboard, mouse, touchscreen, or even Xbox controller with configurable buttons and triggers. All Eddyfi Technologies robotic solutions are operated by ICON software. If you're the proud owner of multiple multi-mission modular solutions, you already know the convenience of using a single controller with different camera or robotic crawler systems depending on the job requirements. New systems purchased come with a configuration file that allows quick commissioning and use with ICON based control systems. In addition, ICON supports software plugins allowing it to be used with third-party software interfaces.
Unless you're a recreational drone operator, you are probably performing a visual inspection to assess the structural integrity of capital assets or verification of other remote activities such as maintenance, repair or cleaning. Recording a crystal-clear picture and high-quality video is obviously important (and easy with the Spectrum™ camera or VersaTrax™ I-Series (formerly known as MaggHD™ miniature magnetic crawler), and ICON further adds value by collating the information with sensor data collected from optional system mounted sensors. See all the data on one screen in real time with customizable overlay templates. With the most advanced NDT sensors offered by Eddyfi Technologies, the options are seemingly endless. Videos can be exported with these configurable overlays (also available as raw data). Inspectors have the flexibility to configure what data is important to remain on-screen with information overlaid as a heads-up display in a video panel. Depending on your robotic crawler system configuration, multiple video signals can be viewed simultaneously – much like the dash cam on your car helping you nail that parallel park job.
Let automation routines work for you! ICON allows users to configure if-then actions which may be as simple as generating an on-screen alarm or more complex vehicle actions; either way, you've got your 'bot working in your favor. At the end of an ICON job, operators can take the accumulated information to easily prepare a report in a quickly understood format for your client, based on the tagged areas of interest or suspect defects found.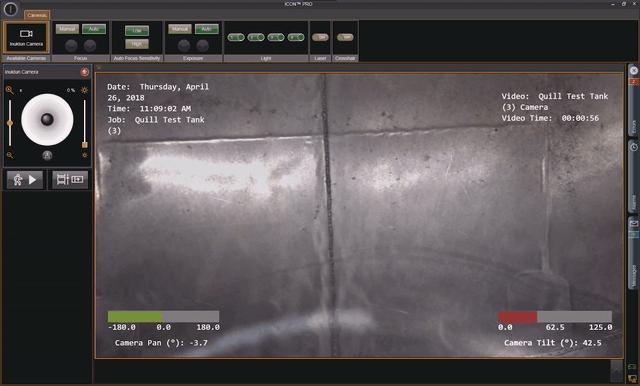 Eddyfi Technologies is bringing consumer subscription trends to the NDT world, offering ICON software in a subscription-based format. What does this mean for you? An ICON software subscription amounts to reduced capital expenditures, the latest software update always, and dedicated technical support from our in-house experts. With a mandate to keep you Beyond Current, our continuously evolving software puts industry first features in your hands before the competition. Contact us today to learn more now!