The Silverwing Scorpion 2 is an ultrasonic testing (UT) robotic crawler system that uses patent protected technology to provide thickness readings of large asset components. Predominately used in the storage tank inspection industry, the Scorpion 2 provides remote access to a tank surface, eliminating the need for scaffolding or rope access. Until recently, it utilized a 5Mhz dry coupled wheel probe to gather thickness readings and provide permanently recorded data sets for analysis and reporting.
As a world leader and solutions provider of advanced inspection technology, we support our valued customer base understanding the importance of technology evolution and pushing the boundaries Beyond Current. Having collected feedback to continuously improve data quality and user experience with the Scorpion 2 since its successful launch in 2017, we acknowledge that results have been fit for purpose but also accepted an industry challenge to improve accuracy and data quality for a range of thicknesses and coating types.
We are proud to announce that we now offer dry coupled UT probes across a range of frequencies, allowing users to select the frequency that best suits their requirements.
The patented dry coupled wheel probe has significant benefits when incorporated in remotely operated crawlers. Conventional ultrasonic probes require constant coupling to transfer the ultrasonic beam from the probe into the test item. This couplant is usually water or a gel. The benefit of dry coupled technology eliminates the need for pumping couplant to the probe which is typically difficult when crawling vertically on a storage tank.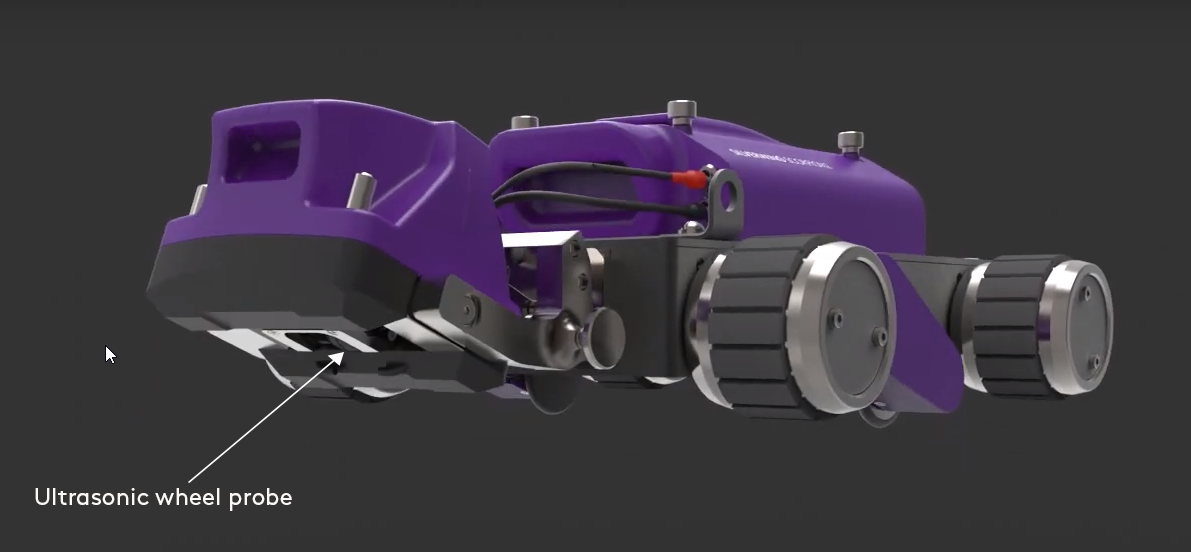 To achieve an optimal Signal-to-Noise Ratio (SNR), the user would typically make the tradeoff between depth of penetration and resolution. The higher the frequency, the finer the resolution - but depth of penetration is reduced. Therefore, 5Mhz has been used as a halfway measure to maximize the data quality in typical inspection environments.
If small areas of corrosion are suspected or wall thickness of a component is partially thin, it is better to use a higher frequency probe for improved detection capabilities and image resolution. If a component is heavy walled or has a particularly coarse coating, then the frequency can be lowered to improve penetration.
Eddyfi Technologies now offers the dry coupled wheel probe in three different frequencies: 2.5Mhz, 5Mhz and 10Mhz. This allows operators to optimize their data for any given component and defect type.
In order to demonstrate the comparison between probes, we completed a feasibility study on various components and material thicknesses.
Nothing explains a story better than a picture. See the following scans for comparison.

2.5Mhz at 25mm wall thickness – strong signal but very noisy

5Mhz at 25mm wall thickness – strong signal and less noise (optimal)

10Mhz at 25mm wall thickness – refined signal but introducing background noise

2.5Mhz at 4.5mm wall thickness – noisy and unresolved signals

5Mhz at 4.5mm wall thickness – less noise but large pulse width
10Mhz at 4.5mm wall thickness – good Signal-to-Noise Ratio and reduced pulse width (optimal)
As with all NDT methods, ultrasonic corrosion assessment can be improved by optimizing equipment selection. The dry coupled wheel probe that attaches to the Scorpion 2 scanner has a proven track record for corrosion assessment of storage tanks and other large assets. Until now, it was only available with a 5Mhz crystal, universally recognized as the most versatile probe. However, as the images suggest, when testing thin material with fine areas of corrosion, increasing the probe frequency enhances performance and data quality. Also, testing thick components, attenuative materials or components with poor surface conditions benefit from the low frequency option.
With a mandate to push the limits of NDT technology forward by constantly innovating, Eddyfi Technologies is committed to adding value for our customers. Bring us your requirement, and we'll offer the optimal advanced solution. Contact our experts today!