Can you provide a little background for our readers as to what interested you in NDT and ultimately brought you to your role at PSW Group today?
My career started straight from school 16 years ago. After junior high school you typically take another two years; the first year is a mechanical course to set the base for mechanical degrees and for the second year you get into a more specific area. For me, it was welding. In that second year, there was a couple of hours dedicated to inspection and NDT. I was lucky to receive work site training experience for a few weeks with different companies and ended up at the inspections department for one of the companies. Based on that experience, I knew that non-destructive testing was the way to go, not welding, and that's where it all began.
I was an apprentice at Frank Mohn for two years and got a couple of NDT tickets and certificate of apprenticeship. I worked with that company another four years doing basic NDT before I moved on to Oceaneering. There I started with the basic NDT method and went further to advanced UT. I ended up putting in nine years there performing mainly UT, phased array, and time-of-flight-diffraction (TOFD) applications as well as taking the level 3 exams in VT, MT, PT, RT and UT. About a year and a half ago, PSW offered me a job as their Level 3 Responsible as well as a specialist in UT and phased array because they had UT technicians but nobody performing phased array. PSW was in the process of developing themselves as they're fairly new with inspections, especially with the inspection of risers. Previously, these tasks had partly been performed by other companies. A lot of the companies are UK based, so of course it was more cost efficient having this work performed by their own department.
I understand you use the Gekko PA instrument with the LYNCS scanner; what are the main applications the technology is being used for?
As you can see from our website, there is a lot of work with drilling companies and naturally riser inspection. We not only do the inspection but we also do the yearly classification and five-year certification of all the equipment from BOPs (blowout preventers) to risers to all the different type of equipment connected to drilling and related services. When I first started with PSW, it was mainly for riser inspection, using automated systems to do this – so that's our next step. We have since employed the Gekko. We've got a fairly big job producing risers: we disassemble all the parts and we can use the Gekko there for corrosion mapping and flange inspection, for example. There are about 250 to 300 welds and only a couple of months to get through all of them. This is where we see a real time efficiency by using the Gekko phased array system and LYNCS scanner compared to conventional UT. We can speed up the riser inspection about five times using Eddyfi Technologies solutions - this is huge time and cost savings for us.
Newly produced riser weld inspection is where we were mainly using the technology originally. We continue to build on our offering and have started looking at fairly specific areas for companies now. For example, we are going to start with the phased array inspection of bolts so they don't need to disassemble everything, sent it onshore for inspection, and have it sent back. PSW offers everything in one place and we're looking to develop more and more starting with complete riser inspections that don't require disassembly.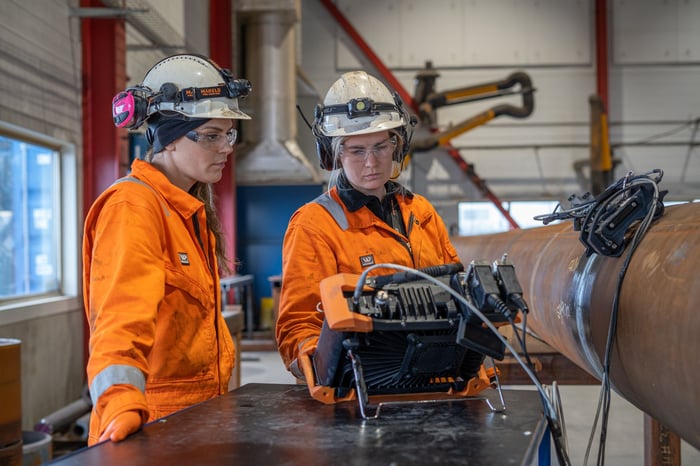 PSW Group Inspectors Line Sætre and Inga Trepockaite pictured above
Do you use corrosion mapping and weld inspection techniques on the same project?
No, not the same project but we use the same pipe systems or riser systems. We do a lot of thickness measurements and when we find areas of interest with low wall thickness, we'll then do a corrosion map then since it's so much more time efficient with reliable results.
How does the LYNCS scanner compare to other scanners you have used in the past?
We find the LYNCS scanner quite good; I've used several similar scanners in the past, and you can see that this scanner has taken the best qualities from other scanners and put together a stronger platform. The versatility offered with the LYNCS is exceptional. Sure, it may be a bit heavier but it has better magnetic wheels on it so that it doesn't fall from painted pipes. It is incredibly easy to change the probes for different dimensions of pipes; the LYNCS makes swapping probes fairly quick.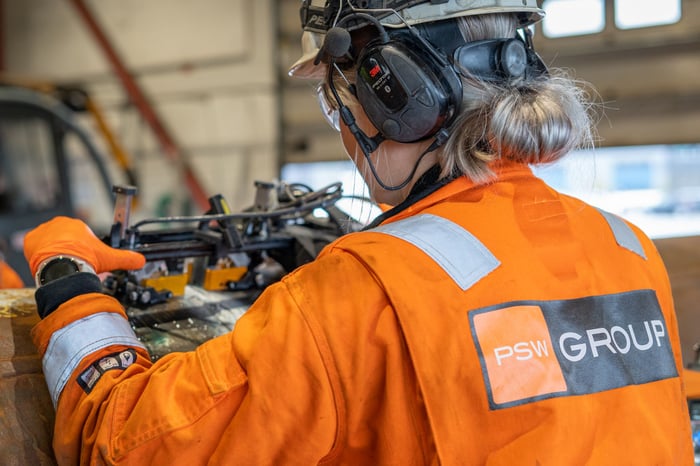 And how have you found the transition to Gekko having used other PA instruments in the past?
The Gekko is very easy to use. I've been using the Olympus system for years and the TD system before that coming from Oceaneering. Compared to Olympus, of course it is easier to use and now having looked at different equipment, the Gekko is much more user friendly. Having two different makes of two units you haven't used before, the Gekko was absolutely the easiest one to setup. Our technicians familiar with only UT had a say in the equipment as they'd have to use the units a lot and all said the Gekko was much easier with just how everything's so well explained. Gekko is easier to setup and understand with the information or question icons that explain how to perform the different calibrations and inspection setup.
Do you make use of the integrated electronics and deploy one-technician crews?
Definitely. We have seven inspectors, and I am the only one with a PA ticket, but we have several UT techs. They have been doing so much training and they come along all the time so they can actually do the inspection and see that they've got good quality scans that I can go through later. When I was away for a couple of weeks, I was able to use my laptop to see the live scanning while they were doing it which is a good support for them when they need it, and the company doesn't need me doing the entire scanning this way and limiting us to one person. Being able to perform the analysis later is also key.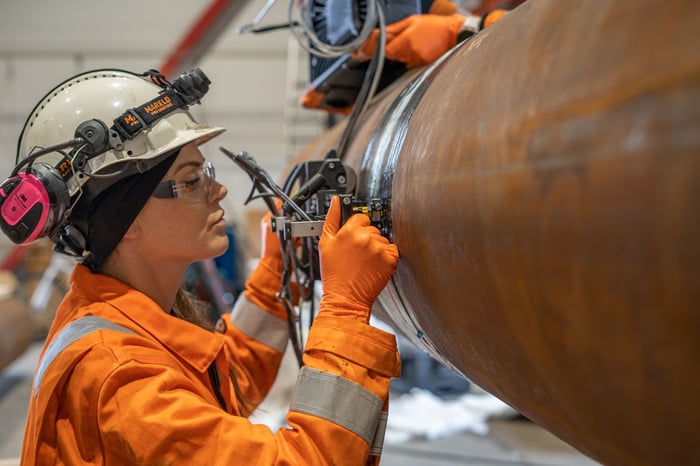 What features do you appreciate the most in Capture software?
It is so easy to do analysis both directly on the Gekko unit as well as the desktop software. I find it quicker performing analysis of the scans, especially measuring any indications and how easy that is done. We have made good use of the assistant defect recognition tools and find it useful in the riser weld inspections. The report that gets generated is helpful too, and while we don't use it directly, it is extremely easy for us to transfer the data from it to the system where we perform our own reporting.
What should our readers know about PSW Group?
PSW Group does it all, and it's set to do even more with ongoing projects. Our specialties lie in riser production, maintenance, and inspection but we can also do repairs and produce new lines. We have got one of the biggest painting and blasting facilities in the area. We can basically take on everything with the equipment coming to us. We have a lot going on with offshore wind and yard, aiming to become the preferred supplier of lifecycle services and maintenance towards larger maritime assets and offshore wind and therefore building a big dry dock for this purpose. You can check out all the latest news by PSW Group online, and see how our big moves are made possible in part thanks to the sound NDT operations we can offer with Eddyfi Technologies solutions.
Thanks for taking the time to speak with us, Kaj! We always appreciate hearing how experts in the industry are best able to leverage our advanced NDT solutions and stay Beyond Current.