Eddyfi Technologies appreciates that equipment procurement involves detailed assessment of return of investment which is directly related to utilization and market accepted charge out rates. To best serve our customers, it is essential that our technology can perform multiple functions and cover numerous applications. The LYNCS™ advanced ultrasonic testing (UT) scanner was designed with this exact intent: a multi-purpose scanner that can be adjusted to cover a range of advanced UT applications. The ability to cover a wide range of inspection requirements not only improves utilization but also helps with logistics in difficult-to-reach locations such as offshore or overseas assignments.
The LYNCS scanner was launched in 2020 with the main focus being on integration of phased array (PA) acquisition units like the Gekko® to provide remote inspection over a wide range of applications. Advanced UT methods such as phased array and time-of-flight-diffraction (TOFD) are widely accepted for both fabrication new build projects and in-service assessment of aging plants.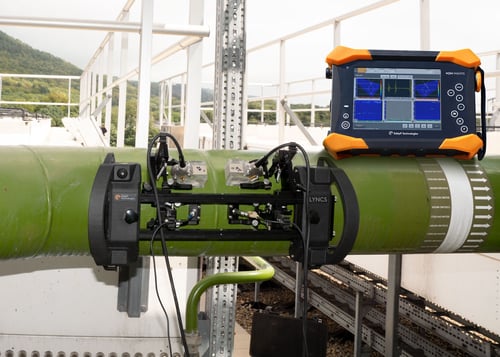 Operators can see the extensive benefits of PA/TOFD versus historical inspection practices including radiography and/or confined space entry (CSE). The early pressures to keep with status quo practices are quickly disappearing as asset owners see the safety improvements from using advanced UT with its accuracy of defect location and sizing and the efficiency improvements with speed for better decision making.
The LYNCS scanner is a versatile toolless system that can be quickly configured to suit the application requirements or any potential changes in inspection scope. Below is a list of applications that are already regularly deployed by many satisfied customers worldwide.
Phased Array Corrosion Mapping
Ultrasonic corrosion mapping is a non-intrusive inspection (NII) technique that maps material thickness using ultrasonics. Variations in material thickness due to corrosion can be identified and graphically portrayed as an easy-to-interpret picture. Recognition from various inspection bodies and asset integrity engineers has resulted in phased array ultrasonic testing (PAUT) becoming the preferred technique for corrosion mapping.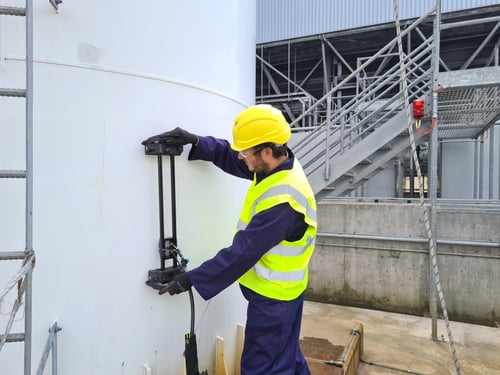 Phased Array / Time-of-Flight-Diffraction Weld Inspection
During construction and in-service, welds must be tested using a volumetric method of NDT to ensure that impurities and defects are detected throughout the full body of the welded joint. PAUT and TOFD have quickly become the go-to technology for both fabrication welding and in-service inspection. In addition, full matrix capture (FMC), total focusing method (TFM), plane wave imaging (PWI), and assisted defect analysis have taken advanced UT to another level. Many welds do not have 100 percent access to both sides, so the ability to adjust the LYNCS for one-sided access is very important for increased scope utilization.
Phased Array Flange Face Inspection
Timely advances in PAUT technology make it possible to replace expensive visual inspection of flange face corrosion with an in-service non-invasive approach. This technique is endorsed by industry and detailed in Recommended Practice (HOIS(11)R7 Issue 2).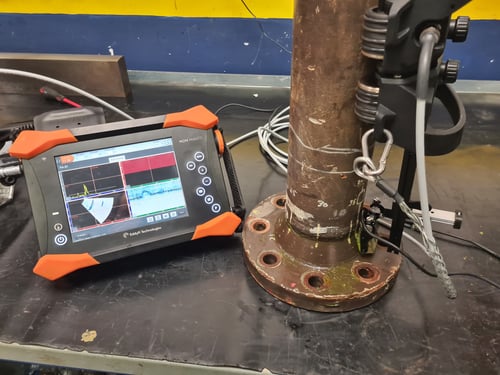 Weld Root Erosion Time-of-Flight-Diffraction
Weld root erosion or corrosion usually occurs below the area of the weld cap, therefore direct inspection using ultrasonic 0° techniques is not possible without weld cap removal. TOFD uses a probe on either side of the weld cap and is recognized as the most reliable method for detection and sizing of weld root erosion or corrosion.
In addition to currently available solutions, the LYNCS scanner has been designed as a building block for future applications. Keep your eyes peeled as Eddyfi Technologies continues to increase functionality with cost effective accessories that widen the scope of inspection, including the much anticipated LYNCS-AXIAL. Contact our NDT experts to learn how to stay Beyond Current with our versatile inspection solutions that ensure maximum ROI in a continuously evolving landscape.