With a growing demand for de-icing solutions offered by helicopters to service frozen and non-functioning wind turbines, it's got us thinking that there has to be a better way. Renewable energy continues to expand throughout the North American energy sector with rationale that wind turbines prevent global warming by reducing the amount of greenhouse gas emissions being returned to the environment from the burning of fossil fuels. While the effort is valiant, using a helicopter to deliver water that is typically heated overnight using a truck equipped with an oil burner is blatantly counterproductive to the primary goal of wind farms.
Not only is this process counterproductive, but it also typically requires a helicopter pilot, an operator to control the sprayer and a person at the truck to rapidly refill the empty tank. The estimated cost to de-ice a turbine is equivalent to two days of electricity. Some turbines have been designed with an electric heating foil on the rotor blades to prevent ice growth, but what about the others?
Eddyfi Technologies offers custom solutions that cater exactly to these kinds of predicaments. You'll find the standard VersaTrax™ M-Series (formerly known as the MaggHD™ miniature magnetic crawler) already inspecting wind turbines all over the world. Built with multi-mission modular technology, OnSpec robotics can provide a de-icing solution with the integration of a sprayer tool remotely operated by a technician from a warmer location. Eddyfi Technologies has a proven track record of integrating and mobilizing instruments and tooling for remote operations in areas where people can't or shouldn't be. OnSpec robotics can simplify service and minimize a loss to production time. When you stack the benefits of airborne de-icing solutions for wind turbines offered by helicopter operators next to an OnSpec robot that requires one operator and leaves a significantly smaller carbon footprint, who is the real winner? Like we said, there has to be a better way.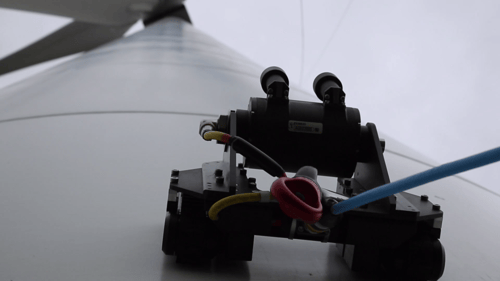 Check out this article to see how the renewable energy sector continues to onboard Eddyfi Technologies robots for inspection and how OnSpec solutions can perform remote tooling operations to keep people out of the confined spaces within turbine blades.
It's time to warm up to the idea of robotics for de-icing wind turbines. And when we start to see the thaw, Eddyfi Technologies also offers advanced non-destructive testing (NDT) solutions to inspect and identify any potential threats to reliably bring assets back online quickly. With potential water infiltration from longstanding ice, corrosion under insulation or fireproofing (CUI or CUF) can become a real problem. Discover how pulsed eddy current array, or PECA™, has truly transformed asset maintenance with early CUI detection here.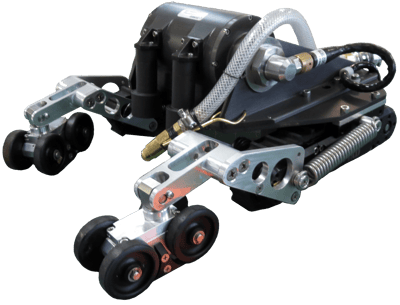 Remaining committed to keeping clients Beyond Current despite the temperature, we invite you to contact us to discuss how our advanced and tailored solutions can optimize your operations today.