Recent advances in ACFM® technology has enabled us to offer an improved solution for subsea surface-breaking crack inspection across a wide range of offshore assets – and now they're available for rent on short notice.
Eddyfi Technologies has redefined and modernized subsea crack inspection with the advanced TSC U41™, the ACFM inspection system for detecting and sizing surface-breaking cracks. And the industry has taken notice! Ashtead Technology recently updated their product offering with eight new U41DA units, available for rent from their offshore oriented bases in Aberdeen, Singapore, Houston and Abu Dhabi.
Ashtead Technology offers a wide range of subsea tooling and survey sensors for various applications, taking pride in providing the best and latest new technologies, typically in very short time frames.
Scott Stephen, NDT Sales Manager at Ashtead Technology is quite familiar with subsea inspection and comments, "Investing in the next generation of subsea ACFM equipment has enabled us to offer our clients short term solutions fast for the most comprehensive inspections required. The benefits are obvious with the upgrade from the U31 to the new U41DA model. We look forward to continuing to offer the most advanced NDT solutions to our offshore clients."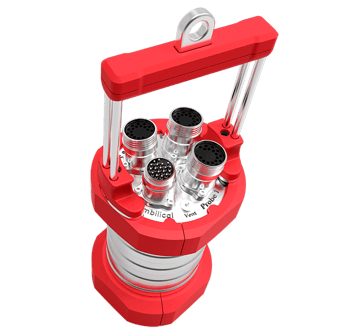 These benefits include:
Fast acquisition speed with twin digital inputs
14x increase in real data resolution (16-bit sampling)
3 SENSU 2 UW connectors
4 rows mini array for increased coverage and quicker inspection
Probe configurations stored directly on the probe
450m (1,476ft) maximum umbilical length
Single/dual frequency
New Assist™ software that continues to evolve
ACFM was originally designed for divers to find and measure fatigue cracking in jacket structures. Diver deployed inspections with high Probability of Detection (PoD), and low false calls are key factors in the assessment of offshore asset integrity. The U41 has been successfully deployed for detecting and sizing subsea surface cracks in structural node welds on jackets, caissons, pipelines, spudcans, welded plate structures, and mooring systems including chains.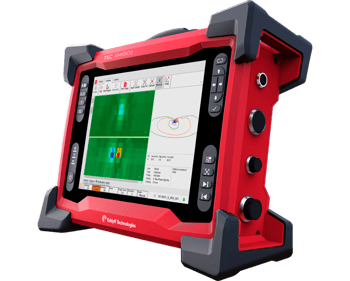 Unlike conventional inspection techniques, ACFM technology works through paint and coatings, so there is no requirement to remove either, further reducing downtime. Requiring only one pass of the inspection area, ACFM has a high tolerance to variations in scan speed and lift-off which equates to fast and reliable data; the length and depth of any crack defect found is measured and recorded instantly. The ability to accurately depth size defects – even in the presence of coatings and marine growth – produces the information required to allow engineering decisions that protect and extend the life of these assets.
We present the next level ACFM technology with the TSC U41, allowing you to dive less and inspect more. Contact our experts for more information about better data results in less time today.