Designed initially for detecting corrosion under insulation in petrochemical plant pipework, guided wave testing with the Focus+™ instrument has found widespread use in a wide range of applications where pipelines or tubes are not easily accessible. Teletest guided wave inspection systems have been available since 1997. During this period guided wave training courses have seen significant changes, evolving with new products and features. Eddyfi Technologies' training courses have been refined over the years to ensure that our customers receive the most comprehensive guided wave training available. We understand that training can be disruptive for our clients, so an important consideration is making our training courses as flexible as possible without compromising on quality. This article takes a look at the evolution of our training, reflecting our continued promise to always keep our clients Beyond Current and best informed on getting the most out of our advanced long range ultrasonic testing offering.
With the release of the first Teletest product, we offered a standard five-day training course. This course had an equal mix of both theory and hands-on sessions that concluded with examinations to gauge competency. Although this training was of high standard, numerous improvement possibilities were identified during the first few years of release. The most important consideration was striving to produce a gold standard for guided wave training. To do this, we needed to create a training course that was independently verified. Independent verification means that a body independent of our organization has verified that the training complies to a standard. In this case, the standard is BS EN ISO9712, and the verification body is CSWIP (Certification Scheme for Welding and Inspection Personnel). CSWIP is a world leader in personnel competence assurance certification with over 60,000 certified individuals worldwide. A significant amount of hard work went into producing our ISO9712 compliant training courses, sending a powerful message to both customers, potential customers, and asset owners alike.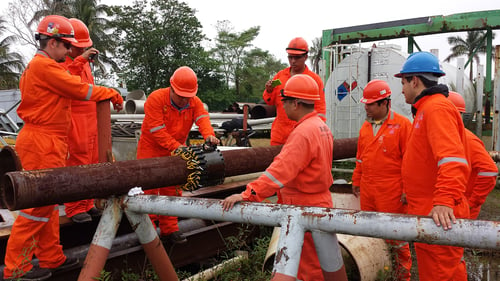 This compliance ensured that any individual receiving CSWIP verified guided wave training would have been trained to the highest standards and would have gone through a rigorous examination process to assess their competency. Unlike many product training courses, individuals attending our guided wave training courses must demonstrate a specific level of expertise before being awarded CSWIP certification. CSWIP guided wave training courses, like most NDT training, is broken down into Levels I, II and III. Initially, the original Level I course had a duration of 40 hours. On review of this training, it was felt that 40 hours was insufficient to ensure that all candidates had enough hands-on time with the equipment while still covering all the required theory sessions. The decision was made to extend the Level I training to 80 hours. This additional time ensured that all candidates received the necessary skills to carry out guided wave inspections in real-world scenarios competently. This course modification was well received by the industry and received positive feedback from attendees. We realized that increasing the study time from 40 to 80 hours could significantly burden our clients. It can be challenging for inspection companies to lose personnel to training courses as they likely have other commitments. We explored methods of reducing this burden and decided that blended learning was the most attractive for several reasons.
Blended Learning
Blended learning is a mixture of learning types that involve the delivery of multiple teaching models, usually a mix of eLearning and face-to-face learning. This method offers significant advantages for our customers and their trainees. The direct advantages for our customers are evident. Their trainees still attend a high-quality training course; however, the out-of-office time is reduced by half, with 50% of the course being available as eLearning via the Eddyfi Academy. This offers significant time and cost savings. We outline the many advantages for the trainees here.
The Advantages for Trainees
Learning Autonomy. The use of eLearning allows students to take charge of their learning. They can study at their convenience at a time that suits them.
The Right Pace. eLearning allows students to study at their own pace. It's easy for a student to miss content in the classroom. Some topics may also be more challenging to master. Our training gives students the power to revisit content that needs a little more time to absorb. They can revisit online modules until they have mastered each topic. This scenario isn't really an option in the classroom.
Frequent Quiz Questions to Gauge Understanding. During eLearning students are presented with questions to measure their progress. Questions must be answered correctly to continue to the next learning module.
Mix of Content Styles. eLearning is made up of different types of material to provide variety and keep students engaged.
eLearning Improves Student Retention. The interactive style of eLearning keeps students more actively engaged with the content. Higher engagement content results in students better remembering the information.
Consistency of eLearning. In classroom-based learning, instructors will have their own style of teaching. While instructors have a varied approach and may make mistakes, eLearning provides consistent and standardized training with every student experiencing the same teaching regardless of when and where they take the course.
Eddyfi Technologies guided wave eLearning substitutes 40 hours of classroom-based training. The online study is divided into six modules:

1. Introduction to Guided Waves
2. Guided Wave Theory
3. Teletest Hardware
4. Teletest Software
5. Product Technology
6. Introduction to Data Interpretation
Each module must be completed with an end-of-module quiz passed before progressing to the next one. Once eLearning is completed, the trainee must pass an end-of-course exam to move on to the classroom-based portion of the blended learning.
Classroom-based Hands-on Training
Classroom sessions remain an essential part of the learning process. These sessions allow students to have sufficient time using the guided wave testing equipment with an experienced lecturer on hand to guide them through the process. The classroom sessions build on the foundation of knowledge learned during the eLearning sessions and focuses on data collection, data analysis and project management inspections. These classroom-based sessions can be conducted at specific Eddyfi Technologies locations or a client's facility if deemed a suitable venue. The course begins with a quiz to ensure that the candidates have sufficient knowledge to continue training while identifying areas they may need extra tuition. Our lecturers have a wealth of experience in guided wave inspections, so they are ideal for imparting this knowledge to attendees. Another potent part of classroom-based training is the relationship generated with our clients. Meeting the students in person and developing a rapport is a great way to build robust communication lines for the future. The Level II course, at least for the short term, remains as a classroom-based 40-hour program. However, we do our best to be as agile as possible in continuing to offer solutions for our customers.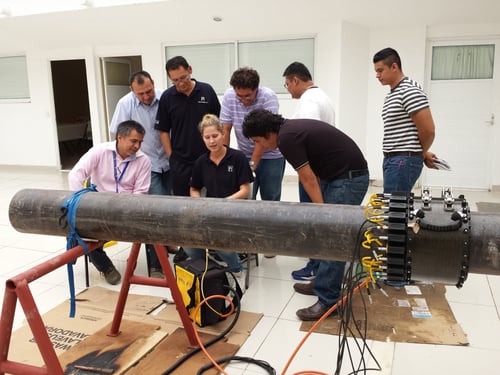 Virtual Classroom Sessions
Given the travel restrictions arising from a global pandemic, Eddyfi Technologies remained agile in addressing the challenges met with classroom-based training through increased levels of online communication with commonplace web conference platforms. We offer our Level I classroom-based sessions in a virtual format and continue to serve our customers during unconventional times. An important consideration when delivering virtual training sessions is being aware of communication barriers. Communication barriers exist in all formats; however, these are increased when communicating virtually. Poor internet connection, poor audio equipment, a noisy environment, work distractions, and fatigue are all factors that can affect communication. Once identified, we can do our best to mitigate these barriers to ensure communication is as effective as possible.
What Are The Options?
With different training formats now available, what are the options for guided wave ultrasonic testing training? For the individual that wants to learn more about guided waves and our leading-edge equipment, the eLearning course offered in the Eddyfi Academy is ideal. The fully blended learning package offers the most comprehensive training and is recommended for anyone who intends to use the equipment in the field. As previously stated, the blended learning package usually offers a classroom-based portion. In the event that classroom training is not possible, this section can be taken virtually under one of our guided wave expert's guidance. The CSWIP examinations are not compulsory. If you wish to obtain CSWIP certification, this must be done in the presence of a certified invigilator.
In Conclusion
Eddyfi Technologies guided wave training has come a long way, and we take great pride in knowing that we provide the most comprehensive long range ultrasonic testing training available that is not only industry-leading but now also the most versatile. Our eLearning allows trainees the flexibility to study at their own pace at home, in the office, or on the go.
We recommend exploring the Eddyfi Academy to see our eLearning options for guided wave ultrasonic testing but also the wide range of other advanced non-destructive testing offered by our diverse product portfolio. Nowhere else will you find one equipment solutions provider backed by such synergistic solutions. Contact our experts to discuss your specific NDT requirements today!