We'd like to formally introduce our robotic crawlers by name, although it seems like people are keen to attach their own adaptation, much like the family pet. Eddyfi Technologies offers a range of inspection crawlers that help clients all over the world perform tasks too dangerous for direct human intervention. This article highlights the LineTrax™, VersaTrax™, Magg™, and TriTrax™ inspection robots responsible for getting the job done across a range of industries.
The LineTrax crawler family performs remote visual inspection, or RVI, in confined spaces or limited access locations. The easily portable robot is capable of inspecting some of the smallest pipelines and ductwork and can travel impressive distances. LineTrax audits the safe operation of pipes and risers in offshore production, transmission pipelines upstream through downstream, critical piping in nuclear and petrochemical facilities and oil refineries, welds for new LNG projects, among other remote visual inspection jobs. Evaluating primary and secondary piping in power generation prevents leaks and failures while ensuring regulatory compliance and component integrity. The same can be said for small pipelines serving municipalities, new construction, and aging infrastructure. Learn more about LineTrax for confined space remote visual inspection here.
VersaTrax is a robust pipe inspection system capable of penetrating expansive pipelines, tunnels, transmission lines, and other long-range inspections with minimal access points. Onboard cameras provide a clear view of real-time conditions for instant decisions. The waterproof robot performs in-service condition assessments of sewer and storm drains, hydroelectric penstocks, and pipework found in oil and gas, nuclear, petrochemical, pulp and paper mill, construction, and the mining sector among others. The RVI robot reports reliable data to verify regulatory compliance or validate cleaning, measure asset integrity, and plan maintenance for any defects found. Easy to operate, powerful and reliable, the VersaTrax is ready to meet the specific needs of your unique inspection requirements.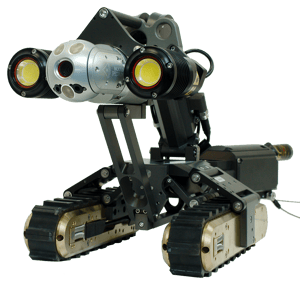 Take "Tizzy", for example. The VersaTrax based crawler, renamed by the US Department of Energy, is used by Savannah River Remediation (SSR) for both inspection and remote cleaning operations. Eddyfi Technologies robots play a vital role in assessing and cleaning remaining waste inside large underground liquid storage tanks. Tizzy is designed to crawl along the floor of the waste tanks and collect residual material to be transferred to other tanks. "G.I. Joe" is another confined space crawler responsible for collecting waste samples by way of dragging a scoop across the tank floor and placing it in a bucket that is lifted out and sent to the laboratory for analysis.
See these crawlers in action:
Meanwhile, the team over at Fermilab refer to their VersaTrax based crawler as "IGoRR". With no commercially available solution up to the task of tough grout removal within the confined space of a long pipeline, IGoRR was conceived by the Eddyfi Technologies Center of Excellence for Robotics. See the full article on robotics for clearing out rock hard grout here.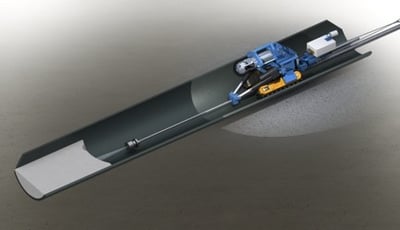 Magg represents a family of miniature magnetic crawlers created to meet exacting inspection needs across a range of industries. These inspection robots provide high-definition video to see the unseen in hazardous environments and confined spaces of capital assets found in power generation, oil and gas, public infrastructure, and the marine transportation industry. Whether it's inspecting tanks and vessels, validating new or aging construction, identifying corrosion in ship hulls and keels, validating cleaning in pipelines, or surveying railroad tank cars and mine shafts, Magg provides detailed imagery and a permanent record of any regions of interest. These confined space crawlers offer accurate status reports for preventative maintenance and process management programs, ultimately enabling safe and efficient operations of nuclear waste management facilities, petrochemical plants, wind farms, and any other environment requiring in-service inspection or continuous monitoring of a hostile environment or inaccessible space.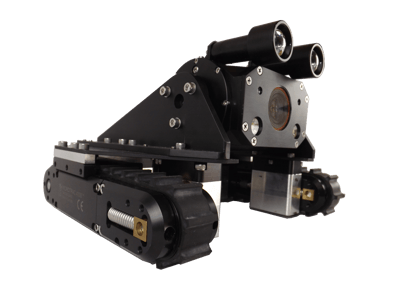 Affectionately referred to as "Maggie" by BP, the Magg has effectively replaced the dangerous inspection work previously employed by rope access technicians on the Thunder Horse oil platform in the US Gulf of Mexico. Not only do the Eddyfi Technologies magnetic robots remove workers from potentially unsafe environments found in offshore oil and gas, but it's also estimated that Magg can do inspections in half the time it takes rope access technicians. This article takes a closer look at how Maggie is optimizing inspection operations.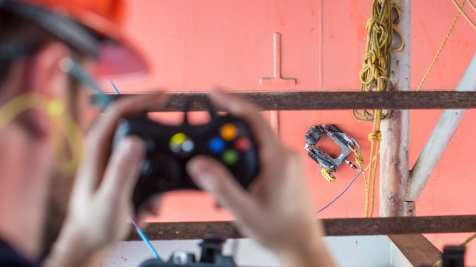 The TriTrax crawler family incorporates three powerful, patented tracks and a motorized tripod chassis to provide visual access in some of the most challenging industrial environments. This unique robotic crawler easily maneuvers through vertical and horizontal sections, and even transitions through most pipe elbows, travelling distances up to 1,000 meters, or 3,300 feet! It's perfect for working inside of drill risers, caissons, penstocks, water pipework, gas pipelines, large heat exchangers, and more. See how TriTrax can perform difficult inspections over a range of pipe sizes in virtually any orientation here.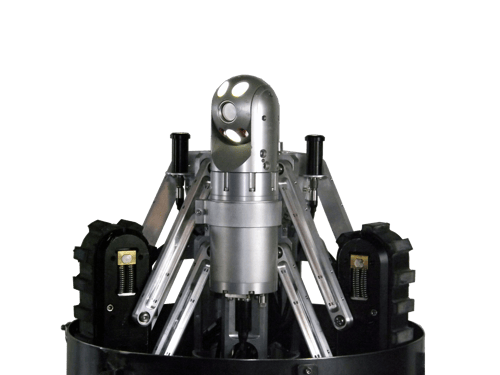 Whatever you call them, our robotic crawlers are trusted by international leaders for the toughest inspection jobs and more. Beyond inspection, we offer OnSpec Robotics based on these trusted platforms. Contact our team of experts to discuss your unique challenge today!