The COVID-19 crisis has forced us to re-think how we do things around here; it certainly isn't business as usual. Given international travel restrictions, being able to demonstrate exactly how Teletest guided wave inspection equipment is the industry leader has proved challenging – seeing is believing, right?
Eddyfi Technologies has a rich history of working with Teletest customers to provide remote technical support to increase best utilization of both technicians and equipment. Teletest is the first, and continues to be the only, guided wave equipment to provide remote conformance testing of Teletest Focus+™ electronics, negating the need for the instrument to be returned to base.
In addition, the independently certified CSWIP Certified Guided Wave Level 1 training course is the first and only guided wave training course that allows half of the 80 hours to be completed online prior to the classroom training. Check out the free 1.5-hour introduction to Guided Wave UT training module currently available on the Eddyfi Academy.
We have furthered this remote expertise by improving the experience for interested parties and potential customers for viewing the equipment remotely. Guided wave is slightly unusual in demonstrating the equipment compared to other techniques due to it requiring samples of tens of meters for the demonstration to be effective. By using the 30-meter (100-foot) state of the art test loop at Eddyfi Technologies' office in Cambridge, UK, we can now effectively bring the experience of a demonstration to the workspace of interested individuals. With the use of multiple cameras on the test loop and an operator taking direction from what attendees are interested in seeing, it is now possible to showcase the full features and benefits of Teletest equipment. It's almost as if you're here in Cambridge yourself, weather included!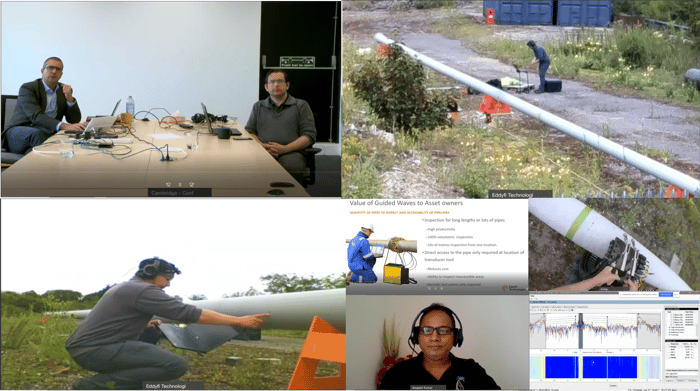 Understanding the need to reduce costs during these uncertain times, the option of a virtual demonstration for Teletest equipment that can further optimize your long-distance ultrasonic testing (LRUT) operations is auspicious. Contact our friendly and knowledgeable team to set up a live demo on your schedule today.