With mining and other resource industries increasingly adopting automation through unmanned technology, inspection robots have demonstrated their value in examining confined spaces and other hazardous environments, reducing costs related to direct human intervention, and delivering the important data to make critical decisions related to mine safety. Eddyfi Technologies crawler robots and inspection cameras are a welcome ally to those responsible for creating safer environments in mining operations. These few case studies are testament to just that.
Copper Mine Slurry Pipeline Inspection
A pipeline responsible for transporting eight percent of the total world's copper production at an Escondida mine in Chile required inspection – not an easy feat for the line extending 170 kilometers (105 miles) from the copper mine to a port on the Pacific Ocean.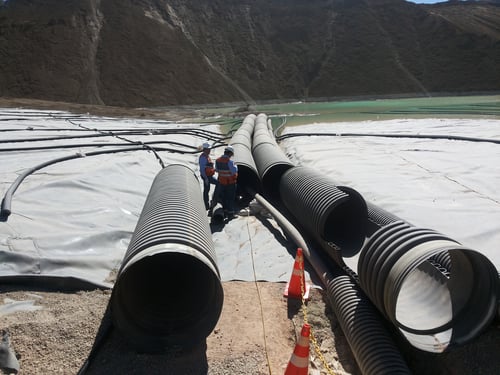 Nonetheless, the client needed a way to find any flaws inside this main copper concentrate pipeline. Technology and Engineering Services for Radical Advancement, also known as TESRA, knew they needed a reliable solution. "The equipment has to be 100 percent reliable. Any defect found that could turn into a broken pipeline is immediately (reported) and the company starts their procedure to change or repair. We cannot fail completing an inspection due to failures with the robot. That is totally unacceptable", commented Gerardo Olivares, General Manager. The solution was the long-range inspection crawler, VersaTrax™; the onboard Spectrum™ camera with built-in lasers shared real-time visual data that helped provide a comprehensive report on asset integrity within the copper mine slurry pipeline.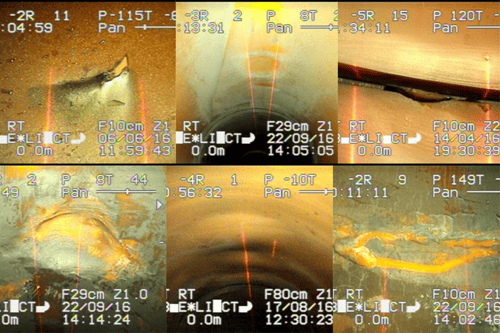 Mine Shaft Remote Inspection
When Sovereign Consulting was approached by their client to perform a mine shaft inspection at Greigsville Mine, they looked to us for a solution that would provide video down the 150+ meter (500+ foot) deep, water-filled space. Sovereign offers its clients comprehensive environmental consulting and remediation services for industrial projects including chemical, petroleum and commercial facilities throughout the USA. In this application, they needed a special field setup for the Spectrum inspection camera over the mine shaft. Our expert team provided guidance on the use of a snatch block that could accommodate the minimum bend radius of the tether. Having never done an inspection like this before, Sovereign was impressed with Eddyfi Technologies' level of expertise and customer service.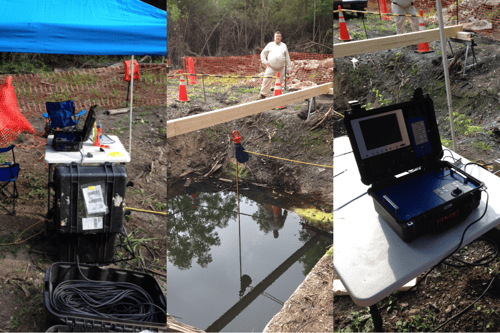 And the project drew quite a crowd; key personnel from the mine along with the New York Department of Environmental Conservation took advantage of the rare opportunity to get a good look at the geology and examine the bottom of the 100-year-old shaft.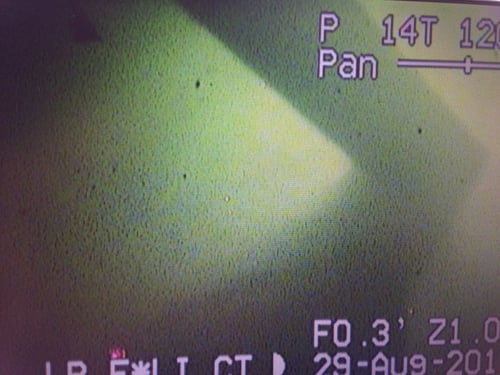 From remote inspection of flooded mines (without needing to pump out the water beforehand) to visual testing of boreholes deep in the earth, the mining and exploration applications for Eddyfi Technologies RVI technology are seemingly unlimited.
Borehole Inspection
While our rugged systems are well suited to working in the mining industry, real world conditions often demand adapting to atypical atmospheres. Eddyfi Technologies' modular robotic solutions can be customized to address the unique problems our customers are faced with, like in this next example.
Barrick Gold
Barrick's mission is to be the world's most valued gold and copper mining business by finding, developing, and owning the best assets, with the best people, to deliver sustainable returns. When the mining operator required a camera for remote visual inspection, they sought Eddyfi Technologies' expertise. This high-definition camera was necessary for assessing various pipes and other infrastructure in the underground mines at Barrick's Goldstrike complex in Nevada and would also be employed by other Goldstrike divisions such as the processing mill and open pit mine.
The RVI camera had to remain steady and centered as it travelled down the 760-meter (2,500-foot) vertical borehole in question. The OnSpec custom solution incorporated Eddyfi Technologies' standard Spectrum 120 camera with a bespoke spring-loaded centering device to accommodate the 200- to 600-millimeter (8- to 24-inch) holes.
Another challenge present is that there are limits to sending data via copper tether. Copper cable is capable of transmitting an HD video signal at a maximum of 300 meters (1,000 feet). The Beyond Current solution here was a fiber-optic cable and a custom digitizer to convert the HD video signal for fiber optic transmission, i.e., a tether with power via copper and signal via fiber. The OnSpec solution required bidirectional commands on fiber for video link up and lights and camera control down. The extensive distance required meant a significant voltage upgrade, 400VDC in the end. A rackmount GUI was added.
Longer distances result in a heavier tether when fully extended. The standard brake on the tether reel was insufficient, so an added friction brake compensated for this. The final custom cable was longer and thinner, and our standard winch was repurposed for the new cable.
What can we say? We thrive on unique client challenges!
Curse of Oak Island
If you think you may have spotted our Spectrum 90 Pan-Tilt-Zoom (PTZ) camera while watching the History Channel's television show, The Curse of Oak Island, you're right. The show's producers contacted us directly for a remote visual inspection camera to explore the 70-meter (235-foot) borehole, known as borehole 10- X, to determine whether there was a maze of underground treasure tunnels on Oak Island. Working with a turnkey system, underground visualization experts lowered the drop camera into the borehole by its umbilical cable. After reviewing the live images from the camera, a junction filled with debris was found to be unfit for diver exploration. The camera also gave a false alarm of gold found and confirmed the location of a pillar noted years before.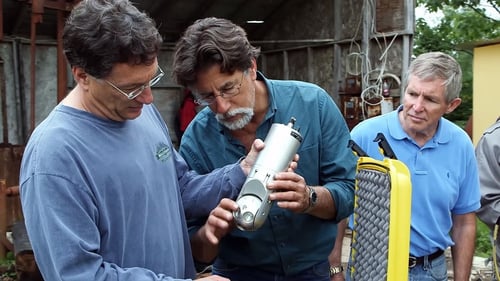 The camera was commissioned multiple times to provide views down risers and drilled holes into the flooded voids below. And while you may recall the appearance of the Spectrum PTZ inspection camera on the third season, it was the season's fifth premiere that caused a stir with the Spectrum 120 high-definition drop camera. Fans of the show watched the exploration of the C1 shaft, and the anticipation of finding pirate treasure has become a real possibility. Previously aired footage hinted at what appeared to be gold in C1. Here's a great recap by Mysteries of Canada. According to Eddyfi Technologies staff onsite the inspection, the HD camera was the right tool for this job when it reached the bottom of C1. The team noted it was the best imagery to date ever taken downhole on Oak Island.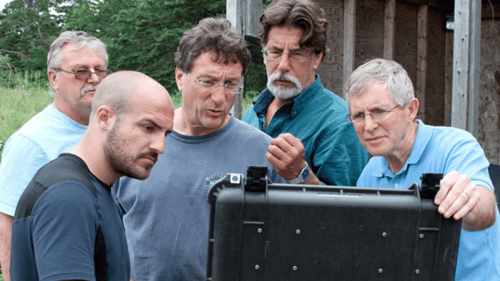 Beyond Inspection: Mine Collapse FOSAR
While Eddyfi Technologies remotely operated inspection camera and crawler systems are typically used for Non-Destructive Testing (NDT) operations, they are also commonly deployed for applications beyond inspection. In fact, we have a dedicated offering to OnSpec custom robotic solutions for remote industrial operations as shown here.
It's true that although a strong risk management program employing trusted NDT technology can prevent tragic events, mine collapses still happen. The compact and versatile design of our remotely operated robotic platforms lend themselves well to being adapted for accessing previously restricted areas for remote surveillance and foreign object search and retrieval (FOSAR) missions, like the devastating Crandall Canyon mine collapse where Eddyfi Technologies' custom robot was deployed.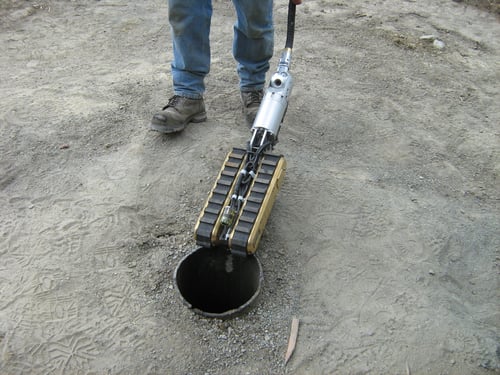 Eddyfi Technologies RVI solutions have also assisted in other emergency responses such as the 9/11 attack, Hurricane Katrina, and Thai cave rescue.
It Really is Golden To See All That Glitters
We've highlighted just a few situations where Eddyfi Technologies remote visual inspection camera and crawler technology is successfully deployed by the mining sector; additional mining clients include Agnico Eagle Mines Ltd and Goldcorp Canada Ltd. When it comes to RVI equipment for mining, Eddyfi Technologies put the power in prevention. With impeccable craftsmanship and cutting-edge technology, you can see the difference quality makes.
Join the industry leaders who trust our technology to:
Evaluate the condition of mine shafts, sumps and boreholes,

Perform in-service remote inspection and avoid costly shutdowns,

Detect problems in inaccessible areas before severe damage,

Support planned, preventative maintenance,

Confirm compliance with international standards,

Facilitate the continuing health and safety of mining sites and infrastructure assets,

Verify new pipeline construction prior to commissioning.
Our robust camera and crawler systems are ideal for a range of mining inspection applications. Whether regularly scheduled inspections of effluent or slurry pipes, boreholes, and other infrastructure, or when emergency situations like a mine collapse demand an immediate response, Eddyfi Technologies' solutions provide crucial data to operators and owners quickly, safely, and remotely. Contact us to discuss your requirements today.