When their power generation maintenance technology team needed to assess the various components that keep nuclear power operations running smoothly, enesG recognized how Eddyfi Technologies' robotic solutions have been successfully deployed by industry leaders across the world. Take the NanoMag™, for example. Standard and customized versions of this miniature magnetic crawler have been used for remote visual inspection (RVI) inside twin reactor pressure vessels as highlighted in this article on nuclear reactor primary piping inspection with Eddyfi Technologies robots. And let's not forget the extensive use of NanoMag based inspection robots for the Fukushima Daiichi Nuclear Power Station's remediation efforts. Tokyo Electric Power Co. (TEPCO), Hitachi, and Toshiba all deployed Eddyfi Technologies' robotic technology as detailed here in the role of robotics for nuclear remediation.
The Magg™ is another example of a readily available inspection robot ready to rise to the challenge of confined space inspections within the power generation sector. With its uniquely modular design, an OnSpec custom solution based on the proven platform has been the answer to other related nuclear facilities maintenance programs. In fact, the bespoke solution designed for TN Americas, an AREVA radioactive waste management and nuclear transportation provider, met nearly all the same requirements as enesG's for visual assessment in difficult-to-access regions. Learn more about the nuclear waste storage remote visual inspection with the OnSpec custom robot here.
In this particular application, RVI robots were necessary for a reactor head inspection. From the topside, the NanoMag met the size requirements for access. However, from the bottom side, a custom solution would be necessary for the inspection robot to negotiate the complex forest of penetration piping present in the area featuring stainless steel panels; given the inspection surface being flat, magnets were not necessary here. And while there were no bends present, the additional challenge of the robot working in a humid boric acid environment further reconfirmed why it is so important to deploy a remotely operated robotic solution from a safe location. Learn more about removing the risk of confined space entry with robotics here.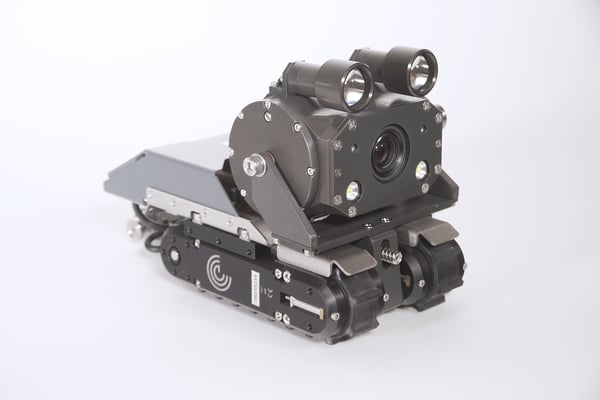 The OnSpec custom solution for this inspection job includes an actuator to raise and lower the camera. It is actually the same camera found on the standard Magg 310 and supports laser measurement assistance, auxiliary lights, HD video, optical/digital zoom, as well as tilt capabilities. The 801 auxiliary lights are removable when access to smaller locations necessitates it. In its lowered position, the vehicle is a mere 195.6-millimeter (7.7-inch) width by 121.9mm (4.8in) height by 528.3mm (20.8in) length.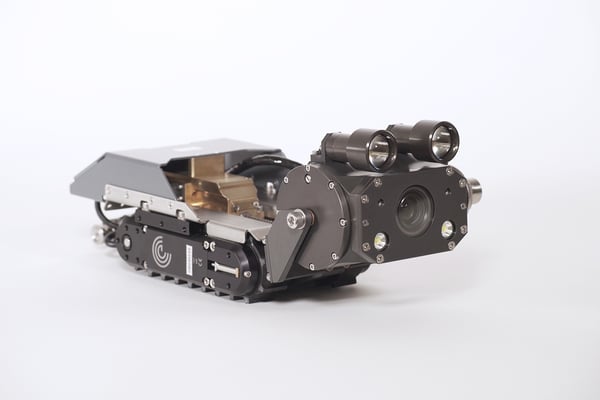 When raised, the custom remote visual inspection robot becomes 188mm (7.4in) tall by (393.7mm 15.5in) long. Weighing approximately 8.6 kilograms (19 pounds), the custom robot maintains a stable center of gravity with brass material in its custom chassis. Able to travel 100 meters (330 feet) and up to 60 meters (200 feet) underwater from its mini reel base, the tethered vehicle truly provides real-time conditions of nuclear power plant regions otherwise unseen (learn about the benefits of a tethered inspection robot here).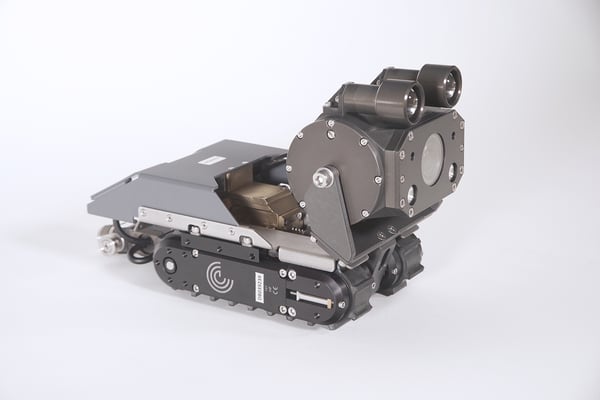 The custom robot is controlled by a Portable ICON Controller, or IPC. ICON™ Standard Software, or ICON™ SD) is used to control and operate the vehicle as well as record video. The recorded inspection results can be made a digital twin offering a permanent record of inspection.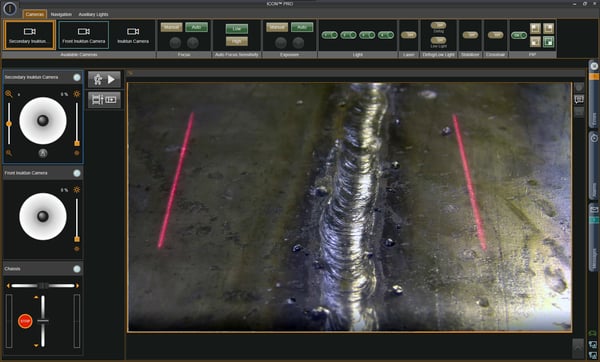 Deploying standard and unique robotic solutions for complete nuclear power plant equipment inspections is well within Eddyfi Technologies' wheelhouse. Beyond nuclear power, see how our robotic inspection solutions are used for the renewable energy sector here. Outside of the power industry, OnSpec custom robots have been known to lend a hand to see inside a petrochemical reactor. Check out the case study here.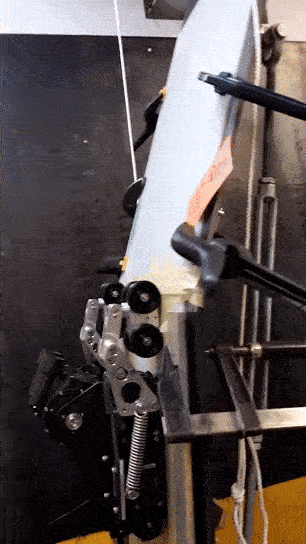 We recommend you also learn how to leverage Eddyfi Technologies NDT robots in this article. Ready to speak with our robotics expert ready to help determine the best inspection solution for your next inspection campaign? Get in touch today and stay Beyond Current.