Let's face it, time is not on our side. With the active pharmaceutical ingredient, or API, market in a global race to provide a vaccine for COVID-19, the pressure is on to ensure the continued smooth operation of facilities. Before the pandemic, the API market was worth more than $150 billion USD in 2018 and is expected to hit $250 billion by 20271. When you consider these pharmaceutical manufacturers are responsible for supplying solutions for the growing number of infectious diseases, cardiovascular conditions, and genetic or other chronic disorders on top of this new international demand for a vaccination, maintaining facility uptime is crucial. Eddyfi Technologies offers the Beyond Current non-destructive testing solution to support efficient operations.
Active pharmaceutical ingredients are typically produced at extreme temperatures from cryogenic -80° Celsius (-112° Fahrenheit) to over 200° C (392° F). A typical API facility will have various systems in place to maintain a specific temperature range. If a serious problem were to occur to the temperature control system, the consequences range from potential downtime to a serious loss of unusable product.
A key component of cooling technology is typically a shell and tube heat exchanger, also known as a chiller, and integrity assessments are required to ensure maximum productivity. A manufacturing center will have a few hundred heat exchangers with tubes ranging in different sizes and materials from carbon steel to rare precious metals. Monitoring their condition is imperative to avoid any costly replacement. Operating under drastic conditions, chiller tubes are subject to damage mechanisms including premature localized pitting, extended thickness erosion, and cracks near the areas of expansion caused by the assorted fluids. It is important to look for this pitting, wall loss, stress corrosion, and any other defect that could cause potential failure especially given that tube contents may contain harmful contaminants.
Eddy current based inspection techniques have been accepted as the norm for assessing the integrity of tubes. Over the last decade, the Eddyfi Ectane® 2 has become the undisputed reference for heat exchanger tubing inspection and surface eddy current array all around the globe. By using the Ectane 2 instrument for air conditioner assessments, a technician can quickly scan through a whole exchanger while getting the best detection capabilities and generate an informative report that gives valuable insight on the state of the system.
Paired with the best sensors on the market, Ectane 2 can detect both internal and external defects like small pitting, corrosion, and general wall loss everywhere along the tube in a single pull. Furthermore, Eddyfi Technologies probes have been developed to reduce the effect of chiller tube grooves on the signal and are able to detect cracks in the land area.
Once data is acquired for analysis, TubePro™ software offers the best tools in the industry to present results in a meaningful way. Maintenance managers can generate a comprehensive report that shows 2D tubesheet mapping of the defects plus 3D modelling of the chiller. With an auditable data analysis report to show the evolution of indications, proactive measures can be more easily made.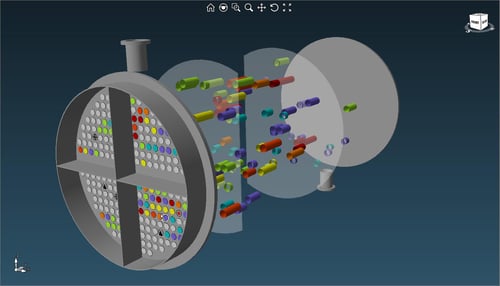 As the world waits for the API market to deliver, Eddyfi Technologies is here to help with the tools required to ensure maximum productivity without surprises. For more information on our advanced NDT solutions, contact our team of experts today. Stay safe, stay Beyond Current.
1 https://www.mordorintelligence.com/industry-reports/global-active-pharmaceutical-ingredients-api-market