In 2015, M2M was known for its range of desktop PAUT systems including the Multi2000 and MultiX++. When what is now Eddyfi Technologies' Center of Excellence for Phased Array Ultrasonic Testing released their first portable PAUT unit, the Gekko, it arrived in a very competitive and well-established market. Other companies, often much larger, had already been promoting their PAUT portable solutions for years. This meant that the Gekko couldn't just be a simple copy of what already existed at the time; it had to propose something new to differentiate itself from other commercially available inspection tools.
Gekko, with its embedded software, Capture, was the first phased array system with a 64-element aperture and the first to allow the TFM technique in real time on a portable PAUT device. It also introduced new calibration wizards such as angle/height for wedge delay calibration and an advanced Time-Corrected Gain (TCG) that allows inspectors to perform their sensitivity calibration much faster.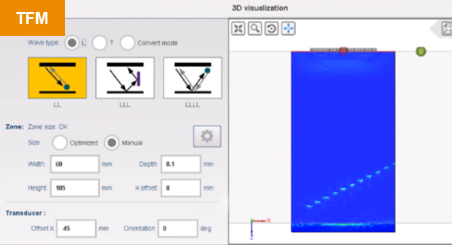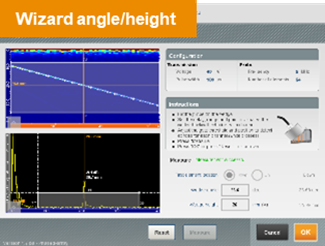 In the first two years, eight software versions were released. These updates were a good mix of new features as well as implemented recommendations made by our customers through real world experience. Some of the unique features at the time included the possibility to define fillet welds and nozzle components directly on the instrument, to use three axis scanners to perform paintbrush type inspection and nozzle inspection, superimposing ultrasonic data to a 2D CAD file, and performing AVG measurement with PAUT probes. An Adaptive TFM (ATFM) module was released to allow customers to use the TFM technique on components with a complex front surface. At the same time, Capture developed more basic features requested by clients such as gate edition in analysis, synchronized gates for corrosion mapping, A-scan envelope, DLA/DMA probes, and improved ergonomics to correspond with the way operators were working.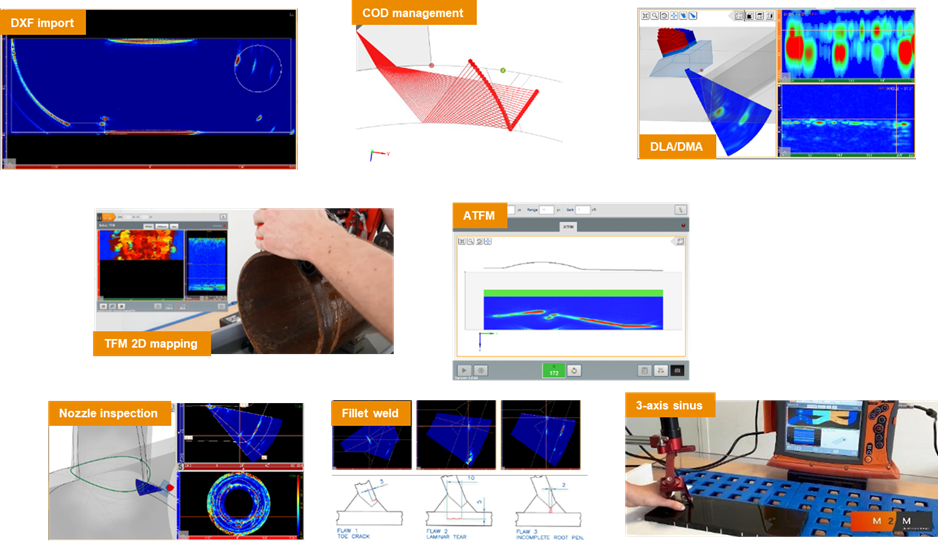 The early years were a learning curve for the Gekko and Capture, but at the same time, were the beginning of something new on the market attracting interest from various customers. Until Gekko, most portable units on the market were only providing solutions for simple geometries using systems with up to 32-element apertures.
Ramping Up
With the initial feedback from the NDT community, it was clear what was needed in Capture. The software had to continue innovating but also provide all the tools available on other systems in order to be accepted. From Capture 2.0 (August 2017) to Capture 3.0 (June 2019), a big effort was made to provide these missing features. The following image shows a non-exhaustive list of some of these tools. But we can also name: half-step for linear scanning, time delay, C-scan delta gate, Top and Side views, gain edition in inspection and analysis, alarms, PAUT channels for TOFD. These developments helped Capture match the standard usage of PAUT instruments.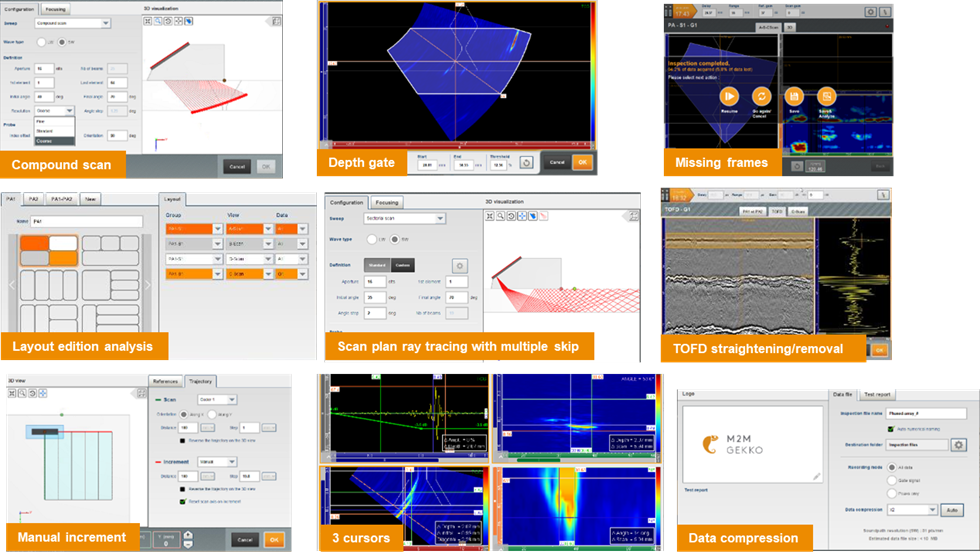 During the same period, M2M released the Mantis™, a 16:64 PAUT system with TFM capability employing the same Capture software with new features such as the circumferential, outside diameter (COD) angle/height wedge delay calibration, sparse TFM, Full Matrix Capture (FMC) recording, nozzle inspection from the secondary pipe, 250 kpixels with auto-resolution, and more.
2019 was also the year that saw the revision of ASME V and the introduction of the FMC/TFM technique as being accepted. This revision confirmed the choice made by M2M to introduce the technology to a portable equipment and pave the way for future development in the industry. More than a decade after the first publications on the topic and four years after the release of the first portable unit with TFM capabilities (Gekko), a standard was finally published with guidance on personnel requirements, calibration block, and calibration scheme.
The Confirmation
Those early years were a necessary step for both the Gekko and Mantis to be seen as PAUT units capable of performing the most common inspections. With that solid foundation in place, Capture then spent the next few years introducing a wide range of new and game-changing features.
Capture 3.1 introduced Plane Wave Imaging (PWI), a code compliant technique for TFM, offering scanning speeds of over 100 millimeters (1 inch) per second which had no competition. Multigroup and multiprobe functionality was made available for TFM, allowing inspectors to perform weld inspection from both sides of the weld at the same time while combining up to four different modes. Amplitude Fidelity, a necessary calibration tool for TFM, was implemented following the guidance of ISO23865, a new standard published in 2021.
Another major development was the advanced scan plan for PAUT, TFM, TOFD, and conventional UT. Capture was able to provide several points of information to operators, such as:
Incident angles

Angles between bevels and incident angles

Near field information

Beam spread for TOFD and UT

Offsets, Probe Center Space (PCS), thickness, element number

Enhanced 2D/3D view display

Live information display.
Another significant feature was the possibility to import real 2D CAD files. This made it possible to visualize the interaction between the ultrasonic data and the various surfaces of the component. The operator can set their scan plan taking into account rebounds off complex back walls, precisely position any indications, and distinguish between geometry echoes and echoes coming from defects even after several rebounds.
Data analysis can sometimes become the bottleneck for making decisions about the integrity of a component. Capture 3.1 offered a tool that allowed automatic sizing of the defect based on a decibel drop method. Capture 3.2 extends this tool to corrosion mapping inspections. These tools allow operators to quickly size and merge indications for fast reporting.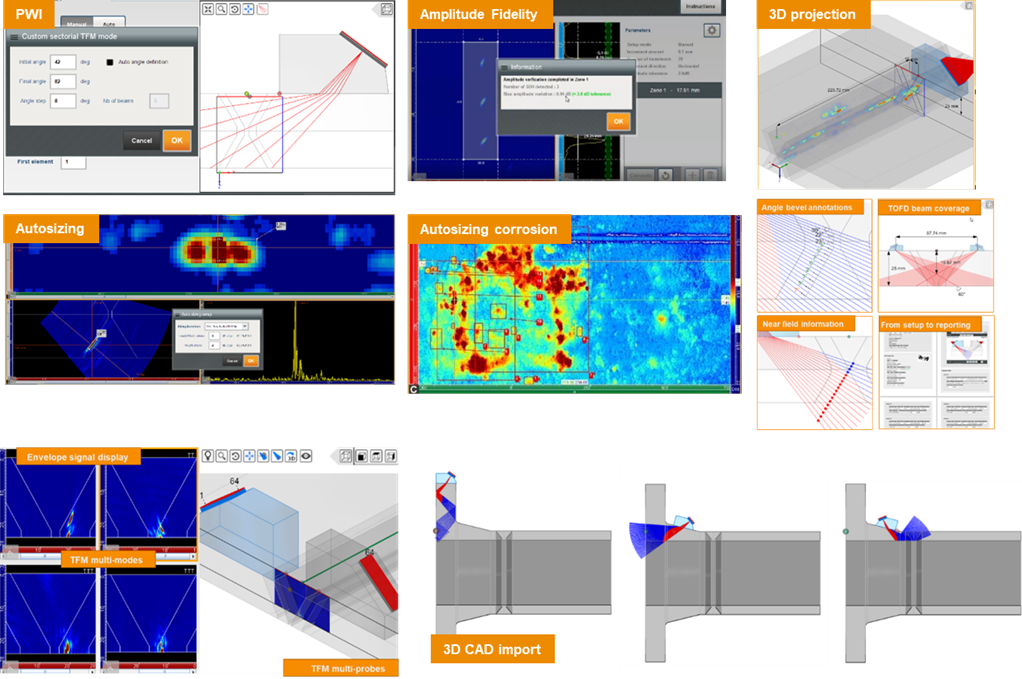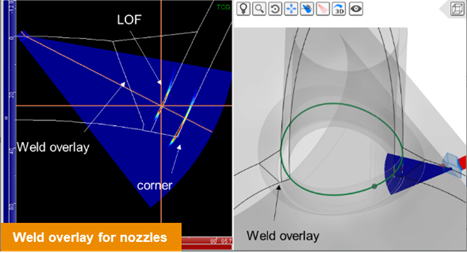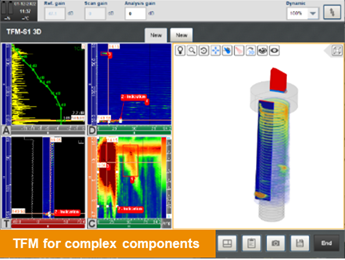 At the same time, Capture continued to provide more traditional tools requested by our customers. The following images show some of these features. Capture 3.4 added the possibility of directly accessing the UT settings and gate settings during inspection, scrolling zooms, the Fast Fourier Transform (FFT), second back wall synchronization, and floating gates.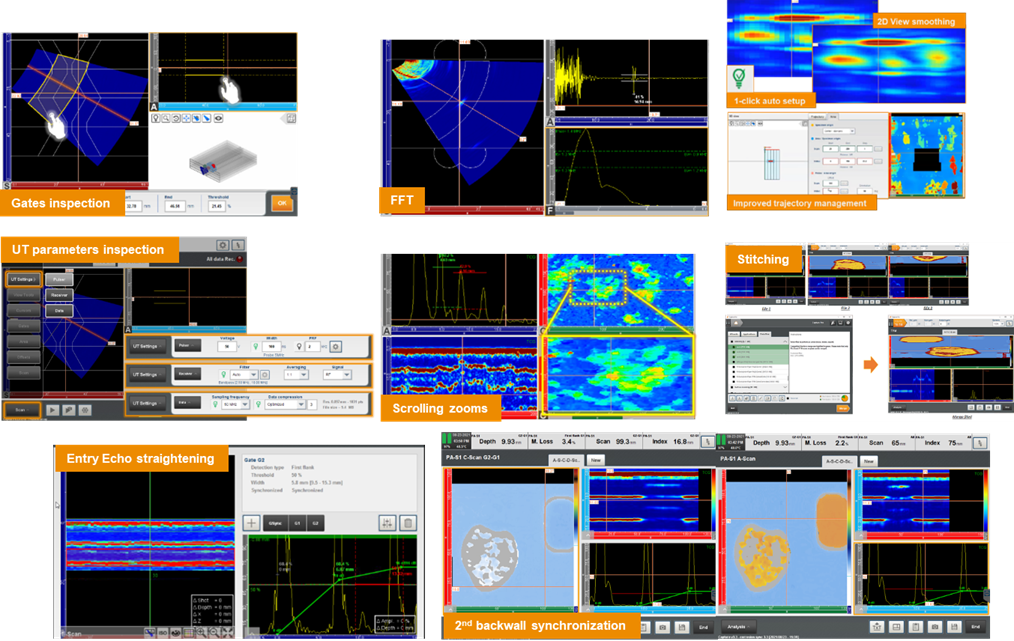 The Beyond Current Future
Since the inception of Capture software, 17 major versions have been released, delivering on the promise to offer several major updates a year. Capture embedded on the Gekko and Mantis platforms have become the world leader in the PAUT industry for data acquisition and analysis.
With the acquisition of Zetec, Capture will also benefit from Zetec's experience and provide additional tools that were developed in the well-known software, UltraVision. The combination of the two teams of NDT experts and software developers will undeniably accelerate the development of the next innovations introduced to the market.
For more information on Capture™ software and our advanced phased array and TFM instrument offering, check out my article published by Quality Magazine on The Evolution of Ultrasonic Testing (UT) from Conventional UT to Total Focusing Method, and get in touch with us for answers to your specific questions today!