Robotic inspection and maintenance is becoming increasingly popular across multiple industries as it offers a number of advantages over traditional human inspection and maintenance methods. Common robotic inspection applications include fitness-for-service assessments of pipes and welds, risers, heat exchangers, steam generators, reactor vessels, nuclear fuel pools, storage tanks, and containment vessels. These non-destructive testing inspections may be performed remotely as it is not always safe or feasible for humans to access these areas. Sometimes, remote visual inspection, or RVI, isn't the only job requirement and remote cleaning, remote asset maintenance, and remote handling are frequently requested for these applications.
In the power generation and nuclear sectors, maintenance or task completion in these environments is critical as any failure could have serious and well-known consequences; unsurprisingly, these industries have presented the most requests for remote tooling given the working environments and associated costs. In the renewables sector, a great example is this drill and fill composite epoxy repair concept —built on proven modules— for wind turbines can be used to repair damage caused by typical corrosion or general wear and tear. Learn more about our renewable energy robotic inspection solutions here.
Similarly, check out this robust drain hole drill nuclear reactor concept for remotely navigated drilling operations that can be used to access and maintain the potentially dangerous and difficult-to-reach reactor. It's also worth mentioning the role of robotics in reactive measures like nuclear remediation.
Eddyfi Technologies' approach to robotic inspection and maintenance includes comprehensive analysis of the client's requirements, careful selection of the appropriate technology, external assessment or non-intrusive inspection (NII), internal assessment or remote internal inspection (RII), to finally determining the remote robotic repair/maintenance solution for success (after all, we've avoided hazardous human intervention so far). This approach ensures that the right technology is used for the specific application, and that the inspection and maintenance is done in the most efficient and safe way possible.
An example of this approach is the use case with Shell who is advocating for the acceptance of robotic inspection for buried forecourt fuel storage tanks; read more in this exclusive press release. Remote tooling robots for tank repair is the next natural step. Never miss an update on how our adaptive robotic crawlers are being employed by subscribing to our blog to stay Beyond Current.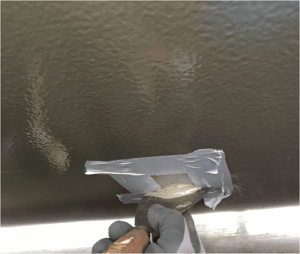 No longer possible for manned entry to epoxy coat areas with internal wall loss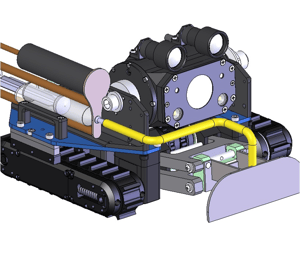 Stage 2 trials for remote operation of epoxy coating application
In non-destructive testing inspection applications, surface preparation is necessary to getting good contact and data results. This is because you cannot see something that is covered in matter. The better robotic solution to this can be simple or complex, in-house or third-party, depending on the requirements – we truly have you covered inside out. As an example, a simple brush concept mounted to a Magg™, a large-scale line cleaning system, or a commercially available hydraulic marine growth cleaning system can all be used for surface preparation in remote locations. See how our inspection crawlers have previously doubled as pre-cleaning agents for worldwide clients here.

Eddyfi Technologies is at the forefront of multi-mission modular robotic crawler technology, providing OnSpec custom solutions that meet the needs of various industries. Our focused attention on large projects with dedicated project management expertise for robotic inspection and maintenance ensures that the right technology is employed and that the work is done in the most efficient and safe way possible. Our bespoke adaptive technology offers the ability to access extremely confined spaces and the capacity to go deep underwater (or high in the sky) as a result of our design, prototyping, and production personnel collaborating within the same facility. We offer the integration of other technologies, technical problem solving, and exceptionally timely completion of unique solutions that are tailored to the specific needs of you!
With the ever-evolving technological advancements, there is no doubt that we will see more and more companies adopt the use of robotic crawlers for remote inspection and maintenance, and this will lead to improvements in safety, efficiency, and cost savings across various industries. Ready to discuss how Eddyfi Technologies robotics can help solve your big challenge? Let's talk!