A recent example of how robotics can improve inspection output and reduce human risk is the Non-Intrusive Inspection (NII) initiative that has now become the norm for integrity management of pressure vessels. Historically, pressure systems would be shut down and qualified inspectors would perform internal visual inspection directly inside the vessel. Nowadays, inspectors are using automated systems to perform the integrity assessment of the vessel from outside. Robotic crawlers are used to look for corrosion in the shell and dome ends and cracking in the welds and nozzle attachments.
This article explains how one Eddyfi Technologies customer has taken this initiative to the next level, demonstrating that with the correct vision and ability to implement, robotic inspection can do a whole lot more these days.
The use of robotics in the NDT industry is developing at an exponential rate. With emphasis on efficiency, repeatability, and maximizing worker safety, the introduction of remotely manipulated crawlers is becoming increasingly prevalent. All modalities of NDT technology can be integrated into robotic systems, and data acquisition can form part of an automated mechanical sequence. This may include ultrasonic thickness measurements, electromagnetic crack detection, and Close Visual Inspection (CVI).
Eddyfi Technologies is delighted to have recently started a partnership with NDE Solutions based in Adelaide, Australia. The founder and director of NDE Solutions is Kimal Singh who is an expert in advanced ultrasonics. With a passion for applied science engineering, Kimal has a team of experts that enjoy pushing the boundaries of inspection technology. Their company motto is 'No problem is beyond a solution' and we are excited to share how they have pushed remotely operated robots Beyond Current.
Eddyfi Technologies launched the Silverwing RMS PA phased array corrosion mapping solution in 2019. This robotic crawler has been specifically designed to inspect large assets such as storage tanks and vessels and has been fully integrated with the state-of-the-art M2M phased array systems.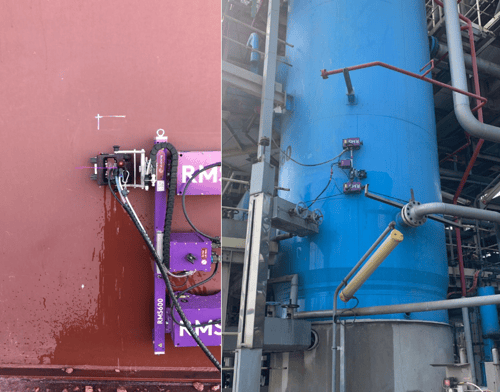 RMS PA robotic crawler in action
The RMS PA is designed to detect corrosion and erosion with a unique phased array probe head that has unrivaled speed for collecting high-resolution thickness measurement data. The crawler is manipulated and driven with the integrated control software onboard the phased array unit.
The distinct feature difference to other crawlers on the market is fully integrated control with access to a Windows based graphical user interface on the phased array instrument.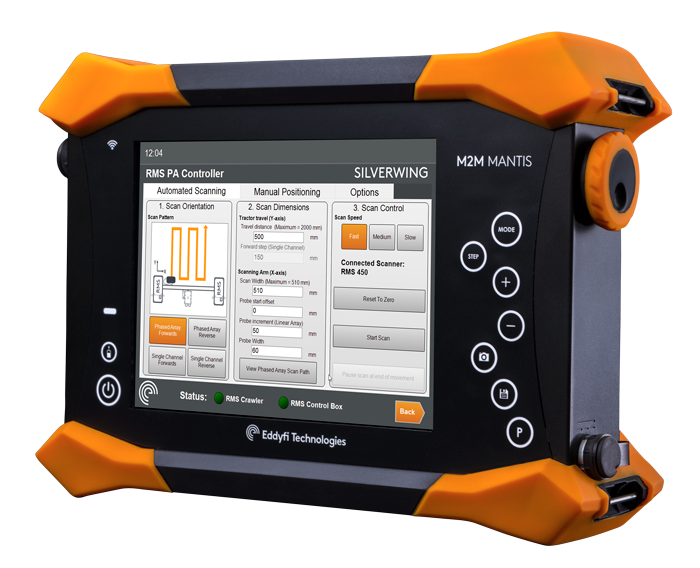 Integrated control software onboard M2M Mantis™ phased array instrument
NDE Solutions Director, Kimal Singh, recently received an early morning phone call from one of his scanner technicians on site. He had questions about how to operate the RMS PA scanner and perform the phased array calibration for the unit.
Kimal was in isolation due to current government restrictions but was able to remotely login to the phased array unit within a minute and perform a calibration and scan on the tank from 1,000 kilometers away. Having access to the control software, Kimal could input the necessary commands from home for moving the scanner, capturing data, and remotely analyzing the data in real time!
Kimal commented that this solution offered a unique learning perspective which would not have been achievable having been on site. The technician was able to learn in a new way, and this new ability to offer support in this fashion is unparalleled for our clients and technicians. This is one of the first steps towards the future of remote inspection and on-demand subject matter experts.
This experience has kickstarted a new way of working, and remote services may now be offered as an alternative to full on-site operations. NDE Solutions has truly taken the next step with robotic technology.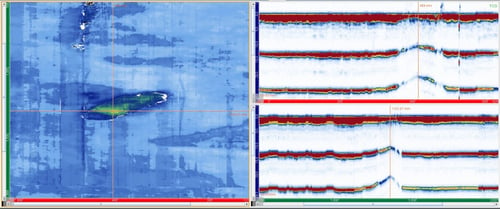 Corrosion area with material losses of 2.2mm from a 12mm nominal — found from 1,000km away!
Robotic inspection has just entered a new era. Being able to collect 1-millimeter resolution phased array corrosion mapping data from the comfort of the living room is now a reality. Eddyfi Technologies' Product Manager for UT solutions, Gareth Mugford says, "Having been in the advanced UT field for 13 years, I am always excited when I see step changes within industry. Remotely controlled crawlers have until now been a pipe dream for operators. Working with customers like NDE Solutions is always a satisfying experience and we are always delighted when our customers can introduce us to new ways to operate our equipment".
Eddyfi Technologies offers a range of advanced solutions that continue to push the limits of non-destructive testing forward. Contact us today to stay Beyond Current.