While we have come a long way, as previously mentioned, we've also stayed true to or roots by continuing to offer a system which maintains the ability to be used as a standalone integrated UT inspection system through our UT ready control box.
This option is our entry level system pairing the UT ready control box with the RMS APU (laptop) and is suitable for users who are yet to transition into the use of PAUT. In this configuration the system remains as a building block ready for when the advantages of PAUT want to be utilized.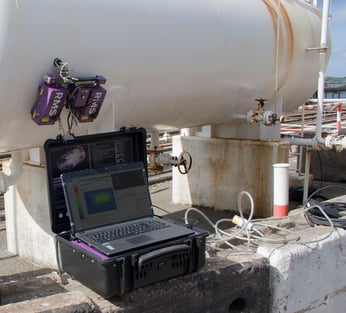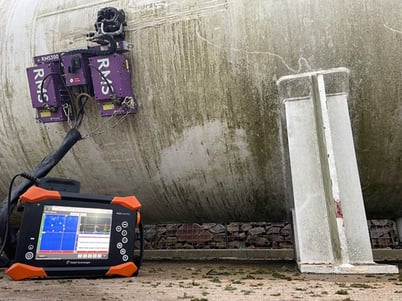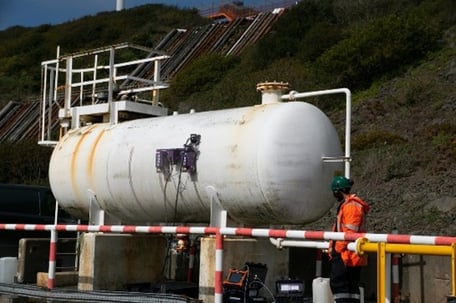 In 2019, the RMS adopted the use of phased array technology for corrosion mapping and retained its integrated solution status through the embedded motor control available on the CaptureTM platform, positioned on Eddyfi Technologies' PAUT instruments, MantisTM and Gekko®. PAUT is well established as the preferred technology for the detection of corrosion in numerous market sectors and adds confidence to the inspection by maximizing coverage, providing recordable and auditable data sets, all while maximizing productivity with large footprint probes. Huge productivity gains are achieved with the PAUT corrosion mapping technique when compared to SCUT mapping a 1000mm x 600mm area in as quick as 1 minute and 30 seconds.
The most recent RMS addition for the PAUT corrosion mapping technique is the capability to scan along a rail at 90 degrees to the direction of crawler travel.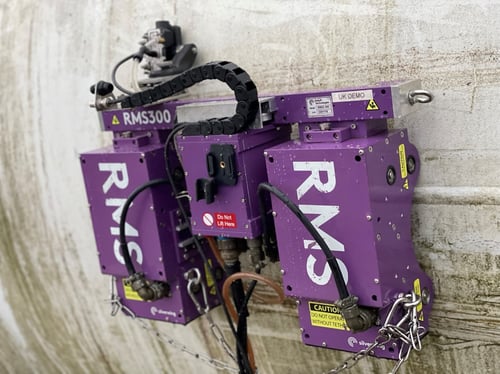 When paired with the Eddyfi Technologies PAUT instruments, the user has the choice of deploying both PAUT and SCUT techniques (NOTE: deployment of SCUT technique when used in conjunction with PAUT instrument allows the delivery of automated corrosion mapping by NDT technicians without a PAUT qualification).
In 2022, two more core NII applications were added to the automated RMS delivery system.
PAUT / TOFD Weld Inspection

M-Skip and pitch-catch PAUT
Phased Array UT (PAUT) and Time of Flight Diffraction (TOFD) are considered go-to technologies for both fabrication welding and in-service inspection, and the RMS enables delivering automated weld inspection through the introduction of a quick release bolt-on bracket.
This bolt-on option can mount up to four probes, is suitable for pipework from 150-millimeter (6-inch) diameter up to flat plate and is steerable with laser guidance.
Assessment of blind spots for corrosion under pipe supports (CUPS), saddle supports of pressure vessels and corrosion scabs is a common issue for integrity management.
The RMS adaptation for pitch-catch techniques allows the motorized tractors to be positioned on either side of a support/ corrosion scab then deployed in a synchronized forwards or backwards motion. The control of the automation is delivered via either a joystick or the embedded motor control on the instrument.
These key applications for non-intrusive inspections allow asset owners to:
minimize manned entry,

reduce loss of production,

eliminate any requirements for emptying, cleaning, degassing, and preparing internal surface of vessels,

and due to the remote operation of the RMS, it also reduces the requirement for scaffolding or rope access.
Eddyfi Technologies strive to improve safety, efficiency, and cost savings for asset owners, while also catering to internal and manual inspections. The team of experts at Eddyfi Technologies are always on hand to provide guidance on which application solution is the best fit. Get in touch to discuss your next inspection campaign and stay Beyond Current!