In order to maximize maintenance turnarounds, you need real-time reliable information on the assets you count on for day-to-day plant operations. We present a solution that allows you to minimize your liabilities while optimizing production.
Risk based inspection (RBI) maintenance programs are regularly performed for a variety of assets commonly found in the oil, gas and petrochemical sector. This preventative action reduces risk and encourages efficient outage planning for repair and replacement. The inspection of heat exchangers is no exception. Determining the remaining life assessment (RLA) of the inlet end has traditionally involved NDT technicians performing spot readings while the shell and tube heat exchanger is offline.
The obvious optimization is to perform in-service assessments, but when you consider that the hydrogen sulfide (H2S) heating process generates surface temperatures up to 200° Celsius, manually detailing wall thickness changes just isn't an option. Eddyfi Technologies has answered industry's appeal for a cost-effective, in-service inspection solution that boasts a high Probability of Detection (PoD).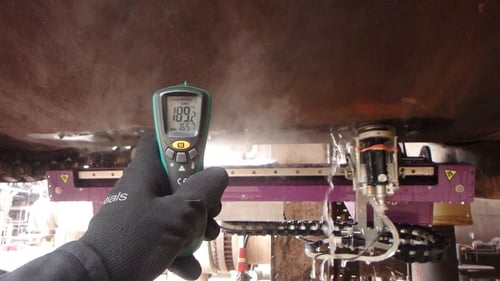 The Silverwing RMS 2 is the leading ultrasonic solution ideal for extreme temperature corrosion mapping. Featuring a narrow water column, water is recycled at a rate that prevents boiling at the test surface which means that ultrasounds aren't impacted. The field proven, remote-controlled scanning system can operate on surface temperatures up to 200° C (293° F). RMS 2 removes operators from hazardous areas, helping health and safety committees comply with requirements to protect workers. Paired with easy-to-understand inspection data, technicians can feel confident in their maintenance planning recommendations to asset owners who depend on this record to monitor defects over time.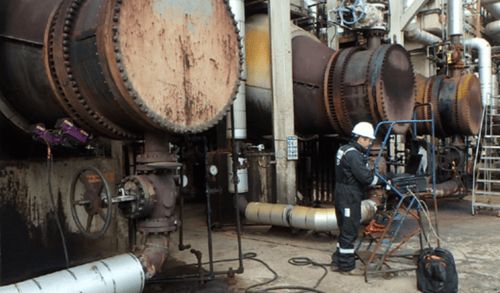 The robotic solution keeping you out of hot water, RMS 2 helps identify:
Local and general pitting
Lamination
Hydrogen blistering
Hydrogen inducing cracking (HIC)
Internal liner debonding.
Heat exchangers aren't the only assets requiring inspection at oil refineries. The RMS PA, featuring the recognized Silverwing RMS automated crawler combined with the market leading phased array flaw detector, is proven for in-service pressure vessel inspections. See it in action at Total OLEUM Refinery here.
Stay curious. Learn how our advanced NDT solutions for high temperature corrosion mapping enable RBI maintenance programs and keep you Beyond Current by contacting our friendly and knowledgeable experts today.